---
Feds commit $1.37 billion to Vancouver transit
September 4, 2018, 4:50 pm

---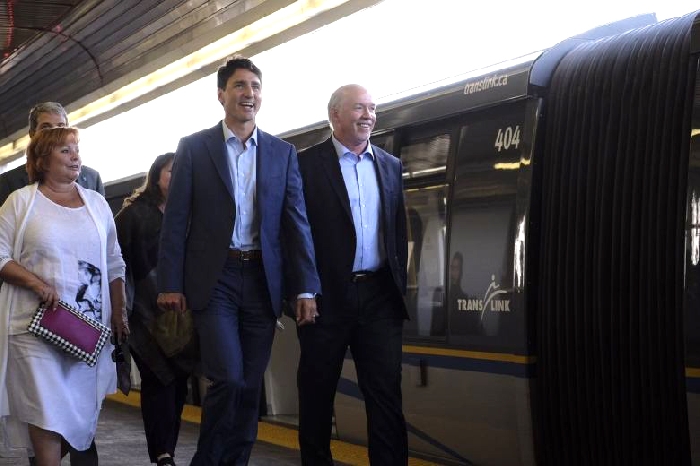 The federal government is giving $1.37 billion to the BC government--which is fighting the Trans-Mountain Pipeline

The federal and BC governments re-announced their commitment Tuesday to more than $3 billion in funding for the Broadway subway and Surrey LRT projects.

Prime Minister Justin Trudeau was joined by B.C. Premier John Horgan, Vancouver Mayor Gregor Robertson and Surrey Mayor Linda Hepner at the Surrey campus of Simon Fraser University.

Trudeau and Horgan said the media event was a public assertion of the commitment to the two transit projects.

"This is about locking this down. This is happening. It's not being revisited," Horgan said.

"The new information is that the cheques are in the mail and we're going to be building."

Surrey's $1.65-billion LRT project has faced opposition from those who say it will be slow and will disrupt traffic.

The Broadway subway project will add 5.7 kilometres of track and six stations to the existing SkyTrain Millennium Line.

The province will contribute $1.82 billion to the two projects, the federal government will contribute $1.37 billion, and TransLink, the City of Vancouver, and the City of Surrey will contribute $1.23 billion.

Trudeau said Tuesday's announcement was a chance to reiterate the commitment of all levels of government to the expansion of public transit in Metro Vancouver.

"What we're doing right now is making sure that in advance of the municipal elections, everyone understands that we've locked in this funding for the next 10 years," Trudeau said. "These are investments that are going to make a huge difference in the lives of people all across the Lower Mainland."
Tweet