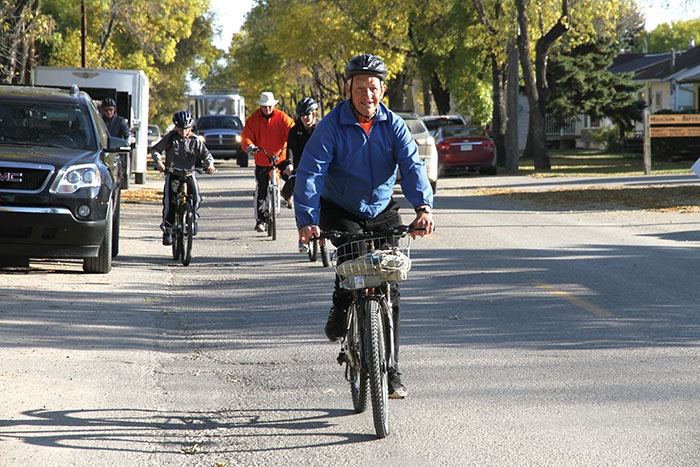 Ride for Refuge coming up Sept. 29
September 24, 2018 10:24 am
by Kevin Weedmark
---
Moosomin's Ride for Refuge is coming up Saturday, September 29, with all proceeds going to the Moosomin Food Bank this year.

The ride starts at Moosomin Baptist Church at 8:30 am for cyclists and walkers, and at 9:30 am at Moosomin Lake for horse riders wanting to take part in the trail ride. Participants can choose a number of different routes, including a 5 km walk or run, a 10 km bicycle route in Moosomin, a 25 km or 50 km bike ride to Moosomin Lake, or a one-hour horseback ride at Moosomin Lake.

Moosomin's Ride for Refuge started in 2007 as a way to raise money for various causes including people in refugee, crisis or underprivileged situations. Over the years proceeds have been donated to a variety of causes.

Pastor Mel Konkel with the Baptist Church was inspired to get the ride going in Moosomin after his son started a Ride for Refuge in Hamilton, Ontario.

"It got going because Our son Rob was in Hamilton in 2007 and in a downtown church, and they realized that Hamilton had the highest number of refugees in all of Canada, and they wanted to do something to help with meeting needs for refugees," he says. "So they organized the churches and businesses of Hamilton to do this bike ride, and that was so successful it went national and now international.

"The following year, 2007, I rode with our son in Hamilton and we raised around $5,000."

That inspired Konkel to bring the ride to Moosomin, where it has raised money for a number of causes over the years.

"We supported a Native Ministry going on in Fort Qu'Appelle to help with needs over there," says Konkel. "We helped a refugee overseas through one of the church organizations, we supported the Moosomin Food Bank and immigrants studying English here in Moosomin. Those were some of the funds that we used.

"Our main goal is one to get churches and organizations in a community working together towards a common goal—that is the number one goal. The second thing we would like to do is to raise awareness of needs, especially in our community, and of course to do something practical to help offset those needs, then to choose charities that we all feel are worthwhile projects that we can work together to support.

"The last two years we wanted to help Harvest of Hope, and we raised money for seed money to help them with whatever costs they had and, now we've decided that we are just going to do something specific for Moosomin and Rocanville and support the food banks. We see the needs there and what they're doing in the communities, so that is what we will do. We've always helped Rocanville Food Bank and Moosomin Food Bank with 10 percent of our earnings."

The number of participants in the ride have fluctuated over the years.

"We've had as many as 70 and as few as 12 and 15 horse back riders and about eight cyclists last year. We're hoping for a combination of 30 riders this year."

The ride is open to absolutely anyone who wants to participate. Riders take pledges to raise money.

"You can either do it online or you can pick up pledges sheets at Moosomin Baptist Church, and you just talk to families to friends, neighbors, whoever you know, and take pledges and bring the money on registration day or make donations online," says Konkel.

"Online you just choose rideforrefuge.org and then go to Moosomin and make your pledge. You can either make a pledge to an individual or to the group—it will all come back to us for our project."

Moosomin is the only small town in Saskatchewan that Konkel knows of that does a ride.

"I know there is for sure one in Winnipeg. There is one in Saskatoon. I believe Brandon is running one and I believe Regina is running one, but it's very unique for small communities like ours, and if I wouldn't have had that initial connection with my won, I'm not sure we would have a ride here," he says.

Konkel says anyone wanting to know more about the ride can call him or the Baptist Church any time.

Why does he devote his time to this?

"Because I really see the benefit of community and organizations and working together," he says. "And we are so much stronger, and it's such a positive encouragement to see that we have so many common values. And just to encourage one another that there are needs out there, and there is something we can do united that is far more than any one of us as individuals or even as individual organizations can do.

"I think there is power in working together and there's relationships that comes with that and building of community, and to bring people together, that's one of my passions. I love to see needs being met, but we need to pull people together, and work together in order for that to happen most effectively, and that's my passion."

Anyone wanting more information on the Ride for Refuge can contact Mel Konkel at 306-435-4287 or drmelkonkel@gmail.com.
Tweet