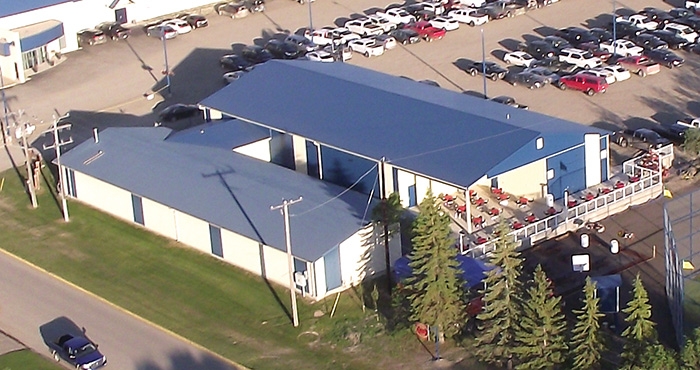 Sportsplex wins first in Sask Municipal Awards
November 15, 2018 9:51 am
Kevin Weedmark
---
Moosomin's Nutrien Sportsplex has been named the winner of the Saskatchewan Municipal Awards for this year.

"I'm thrilled, because it was a unique undertaking, and now that it has been recognized by both SUMA and the Saskatchewan Parks and Recreation Association, it shows that it was a good decision," says Moosomin Recreation Director Mike Schwean.

The Sportsplex had its start when the town had the bowling alley turned over to it, and a community needs assessment was completed six years ago. The needs assessment identified the need for a dedicated park space for community events, the need for nontraditional recreation opportunities, the need for winter leisure opportunities and the need for more diversified recreation opportunities.

Schwean says the facility—with everything from bowling alleys and billiards to walking track and sports simulators—was meant to serve all ages.

"When we were planning it, we wanted to be able to offer programming for adults and seniors and kids. One of the biggest successes of the entire project has been offering programming to seniors. In the past we just didn't have winter programming for that demographic.

"When I look at it now, it's better than what I had envisioned. We were looking for diversity and to accommodate everyone, and I think between exercise classes and the walking groups, and the simulators, and the parties, and the health region using it, we're working with all different demographics. With all the parties, we're bringing a lot of people to the community."

He said there are positive comments from people from out of town. "People are really shocked with it," he said. "When people see it for the first time they are shocked. When we have our Christmas parties now, we have a lot of people coming from out of town, from places like Virden, and people are just amazed at what we have there."

He said the proximity to the MCC Centre and the Communiplex helps as well. "It's so nice the way it works with the rink next door," he said.

"So many people pop by just to see it. And for the people in town who use it, it's great. There are so many people who use it, from walkers to golfers, and they all love it. We hear so many positive comments. It's provided exactly what we wanted it to. It's provided an opportunity to stay active in the winter for people who didn't have an opportunity for that before.

"We have had cities call us for blueprints and to find out how it works—not towns but cities."

The cost of the facility was estimated at around $1.5 million, of which $1.3 million would come from corporate donors. The Sportsplex now includes the pre-existing bowling alley, billiards, four sports simulators, an indoor walking track, two indoor pickleball courts, large raised decking, a large outdoor stage, ground level rubber decking, a flag garden, and a park area.

The main part of the facility was completed in 2016, and that year the facility was named the winner of the Cecil Nobes Facility Award of Excellence from the Saskatchewan Parks and Recreation Association.

The Sportsplex has golf leagues going in the winter, there are pickleball courts, and a large number of walkers make use of the walking track, which the recreation department has tried to make more interesting by starting challenges, where walkers walk across the province or the country, reaching certain milestones after a certain number of laps. Outdoors, at the Tim Hortons Outdoor Eventplex, the deck and stage are used for special events in the summer, and a weekly farmers' market is held on the grass area. A flag garden and campground were developed this summer, and Kim Setrum is sponsoring a mini-golf course to be added next summer.

Mayor Larry Tomlinson said he is proud that the town was selected for the award. "It's pretty awesome that we won. It's awesome for the town. Mike put a lot of work into getting that facility built and it's something for everyone in the community," he said.

"It's got the simulators with all the sports inside, it's got the Tim Hortons Park outside for the summer. It's just a really good facility."

Tomlinson said he thinks the facility has been a great addition to the community. "It's great for the town to have the Sportsplex—a lot of people in town make use of it, and people from out of town are coming to parties and events there." he said.

"I'm very proud of this award. Mike and Catherine do a good job with recreation and with that facility."
Complete results:

First Place: Moosomin Nutrien Sportsplex (Town of Moosomin) Winning Practice: Established an advanced sports facility to offer dedicated space for community gatherings and diversified recreational opportunities for all ages.

Second Place: Wellness Centre (City of Melfort) Winning Practice: In partnership with regional members, developed a comprehensive health care facility to centralize health services for patients and medical professionals.

Third Place: Île-ŕ-la-Crosse Fish Processing and Packaging Facility (Northern Village of Île-ŕ-la-Crosse) Winning Practice: Established a certified fish processing and packaging facility to provide employment and training opportunities and promote economic growth.

Regional Cooperation: Tourism and Rebranding Campaign (RM of White Valley and Town of Eastend) Winning Practice: Developed a new community brand to attract visitors and generate revenue streams to support local businesses.

Honorable Mention: Waste Water Treatment Project (Town of Unity) Winning Practice: Introduced an innovative and cost-effective system that expands capacity and treats waste water to a standard exceeding regulatory requirements.

An independent committee reviewed 18 nominations, submitted on behalf of 35 municipalities, to choose the four winning projects.

Committee member Jeff Mulligan made note of the quality of the nominations received this year: "Each year has key ingredients that stand out as noteworthy when reviewing the Saskatchewan Municipal Awards submissions. 2018, simply stated, hit it out of the park! Rating these winners one, two, three, does not do them justice."

Committee member Keith Schneider says the quality of submissions reflects the great work being done in our province: "The quality and diversity of submissions received by the selection committee clearly reflect community-based initiatives to improve the delivery of municipal services and enhance the economic well-being of their residents."

The town will receive the award at the annual SUMA Convention in February 2019 in Saskatoon.
Tweet