---
Social services minister visits Moosomin
November 27, 2018, 2:25 pm
Kevin Weedmark
---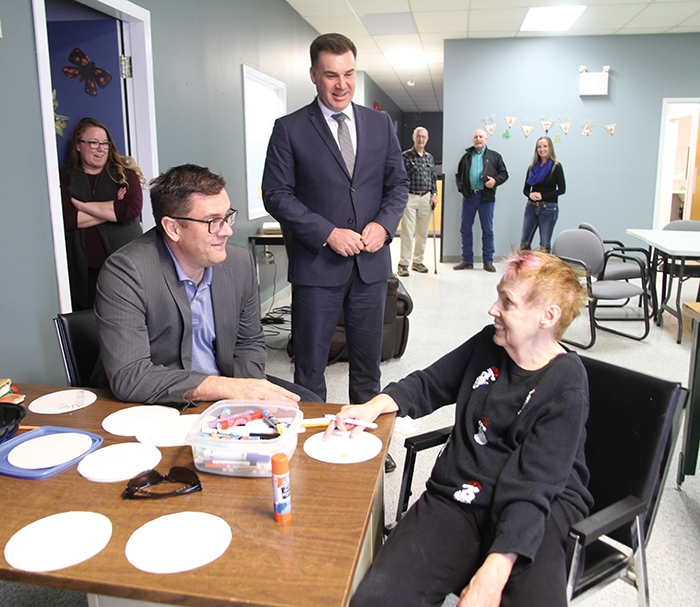 Saskatchewan Social Services Minister Paul Merriman visited Moosomin Thursday, where he and Moosomin MLA Steven Bonk visited the Pipestone Kin-Ability Centre, met with the Moosomin Housing Authority, and sat down for an interview with World-Spectator editor Kevin Weedmark.

Pipestone Kin-Ability Centre provides support services to adults with cognitive disabilities, and operates a SARCAN depot, an eco depot that recycles oil and filters, and operates a commercial laundry business that handles laundry for the Saskatchewan Health Authority.

The Moosomin Housing Authority operates 135 family and senior housing units—73 senior units including senior buildings such as Centennial Manor, Sterling Manor and Knotty Pine, and 62 family and single social units, including Greystone Heights, Willowdale Manor, Moose Mountain Place, and several individual duplexes and houses. It is jointly owned by the federal, provincial and local governments.

Following is the full interview:

Tell me why you are in Moosomin today? What was the purpose of your trip?

I wanted to come out and see the KinAbility and talk to the local housing authority. I like to get around the province and actually talk to people who are running the programs to see what's working, what isn't working, and where we can as a government maximize our dollars in rural Saskatchewan and in urban Saskatchewan.

I hadn't been out to Moosomin—I've been spending a lot of time on some First Nations communities up in the north, and travelling around the province. I was invited by MLA Steven Bonk to come out and see what is happening in the great town of Moosomin, and in his constituency.

What did you learn on your visit to Moosomin today?

Well, a lot of things have changed since I was last in Moosomin about 15 years ago. The town has expanded, there has been some great growth, there are new businesses in Moosomin, the town seems to be very much thriving.

I learned a lot about what is happening at the Kin-Ability and what is happening with some of the participants, and how they're getting participants with different abilities to be able to contribute back to the economy and provide a service that is very well needed and at a cost-effective price.

It was a great trip to be able to see what's going on at the local level. I'm trying to go around the province and see what's working and see if there are opportunities to duplicate a service that's working.

If there's something that's working really well in Moosomin, I don't want you guys to keep it a secret here, I want to be able to pass it on to some other communities and perhaps help them meet some challenges that they have.

How did you enjoy your visit to the Kin-Ability? Is is similar to how some other centres are set up?

They're all unique. Sometimes it's the scale, sometimes it's the duties they perform. There are some things at SaskAbilities in Saskatoon where they actually do the cutting and making of coveralls for the highways department.

Others do very minor tasks, but tasks that need to be done, and there are some that do very complex things.

It's always interesting to see how they adapt each centre for the needs of the community and the abilities of their participants, because all the participants are different.

I had a great tour. I met with some great participants there. The laundry facility is absolutely amazing. I was impressed that they are doing the oil recycling, because that's something that has waned in interest over the last little while. I was glad to see they were doing that.

Of course I saw the SARCAN side of things.

I wanted to talk a little bit about logistics, what's working, what isn't working, and what do they need from us as a government to be able to help support them to meet their mandate.

And how did your discussion with the housing authority go?

We were discussing a few things at the housing authority. Moosomin is in a unique position in the province. They've weathered the economic storm extremely well.

There has been a lot of growth here. We want to make sure we're maximizing the Sask Housing units, that they are being utilized, and that the assets are not depreciating. We want to make sure that those units are available for anyone who needs Sask Housing, and if they're not being utilized for that, that they're utilized for the best needs of the community.

What big issues are you facing in your portfolio day to day?

Most of the day-to-day issues would be on the income assistance side of things. There are a lot of people with a lot of complex issues around the province who are having challenges in meeting their daily needs.

What we're trying to do as a government, and I think as a society, is to make sure that they have every opportunity to be successful. And if they have every opportunity to be successful within the community, then it's up to them to be able to take that next step.

But we want to be able to provide all of the supports. Child and family is always a very challenging side of my file, working with foster families, and working with the adoption centre in Saskatoon and other agencies that are trying to help out families who are going through a temporary crisis. We want to be able to help them out with some support.

On the disability side of things, which is something I very much enjoy—it's great to see the participants out there—there are some housing needs. Our SAID program, which is our disability income program—what's working, what isn't working?

Sask Housing has been very successful. We do have some chronically vacant units across the province, about 3,000 of them that aren't being utilized, and I want to be able to touch base with people across Saskatchewan and see what their ideas are on what we can do with these units, because they are the ones who are operating them for us.

What do you hope to accomplish in your time as minister?

There are long-term goals and there are short-term goals. The short-term goal is to be able to provide the best service, and the long-term goal would be, from what I've seen in the income assistance—which is the largest part, there's no one I've met yet that wants to be on income assistance—they want to be self-sufficient. So how can we give them the opportunity to be self-sufficient? If we could change the direction of someone who has become very dependent on the government, to becoming more independent and more successful in their own right and have the opportunity to do that, if I could look back in a few years and be able to say we helped some people become more self-sufficient, and more independent, I would consider that a great success.

But there are lots of things within social service where there is lots of overlap with eduction, justice and health. We want to be able to meet all of their needs while trying to give them the opportunity to be successful themselves.

When you travel around the province, do you find that many communities are facing similar issues?

Every community is a little different. The economics of the community and the area makes a big difference. Some of the remote communities, they're having issues with mental health and addictions. In the major centres there are other challenges. But Saskatchewan people are very resilient. They want to be successful. They want to be independent. They want to be able to move themselves forward. The old Saskatchewan of everyone being humble and not show off their success is gone. It's good to see people want to be able to give back to their community when they have been successful.

Steven, what was your goal in bringing the minister out today?

Steven Bonk: I really wanted him to see the KinAbility program in Moosomin. I'm a huge fan. I think it's something that could be replicated across the province.

It's been such a success, and especially when you see the participants and how much pride they take in their work and the good job they're doing in a very cost-effective manner. I think it's just a wonderful program.

What do you think makes it unique?

I have to give a lot of credit to the leadership at the KinAbility. They do an amazing job, and their commitment to their participants and what they do is second to none.
Tweet