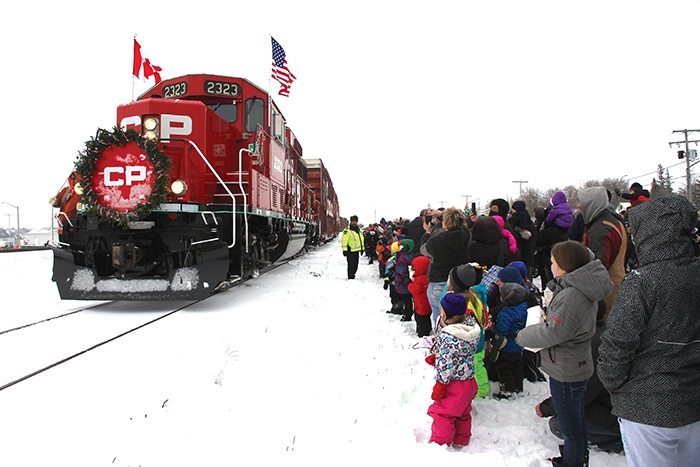 CP Holiday Train here Wednesday
December 4, 2018 1:52 pm
Kevin Weedmark
---
The CP Holiday Train is coming through the area this Wednesday, with stops in Virden, Moosomin, and Broadview.

The Moosomin Food Share has a lot planned for the Moosomin stop.

The train rolls into Moosomin at 11:55 am Wednesday.

The train will come to a stop on the CP main line just east of Scotiabank, the door will open on one of the cars, and Canadian performers Terri Clark, Kelly Prescott and Sierra Noble will step out on stage and perform for the crowd.

There is no charge to attend the Holiday Train performance but donations will be accepted for the Moosomin Food Share.

Samantha Campbell, the administrator with the Moosomin Food Share, said this year the Holiday Train is promoting heart healthy donations such as brown rice, whole grain cereals, granola bars, muffins, canned fruit or vegetables, tomato sauce, tomato soup, apple sauce, cheese spreads, yogurt, milk, cheese, canned meat, peanut butter, dried beans, or anything else heart healthy.

She added that fresh food and frozen food can also be donated to the food bank, not just dry goods.
"At the food share we do have a cooler that we purchased through the grant that Enbridge gave use, so we can keep fresh stuff like yogurt and cheese and we also can keep frozen items in our cooler," she said.

The food share will be set up to accept a lot of donations Wednesday.

"We have rented a trailer from Flaman, and June and Doug Van De Kerckhove donated their trailer as well," she said.

"We will have one trailer for the donations, and the other we'll be serving the chili out of."

Hot chocolate and chili will be served at the event at no charge.

Conexus Credit Union is donating and serving hot chocolate, the two local grocery stores are donating buns, bowls and spoons, and 15 businesses, groups, and individuals will be making chili for the chili cookoff.

The groups signed up to make chili include:

-Best Western
-McNaughton High School Commercial Cooking Class
-Motel 6
-Parrish & Heimbecker
-Sharpes Crop Services
-Moosomin Food Share/Thrift Store
-Pattison Ag
-Mullett's RONA
-Red Apple
-Hub Insurance
-Mazergroup
-Celebration Ford
-Wendy Lynd
-Sam Campbell
-Lori Shepherd

It will be a busy day for the Food Share group, but a lot of volunteers have signed up to help out.

"We have about eight volunteers coming from the Nutrien Potash Mine who are going to help us out for that day," said Campbell. "They will bring all the donations back and help sort them out."

Donations to the Food Share will help fill both regular hampers and Christmas hampers. "For the regular hampers we do canned beans, cereal, soups, pastas, spaghetti sauce, that kind of thing," says Campbell.

"For the Christmas hampers we will do the full Christmas dinner. The Elks are planning to make a donation to us at the Holiday Train to help out with the cost of the turkeys. We will do boxes of Christmas oranges for each of the hampers, and Family Foods will help with that. We're going to do stuffing, milk, eggs, potatoes. Last year one lady donated a big bag of potatoes from her garden. We are hoping to include frozen vegetables, cranberry sauce, and a dessert.

"For all the kids in the families who receive the hampers we will do a little gift for them, so they will get a gift bag with a brand new toy, or a brand new pair of mitts and socks, that sort of thing."

For people attending the holiday train event, what is the most needed item for the Food Share program?

"Pasta and pasta sauce," says Campbell. "We go through so much of it, we can't keep up with it. That would be the most useful thing that people can bring. The hospital employees are doing a competition, where they are trying to bring bigger items, dishwasher soap, laundry detergent, that sort of thing. They are also collecting gifts for the children."

School students and day care children are taking part in a coloring contest for the food share.

Those who participated have been entered to win a small train set for around the Christmas tree.

Everyone who donates food on Wednesday will be entered for a draw for a wreath.

About 500 people are expected at the event on Wednesday.
Tweet