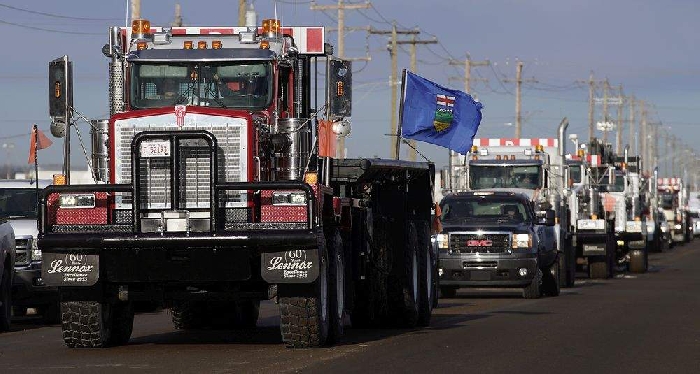 Details finalized for pro-pipeline rally
January 4, 2019 4:25 pm

---
Details have been finalized for the pro-pipeline convoy from Virden to Brandon tomorrow

Trucks will be gathering starting around 10:30 am Saturday at both Sparks Sand and Gravel and the Co-op cardlock just off the Trans-Canada Highway at Virden.

A truck bed with microphone and speaker will be set up near the entrance of Sparks Sand & Gravel.

Around 11:30 am a representative from Larry Maguire's office along with Virden mayor Murray Wright say a few words then Vic Falk will give a prayer for everyone traveling.

Organizer Damen MacGillivray says he has received phone calls and text messages from supporter all across South-West Manitoba and Saskatchewan and he expects a large turnout.

The trucks will leave Virden at noon and head east along the Trans-Canada to Brandon.

"It's because of all the decisions the government has been making and shutting pipelines down, and not making very smart decisions for oilpatch companies and people who depend on the oilpatch to make a living," said organizer Rick Walker, a trucker who hauls oil.

Because of the large amount of interest, truck will meet at two locations -- at the Co-op cardlock just off the Trans-Canada Highway, and at Sparks Sand and Gravel -- at about 10:30 a.m., this Saturday, Jan. 5, leaving for Brandon at noon.

The convoy is being planned to protest issues like: Pipelines and resources, Taxation, and the carbon tax

The convoy will travel Virden to Kemnay bridge bypass 1A, continue 1A - Brandon to 18th Street, and take 18th Street to Number 1 Hwy then head back west on the Trans-Canada Highway.

"It's been happening all over Canada," Walker said, adding hundreds of trucks have been joining rallies in other places.

"When we're not working, we can't make a living," Walker said, adding it's not just those working in the oil industry who are affected.

"You take Virden," he said. "There's a lot of oil in Virden. A lot of people depend on the oil for their jobs and then if they're not making any money, well then they're not buying as much groceries and vehicles.

"It affects everybody."
Tweet