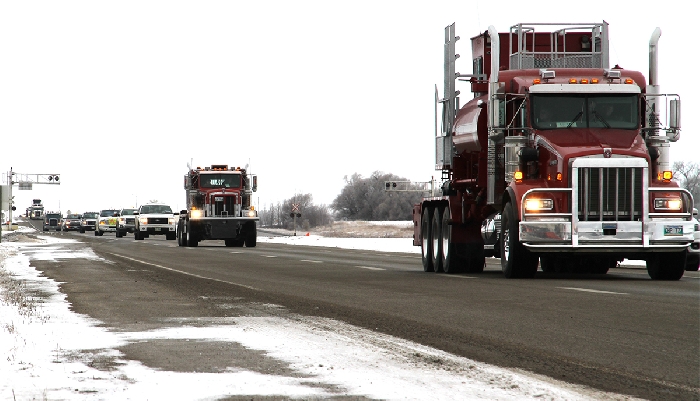 Resource Coalition Convoy to Ottawa cancelled
January 14, 2019 3:40 pm

---
The Resource Coalition Convoy to Ottawa has been cancelled.

The convoy was to take place between February 15 and 20.

It was one of two convoys being planned to Ottawa -- the other being a Yellow Vest convoy.

The Resource Coalition is made up of Canada Action, Rally 4 Resources and several other groups.

"Unfortunately the convoy is cancelled," Cody Battersill of Canada Action told the World-Spectator Tuesday. "We encountered some unexpected challenges and issues, and it's just in the best interests of the resource coalition, all the different groups, to cancel the convoy. It's a decision that had to be made. We had good interest, and we were very committed to doing the convoy, but unexpected and unforseen circumstances and issues arose, and we need to be thinking about the best interests of all of our supporters.

"We would like to recognize the overwhelming support and courage that so many Canadians from coast to coast have expressed in their desire to participate in the Resource Coalition Convoy to Ottawa." The group said in announcing the cancellation of the convoy Monday.

"This event was planned in response to the overwhelming momentum that's been building from our resource rallies. Unfortunately, we have come to the decision that it is no longer viable to proceed with our planned convoy. We cannot confidently mitigate the unexpected challenges associated with this event.

"As such, we will be issuing full refunds to all of our donors. We greatly appreciate your support.
GoFundMe has advised us that donors will receive a full refund in 3-7 business days. Those who donated through the website will be contacted and fully refunded. While we are disappointed that we cannot proceed, we would like to assure our supporters that we are committed to advocating for our natural resource sector, and our national economy.

"Please continue to Take Action to get our economy back on track. We need your help and support in order to make continued progress. The Resource Coalition has a number of exciting events planned for 2019."

The convoy had raised $43,240 of its $250,000 goal by Monday, Jan. 14.

Separately, a rally for the resource sector is being planned for Moosomin in February. A date has not been nailed down as local organizers are working with potential speakers on a date.
Tweet