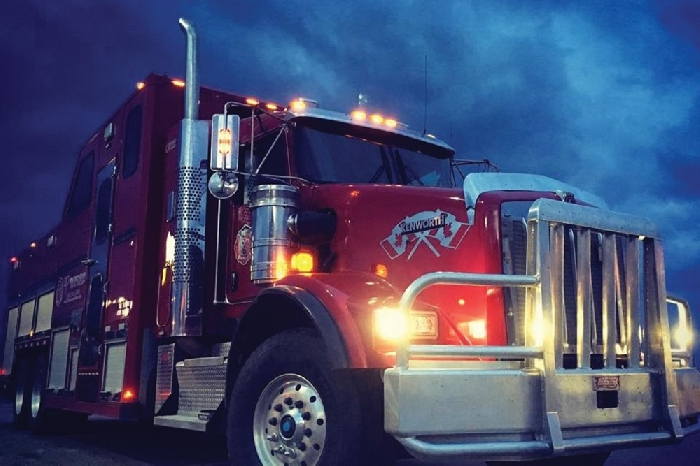 United we Roll convoy coming through Friday
February 11, 2019 9:42 am

---
The United We Roll truck convoy to Ottawa is coming through the Moosomin area Friday, a day ahead of a Pro-Resource Rally in Moosomin. World-Spectator editor Kevin Weedmark spoke with organizer Glen Carritt last week.

When would you be heading through eastern Saskatchewan and western Manitoba?
We're going to be leaving Regina at 8 am on Friday the 15th and we'll hit Moosomin about 10:30 am, Virden at about 11:30 am, Kemnay at about 12:15 pm, Winnipeg about 3:30 pm, and Kenora at about 6 pm.

Do you have any idea of how many trucks you are going to have coming through?
Going all the way across the country we've got a few hundred and there's going to be lots of trucks joining us for short versions of the trip. For example we're going to have probably a hundred or so join us from Regina to Moosomin. It's going to be kind of like the Terry Fox run where trucks are going to join us and then they can't make the whole trek but they're encouraged to come and make part of history—join in whereever they can for however long they can.

Do you guys have some events and rallies along the way?
We really don't. We're going to have little meet-and-greets but we've got 12 hours of driving every day or more depending on weather, so we're going to a have a conference room in Regina, a little meet-and-greet, nothing real formal. We want to keep our costs down. These are people, as you know, who are suffering out here and everywhere, so we're trying to keep costs down and the fundraising is what it is, but we're just trying to get to Ottawa and get onto Parliament Hill. Then we've got lots of Ontario brothers and sisters that are going to join us to get more trucks on Parliament Hill as well.

As you are going through are you trying to stick together as a convoy? If someone was to go out on the highway and cheer them on, are the trucks all together?
They're going to be somewhat together when we go through the towns, but at the same time we want to make sure that we allow for traffic. First of all, we need to get to Ottawa, so we've got to drive at highway speed, but then we're going to allow for people to maneuver in and out between traffic so they can get to where they want to go. Our idea is not to disrupt regular working class people on the way—it's to make a statement in Ottawa and gather steam on the way.

You're now called the United we Roll Convoy for Canada. Are the Yellow Vests part of your group?
No, not any more. They're supporting it but we're doing all the organizing. Same convoy. We're doing all the organizing. So we've got farmers, veterans involved, people from all walks of life from Canada to unite Canada whereever your disagreement with the current government is, and that's a reason to get on board.

Once you get to Parliament Hill, do have some meetings set up with politicians?
We have a rally on February 19 and we've got speeches lined up and we've invited some MPs to speak and some premiers, so we're just doing the line up of the speakers.

Are some federal political leaders coming out?
We haven't got some 100 percent confirmed yet, but we will have some for sure.

How big a job is it to organize something like this?
It's tough. It's one thing to organize a convoy in a certain city and have a few hundred trucks, but for people to go across the country it's a huge, huge commitment and then they have to take time, first of all. If they're working there is time off, and the expense. There are a lot of logistics to handle with Ottawa and each city and the department of transportation, the OPP Ontario Police, RCMP and all the police forces along the way, the scales—a lot of logistics that we've been looking at and taking care of.

Are the people taking trucks workers, or guys who have their own contracting companies? What kind of people are involved?
Yes, welding rigs, service companies, truckers. I'm a safety service company so I'm sending one of my fire trucks. We have people from all walks of life. Good hard working Canadian people that are tired of the government and want to show a peaceful demonstration of frustration for such things as carbon tax, lack of pipelines for our products to get to all of Canada and out to tidewater for the world markets. As well we want to abolish Bill C-48 and Bill C-69.

What sort of comments are you hearing from people?
There isn't one person that I've talked to that said they wouldn't love to come. It's just a matter of whether you can do the commitment or not. Everybody would love to come but of course the other thing that people have to remember that this is our busy season in the oil patch at this time of year so it is tough for people who are working to get away until spring break up. Everyone is supportive and they really want to jump on board and I really think you are going to see the trucks join from town to town or border to border just to get out to support it.

If people want to go from Moosomin to Virden or Brandon do they need to contact you?
They can join in. They can contact us if they like if they want to but they don't need to register for that, they can just jump on board and go as far as they want and as long as they want, and if they want to go half a day turn around that's fine. As we go, a couple more trucks will come in and one drops off—that's the idea.

Ultimately was is your hope for what might come out of this?
We want to unite Canada in our fight against the current government and I would like to see the carbon tax abolished if not revisited. We would like bill C-48 and C-69 abolished and we would like pipelines going immediately. No more procrastination, let's get it going.

Why are these issues so important to you that you are ready to devote this time to them?
Because I believe all of Canada has the same issues where we're tired of the current government and over spending and abusing our equalization payments and all of the things I talked about, and we need to fight. If we don't fight for what we believe in and protest for what we believe is correct in our countries, then our country is going to be in turmoil and trouble.
Tweet