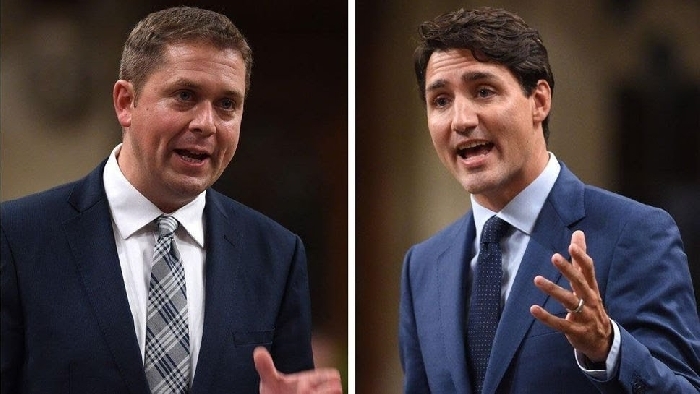 Scheer calls on Trudeau to quit, RCMP to investigate
March 4, 2019 8:01 am

---
After allegations of attempted obstruction of justice by officials in the Prime Minister's office made by former attorney general Jody Wilson-Raybould, opposition leader Andrew Scheer called on Prime Minister Justin Trudeau to resign Wednesday. He said the former attorney general's testimony about SNC-Lavalin proved the prime minister has lost the moral authority to govern.

Scheer called on Trudeau to resign immediately after a three-hour Commons' justice committee meeting in which Wilson-Raybould said she felt pressure from Trudeau and others to head off a criminal prosecution of Montreal engineering firm SNC-Lavalin.

"Justin Trudeau simply cannot continue to govern this country now that Canadians know what he has done," Scheer said. "And that is why I am calling on Mr. Trudeau to do the right thing and to resign."

During her testimony, Wilson-Raybould told the committee that she withstood four months of pressure to reverse a decision not to make a plea-bargain-type deal with SNC-Lavalin. She said the pressure came from Trudeau and other senior Liberal officials.

Wilson-Raybould told the committee that she believed the pressure, which also included "veiled threats" from the country's top civil servant, Privy Council clerk Michael Wernick, was inappropriate.

In a letter to RCMP Commissioner Brenda Lucki Thursday, Scheer reiterated the "serious allegations" Wilson-Raybould made in her testimony.

"These are incredibly serious allegations. And I do not write these words lightly. But the matter at hand appears, on its face, to be a gross violation of the law," Scheer wrote to Lucki.

"I urge you to ensure that you use all resources at your disposal to fully and fairly investigate any potential criminal activity."


Kitchen says allegations are shocking
"We are starting to see details come through and they are as shocking as they are corrupt," said Souris-Moose Mountain MP Robert Kitchen on Friday.
"What we know is that for over four months there was a co-ordinated and unwanted and sustained effort by many including the prime minister, including the finance minister, including the chief of staff, the Privy Council clerk, Katie Telford, about 11 senior government officials involved in this.
"Based on the testimony we heard from Miss Wilson-Raybauld, there have been at least 10 meetings and 10 phone calls from these people in a sustained effort to politically interfere in her exercise of her prosecutorial discretion.
"It's a shock to me. It shocks me to the core when you think what our system is based on, the legislative branch, the executive branch, the judicial branch, which should be separate.
"The attorney general is the person who presides over the judicial branch. It's supposed to be separate. Here we have an example where the executive branch has interfered.
"The prime minister said it was for political reasons that he was interfering, saying there is an election coming up and he is an MP from Quebec."
Kitchen says he believes there is evidence of a criminal offence.
"There is definitely evidence to support a criminal investigation. Our leader sent a letter to the head of the RCMP and asked her to look into things.
"Based on some of the evidence that came from Miss Wilson-Raybould there are sections of the criminal code that may have been violated."
He said he believes all 11 officials implicated, including the prime minister, should testify before the justice committee.
He said he has heard a lot from constituents about the scandal. "A lot of people are just stunned," he said.
"A lot of people think that he should step down. I agree. This prime minister has lost the moral authority to govern. We look at this as an attack on the rule of law. You should not have to break the law in order to save jobs. And where was the prime minister when we were losing hundreds of thousands of jobs in the oil sector?"
A poll is underway at www.world-spectator.com asking people if they believe Trudeau should resign.
Tweet