---
Local band The Firm looking forward to Rockin' The Park
August 19, 2019, 3:58 pm
Kevin Weedmark
---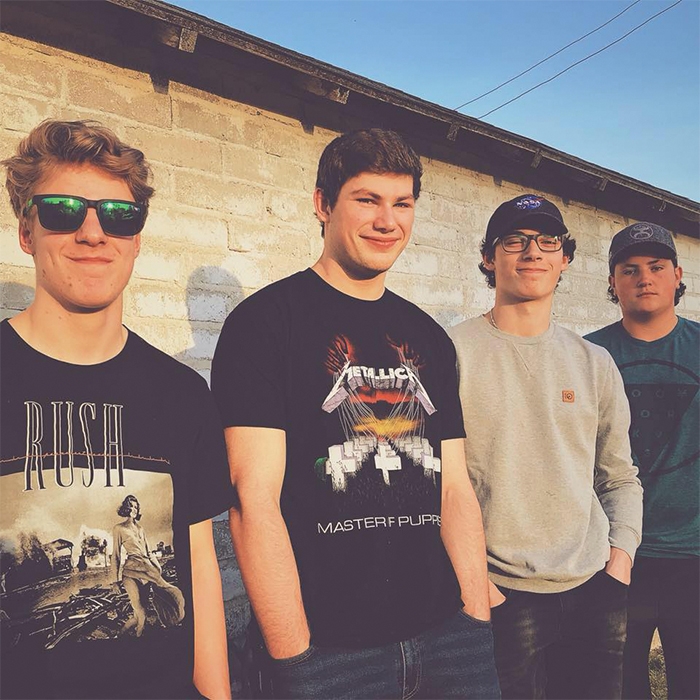 Local Langenburg-area band The Firm will be playing Rockin' The Park in Esterhazy on August 31. While headliners Streetheart have been playing together for decades, The Firm are a young up-and-coming band just at the beginning of their career. Kevin Weedmark spoke with Carter Vosper of the Firm on August 12:

How long have you guys been together?
About three years now we've been playing. We consist of four members. I'm Carter Vosper, my brother is Eric Vosper, and we have Riley Buchberger on drums and, Remi Berthelet on guitar.

How did you guys get together?
Me, Riley and Eric have been playing together for a couple of years and I joined football and met Remi. He joined the band after that and we have been playing together for a couple of years now.

How old were you when you started playing together?
Pretty young, four years ago was when the three of us started. I'm 18 now so about 14, 15 and 16.

What brought you guys together to play music?
We all share a love for music and we just love to do it. It all works out. We can all play different instruments and we can actually do it, so we might as well.

What kind of music do you play?
Rock and funk music mostly. We're writing an album right now and getting pretty close to being finished and releasing that.

All original songs?
Yes.

Who does the writing in the band?
All four of us can write music.

Do you work together or do each of you come up with your own songs?
Sometimes we work together and sometimes we write our own and get the other people to play the parts. We're getting close to finishing it.

What do you do at your live shows? Covers or some of your own songs?
Yeah we play a couple of originals but usually we are playing for five or six hours at a time and we don't have enough originals for that so we play lots of covers.

What is it like being a band?
It's actually getting better now that we are getting better at shows, but it's a lot of fun. We have been having a great summer so far playing lots of shows.

What kind of gigs did you play when you first started?
We started off in a talent show at our school and we did that every year. We played at the bar in town. Our drummer's parents owned it. That was one of our first gigs and we slowly made our way up for open little gigs until we opened for Trooper in Rocanville and got some big ones this summer.

Was that a break for you, opening for Trooper?
That was definitely a break for us. Ever since then we've been getting consistent gigs and cabarets this summer.

How did that end up happening, you guys opening up for Trooper?
Actually we were just playing at Carlton Trail Regional Park on Canada Day last year and Neil Leclair saw us playing. He was going to be in the band that was opening that day but he saw us and asked if we wanted to do it instead.

What kind of crowds were there at some of those initial gigs when you played at the bar in Langenburg?
Not many, probably 20-30 people, and we just had our new record at the Moosomin fireworks—we played for 5,000 people. We are definitely getting bigger crowds.

Is it a bit of a buzz when you are playing for a large crowd?
It actually makes a huge difference for us playing in front of a big crowd. I think we definitely play better and try harder at least when there are lots of people in a crowd that are into it. It makes a huge difference. The people at Trooper were really paying attention to what we were playing. You can tell when the crowd is doing that and we play better I think.

Are you having fun with it?
Oh yeah loving it. Loving life right now.

When does your album drop?
We don't have an official release date but it should be in the next coming weeks.

Is it likely to be out by the time you're playing in Esterhazy?
We are hoping to have it out by then.

How would you describe your original songs?
Some of them are kind of rock and some are funk tunes as well. Some of them are more chilled out acoustic. That is mostly the genres we play.

Describe one of the songs on your new album?
One of the songs we just finished is called October Snow. Our guitarist Remi wrote that and it is just kind of our lives and what's going on around us. We are constantly being inspired by the things that we are doing and the shows that we are playing and everything—just typical teenager life.

Are you going to be able to keep the band together after some of the members go to university?
Yeah we're keeping the band together for sure. We've got some shows booked on weekends. Me and Remi are only going to university in Regina, so close enough to come home and play some stuff on weekends.

Have most of your shows been right around the local area?
Yeah it's kind of getting a bit further out now. We played in Minnedosa before the Moosomin Fireworks on Saturday.

How far do you hope to go with your music?
We will keep doing it as long as people keep enjoying the music and stay interested. We want to just keep doing it.
Tweet