---
Delorme takes 'Queen of the Stars' to World Bodypainting Festival
August 22, 2019, 9:38 am
Kara Kinna
---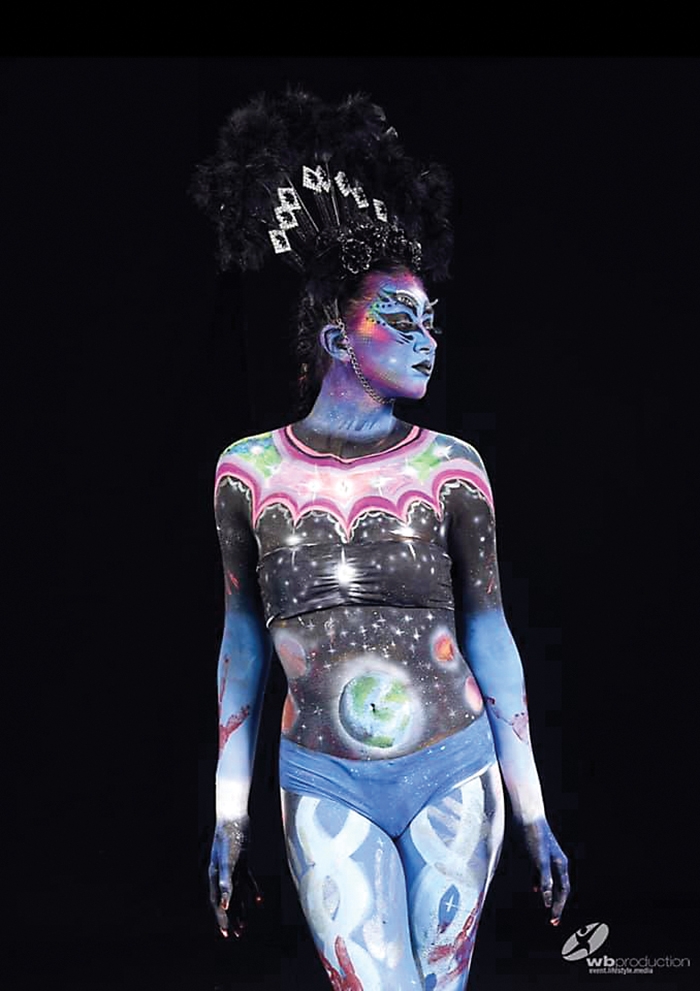 Cowessess First Nation's Jayda Delorme has been painting, drawing and doodling since she can remember.

"Ever since I can remember I've loved art. My mom would buy me paints and markers and for hours and hours I'd be in my room creating," she says.

"I love that I have control and I'm just in my own area where I can be myself and not have to worry about anything around me. For hours I can sit there and just paint and draw and bead. It's just the control I love, and I love expressing myself through my art.

"Other people have other things they love like sports, but for me it's art. I can sit there for hours."
But little did she know that that love would one day take her to the World Bodypainting Festival in Austria.

That's where 17-year-old Delorme found herself this summer, from July 11-13, competing in the amateur category against around 40 other amateur bodypainters with her entry called "Queen of the Stars," which was inspired by Sky Woman and the creation story as told by her ancestors.

It was an inspiring experience for Delorme, who has been using the body as a canvas for a long time. On top of the beautiful bead work that she does, Delorme has been practicing henna art for many years as well, which led her into body painting.

"I've always been interested in art, body art in particular. I started with doing henna art on the body and that's how I got into body painting," she says.

"That's what I'm the most passionate about is painting and beading. Mostly I'm a freehand artist. So I constantly create and doodle. Especially when I bead, I start from one bead and keep going.

"When I was small I used to get henna done by other people in the community or wherever we'd go for festivals, so I knew about henna art and started doing it with markers, and then my mom noticed and said 'you are really good at that.' I got my first henna cone when I was 12. So that's how I started doing henna."

Going to the World Bodypainting Festival in Austria was never planned, but happened after Delorme was contacted by filmmaker Amber Maxie from White Bear. Maxie was doing a film on Indigenous body painting and was looking for artists to work on the project with her. Delorme was one of those artists.

"She put us in her workshop with other body painters. We had a body painter from Toronto fly to Regina to come out to show us how to do the airbrushing. This was all new to us," says Delorme.

"And then from there, every Saturday we'd meet up and have our models and paint and doodle whatever we wanted and get used to painting on a body."

That was last November. As the project for Maxie's film progressed, she received an invitation to bring some of the artists she was working with to the World Bodypainting Festival and have them enter in the amateur category.

Delorme put her name forward as one of the artists who wanted to go to Austria, and work began in earnest on her entry "Queen of the Stars."


"When I paint I try to storytell and teach others about my culture," says Delorme. "For the piece I did in Austria, I recreated the story of Sky Woman and the sky creation story. I made it in a way that I could tell the judges what it means to me, who I am and where I come from. Every piece I do, I try to create a symbol or a story or something that has to do with my culture so I can educate others about it."
Being so new to body painting, Delorme says it was a surreal experience being at the World Bodypainting Festival in Austria, where the artists go all out with their creations.
"It happened really fast. It didn't even feel real until we got there and I was like 'I'm painting in a world body painting festival!'
"I was meeting all my role models. I had done a lot of research before I went so I was meeting a lot of the big body artists and taking pictures and being a fan girl over all of these artists.
"I'm hoping we can go again next year. It was an amazing experience. There were people from all over the world there, from India, Korea, Brazil."
Delorme says, as soon as she found out she was going to Austria, a lot of work went into her piece. The theme of her category at the festival was "galactic zoo" and Delorme had to make her piece mesh with that theme.
"I practiced every Saturday, and I'd practice on myself as well, on my legs, different styles. When I found out I was going, I started getting ready and figured out what I wanted to do for it. For the festival we have to do a theme, and our theme was galactic zoo. So I had to figure out how I could relate my Indigenous culture with galactic zoo. I spent months trying to figure out what to do with that.
"For the headpiece, we had Helen Oro design it. She's a fashion designer from Saskatoon. She creates headpieces for fashion shows. So we connected with her and she let us pick the headpiece and that's the head piece that I really connected with."
Delorme says once at the festival she had only six hours to create her piece and then present it to the judges.
"There were categories. I was in the amateur category so we had six hours to create the piece," she says. "After, we had to go in front of the judges and have a 60 second presentation on what it meant. After that we did a big photo shoot for the models. And then the models went onto the big stage to show everybody.
"I was nervous. They asked me how old I was and I told them I was 17 and they were amazed by it and were excited to hear what my piece meant.
"They were really intrigued by it. They were asking me where I was from. You have to have a quick conversation in 60 seconds so it was kind of difficult to talk fast and explain and answer my questions, but I think it worked out pretty good for what I had."
Delorme ended up placing 24th in her category, something she says is a major accomplishment since she appeared to be one of the youngest people at the festival and had only been painting since November.
"I honestly didn't meet anybody else as young as me," she says.
"It was really an eye opening experience because in Canada we don't really have lots of body painters here. To go to another country and to see everybody and all the different styles of art and to see there are actually people out there who can do this and who love it, it kind of just inspired me to get more into it and decide that I want to do this. I want to continue body painting.
"I love doing it. It's fun, it's different. It's something you don't see a lot."
She says back home at Cowessess, everyone was excited about her going to the festival.
"Everybody was so proud of me getting here. Everybody had their ideas to put in too, what I should do. My family was constantly helping me fundraise. It happened so fast all at once. There was lots of preparing with the family.
"I have had lots of people tell me how proud they are, and I was proud of myself," she says.
"I just hope to inspire other youth to shine bright and do what they love. We need to educate and teach non Indigenous people about the culture. A lot of people aren't aware of our teaching and storytelling and our ways in general. We just need to keep teaching and educating and having people ask questions where everybody becomes more aware of who we are."
Delorme says she hopes to return to the World Bodypainting Festival next year, more experienced and with more ideas to share now that she has been there once already.
Getting to the festival
Amber Maxie from White Bear was the artistic director for the artists who went to the festival and she explains how the whole thing came about.
"I'm a filmmaker so I wanted to do a film on Indigenous body painting looking at the more traditional body painting, the history of body painting, especially in this area, and then blending in the more contemporary art form," she says. "So what I did is I talked to a few elders in the area, talked to some dancers, and kind of put the feelers out for different artists that I thought would like to work on this project with me.
"The idea was to explore Indigenous identity on top of that, so I really wanted to get a vast range and different ages of artists.
"The original project we started back in November of 2018. We did a workshop and I invited Michael Lonechild, Rene Lonechild, Jayda, Larissa Kitchemonia and her partner. There was a big group of artists there. And then I invited an elder, Wayne Goodwill, who is also an artist, and I invited a traditional dancer who also paints his face while he dances, and we went through what the history of the project was.
"I also invited a contemporary body painter from Toronto.
"I invited everybody to a workshop, we held it at the CBC Sound Stage, and I started the film. I explained what I would be doing and filming the project. I asked everybody to be involved and we learned about the history of Indigenous body painting. Then we also all learned together about the contemporary art form, so that is how that started.
"And then I contacted the World Body Painting Festival, the people in charge, and talked to them about what I was doing, because being at the festival was going to be a long-term goal for the artists involved, and what ended up happening in those conversations was an invite not only to film but to have some of the artists come and compete in the amateur category.
"So I put it out to all of the artists—'would you guys like to do this? Do you think we can do it?' It was Jayda Delorme and Larissa Kitchemonia who decided that yeah they really wanted to. So we spent some months and we worked on their concepts together and we got models, we did some training and we had Wayne come back out and talk to them again, and we all headed over to Austria."
Maxie says she never expected them to be going to the World Bodypainting Festival so quickly.
"When I pitched the idea around . . . I never expected it to happen this year. In the weeks leading up I was not sure that it could happen. It was terrifying, but so exciting because nobody had any experience and we've never been to anything like this before. All of my crew—we didn't really know what we were doing. My photographer was brand new.
"But that was the idea. I wanted to be able to give experiences to people to show them that this is possible. This is what we could do.
"All of the artists were incredible, and the models. The models were brand new and the assistants (to the artists) as well, we had assistants to the artists. Mia (Chartrand), who was the model for Jayda came on a few weeks before we left."
Maxie says she purposely sought out younger artists like Delorme for her project, because she wanted their perspective.
"I've known about Jayda's work, she did some bead work for my son and partner. I know she's done henna work, and I really wanted a younger artist because they have a different perspective than an artist like Michael Lonechild," she says. "Once Jayda got on board you could really tell this is something she loved to do. She was really into it. She did a lot of practicing on her family and on different people."
Maxie says she was impressed by the way Delorme and the other artist, Larissa Kitchemonia, performed at the festival.
"I was really impressed. They worked really hard. There is an eight-hour time difference so it was basically like they were painting in the middle of the night for them. I think there were about 40 people that she was going up against in her category, so to come in in that middle range, that is pretty incredible for a first time.
"We were looking around and it was our group that was basically the younger people there. There definitely weren't any teenagers competing."
So what's next for the artists? Maxie says new doors have opened to them since going to the festival in Austria.
"Initially it was all about the film and that is going to come out, and it has sort of become a collective in that we've gotten different opportunities," says Maxie. "Being at the festival I talked to Craig Tracy who is the top artist in terms of body painting—he is the guy you want to know. We had a discussion and he invited the group down to New Orleans. I've been talking to him off and on. He has a studio there and he said 'I don't know what I can offer you' because he is very humble, but we can work on something and come down.
"There are different things that are happening. There is the potential for us to travel to New Zealand because there are contacts there that like the idea of collaborating on Indigenous body painting. There are opportunities."
Tweet