---
Run for the border—Our COVID-19 story
April 3, 2020, 11:24 am
Barb Widger
---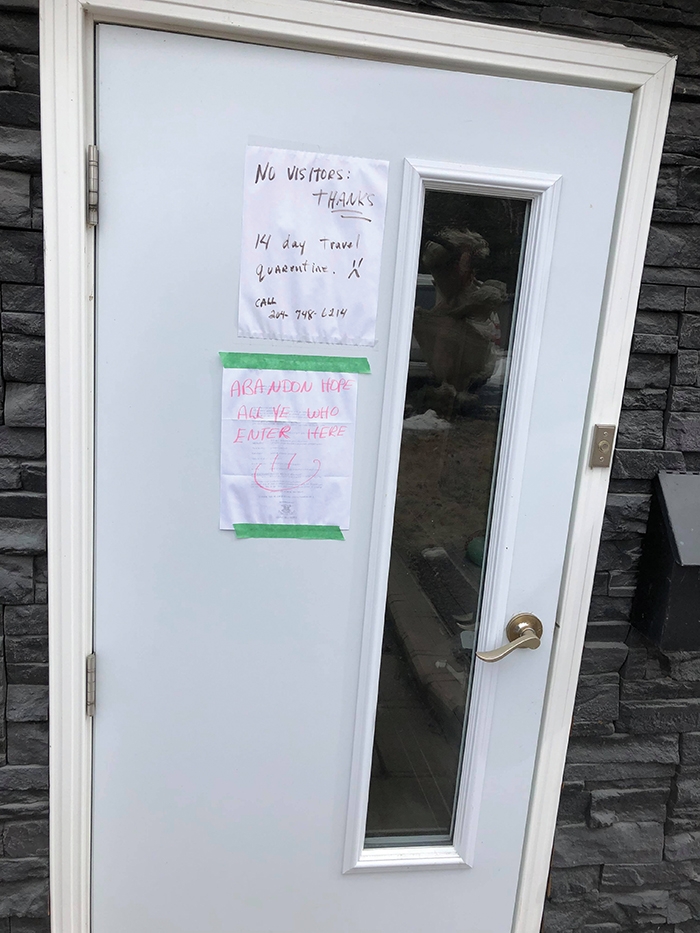 Barb Widger is a travel writer from Virden. This is her story about rushing back to Canada from California after Canadians were called home due to the Covid-19 crisis.

After spending an idyllic winter in our new California home we were randomly watching news channels about a new virus, nothing out of the ordinary for the world. My sister Marjorie was down visiting from Alberta for two weeks and we were busy showing her all our favorite sights and trails.

We had permits to hike Havasu Falls from March 10-13 with a long drive March 9 to the trail head where we camped for the night before beginning our 10-mile hike to the falls. For five days we were out of the loop newswise, and we returned to Palm Springs and left the next day for a two-day hiking trip to Borego Springs where we were very excited to be hiking the local slot canyons.

By the time we were back to the trailer park on the evening of March 15, the news of COVID-19 had pretty much blown up all the news channels. Our local Von's grocery store was open but there were bare shelves, no paper products, bread or milk, no cleaning supplies or pastry. Sheesh, you read about a calamity of this kind or see it on TV but never expect to live it. It feels weird to see everyone in masks and gloves, swabbing wet wipes all over everything.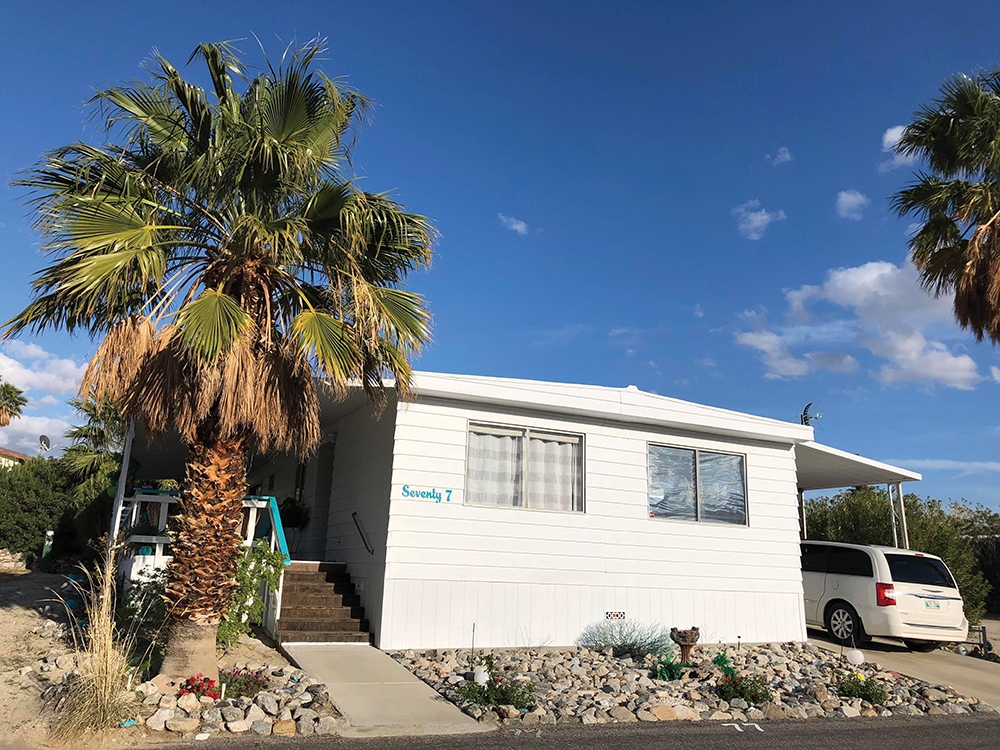 Most of the smaller stores were closed or had a 10-person limit, events were being cancelled or postponed, the whole of Coachella Valley was in a flux of uncertainty with more store closings and health warnings being added by the minute—this virus was a tad too close for comfort.
Back at the park we found the pool, hot tubs and meeting rooms all closed until further notice, and all park events cancelled.
We were sending Marjorie home on a 5 pm flight Wednesday, March 18 and that flight was still listed as okay. Our return flights were for April 10 and Don spent Monday and half of Tuesday, March 17 trying to change them or book new tickets home with no success. Somewhat reluctantly, the plan to fly home was scrapped as border crossing warnings and airport cancellations kept coming. By noon we had decided to drive our California car home with a contingency plan to drive Marjorie up to Alberta if her flight was cancelled.
We went to the store one last time and it was pandemonium as people were panic buying everything left off the shelves, people were acting crazy in the cleaning aisle for sure. By noon we had closed up the house, cleaned the yard one last time and packed enough food for four days into two coolers, filled a couple of gallon jugs with water and hit the road. We dropped Marjorie at the airport at 1 pm for her flight at 5 pm. The plan was for her to book a flight to Denver if her flight home was cancelled. From Denver we could pick her up and continue north. Luckily she was on her plane and home by midnight.
Our normal driving routes are fairly leisurely, wandering along small highways, stopping at tourist attractions, scenic overlooks and generally enjoying the drive. This trip was a study of the fastest interstates and quickest way up to the border crossing at Westhope. The first six hours went well, then cruising along I-40 just out of Flagstaff, Arizona we ran into ribbons of fog emerging from the hillsides and then a fierce snowstorm that had the road closed at Williams where we were lucky enough to get a room for the night.
The next morning white clouds filled the sky and turned pink and orange with the sunrise. There was a lot of windshield scraping and shivering before we hit the road early. We travelled fast through snow, sunshine, and rain, and by 7 pm we were tired, and again gnarly fingers of fog reduced visibility, and at dark we ran smack into another storm with blinding squalls of snow. From Monument, Colorado up to Castle Rock we also had construction and one-lane traffic to contend with.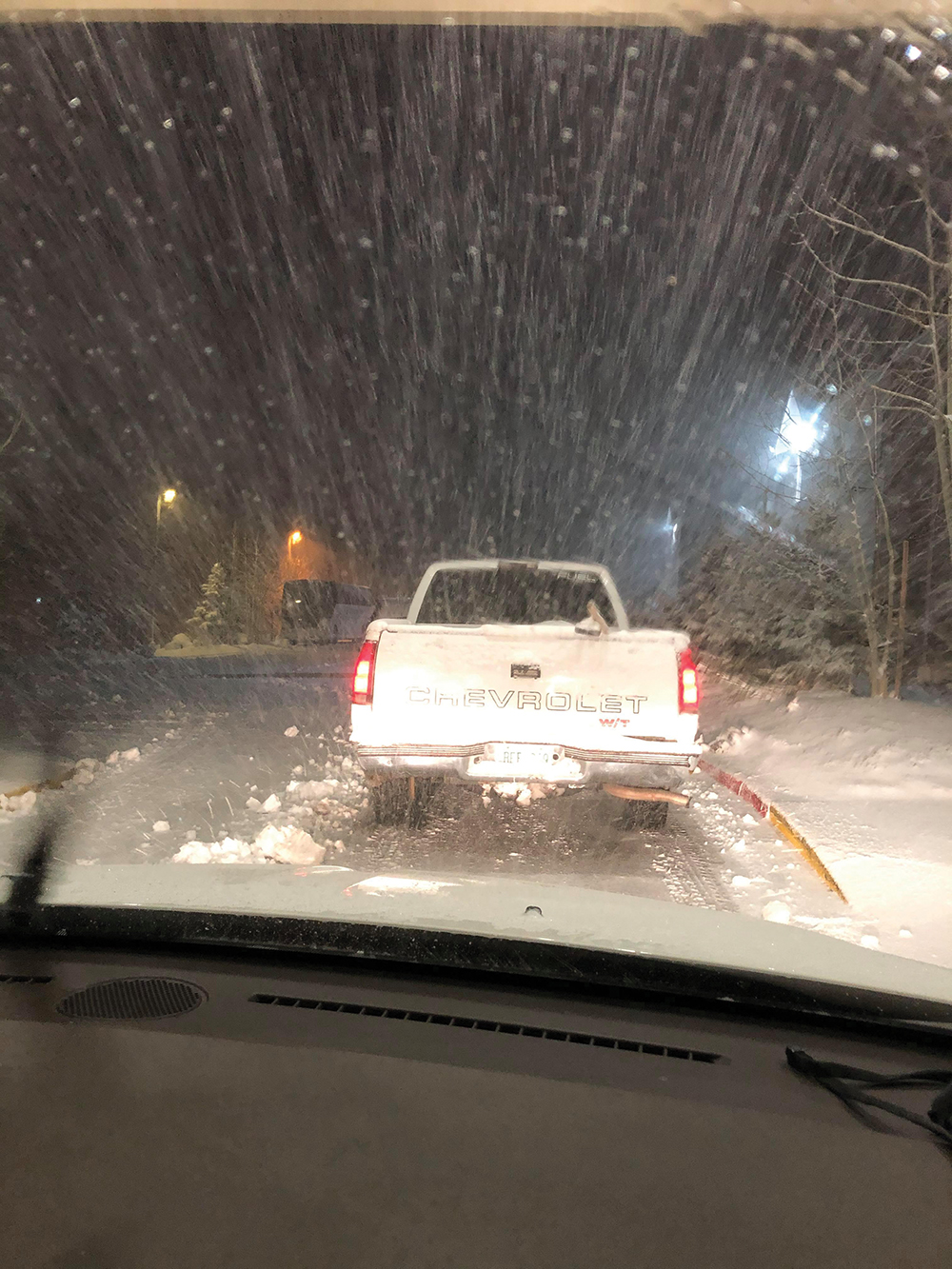 At Castle Rock we thankfully pulled off the road and found refuge in another roadside motel. The whirling winds and fresh falling snow made the air alive with tiny sharp missiles. Don braved the storm to bring in bags while I ran a hot bath. The front desk assured us they were doing everything they could to protect their visitors and would provide us with a breakfast bag in the room the next morning.
Another day of snow, sun, wind, rain, and we arrived in Linton, North Dakota for the night. (If you ever go through there, the Cobblestone Inn is wonderful.)
The final day of travel was perfect, a clear blue sky, no wind, dry roads, and from here it was a straight shot north on #83, traffic was very sparse and we passed three other Manitoba vehicles heading home.
We had a quick stop for fuel and coffee in Minot and were ever so glad to see the border crossing. The U.S. side stopped us and we were asked in a deep gravely voice if we were Canadian citizens returning home, they were not letting anyone else through as they would be turned back on the Canadian side.
Rolling up to the border windows we were met by a cheerful young lady in a dark blue customs uniform and bright blue surgical gloves. After the standard border questions and a further question about our health we were given a sheet of Public Health numbers to call if we were ill in the next 14 days and a stern warning to self-isolate for 14 days.
We are home again with the people we love most in the world, so thankful to have a fully stocked fridge and fruit bowl thanks to Lane and Sheldon. We also send a big thank-you to our lovely young neighbors Jesse and Brandy and their adorable little Breckin for the excellent care they gave our little flock of chickens this winter.
We are alive and we are happy, self-isolating and visiting through the patio windows. Don had the bright idea we should use this time for a whole house, top to bottom, spring cleaning. I said, "Super idea honey, you get started on that right away, but I must write." (And I'm writing long and, really slowly.)
Be thankful we live in this awesome country of Canada. Please self-isolate. Be kind. Share what needs sharing. Stay safe, stay well.
Tweet