---
Small businesses say they are falling through the cracks
Local businesses say government support programs don't work for them and they may have to close their doors
April 6, 2020, 8:04 am
Kara Kinna
---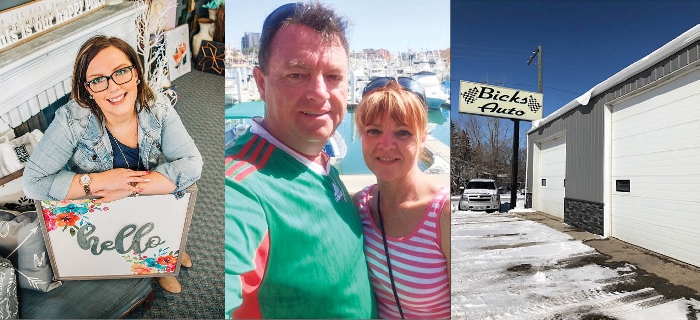 Some small businesses say that, despite government programs like the Canada Emergency Wage Subsidy, the Canada Emergency Response Benefit, tax deferrals, and interest-free loan programs, they are falling through the cracks when it comes to government support and they don't know if their businesses will still be standing at the end of the Covid-19 pandemic.
Some local businesses say they are not applying for any of the government supports being offered, as they don't qualify for them, or the don't fit their financial needs at this time. They say tax breaks or direct support would be more beneficial.


Cluett says programs won't work for her business
Samantha's Boutique in Elkhorn is one of those businesses. She says she doesn't qualify for the Canada Emergency Wage Subsidy, which pays 75 per cent of staff wages, as she only has casual staff, she doesn't qualify for the Canada Emergency Business Account low interest loan from BDC as she did not have at least $50,000 in payroll in 2019, and if she accesses the Canada Emergency Response Benefit, which gives self-employed people $2,000 a month if they no longer have income, she says she can no longer bring in any revenue at all through her business, leaving her with only $2,000 a month to keep herself and her business afloat, and expenses looming on the horizon.
"There is a whole demographic of us that qualify for nothing," she says.
Cluett says she is still able to make some revenue through her business right now doing online sales and flower sales, and she feels that she could make more than the $2,000 offered by the CERB program, however it won't be quite enough to keep her business going if the pandemic shutdown lasts for months. She says she appreciates being able to defer some federal and provincial payments, but at the end of the day that money still needs to be paid.
"I don't want to defer payments," she says. "Obviously it helps but they just wait for you at the other end. So that is where I'm at. I can sit at home with $2,000 (from CERB) or I can continue to show up for my people and do what I can and take the risk of not making $2,000 (from CERB) but maybe making $2,000 or more.
"All of my inventory is on hold. Nothing is coming but I am accountable for all of it because it is all ordered six months in advance. It's held right now, but I am going to have to pay for that."
Cluett says tax breaks would be more beneficial to her, and she doesn't want to take out loans.
"I've gone to the RM about property tax breaks, or if they forgive our PST and GST for this quarter, I think that would be more helpful to us. I know I have spoke to other business that have said the same. If we could get a break on our property taxes or our quarterly PST and GST remittance, that would be helpful. We all have plenty of debt doing what we are doing."
Cluett is the president of the Elkhorn Chamber of Commerce and she says she has been speaking to other businesses in the area that are in the same situation.
"We are faced now with a decision—if we take the chance and close our doors, if we sell nothing but we make $2,000 a month (through CERB), or do we keep trying to push through with a chance that we could make more than $2,000, which would obviously be more helpful."
She says lots of local businesses are talking about how they might not last through this crisis.
"The number of times I have heard bankruptcy in the last three days is disgusting," she says. "Everyone is throwing that word around and that is devastating for our area, so that might be the option for some of these small businesses.
"If we don't take action, there might not be any of us left in Elkhorn."
Cluett says if small business owners like herself could collect CERB and still make some revenue through their business, it would help.
"It would be nice if there were something for our size of business," she says. "We don't really need a loan. The $2,000 a month (from CERB) plus being able to sell online would probably be enough to keep us going."
Last week the World-Spectator contacted the federal Ministry of Finance, as well as the Minister of Finance's office to clarify if small business owners were able to lay themselves off, no longer draw a wage from their businesses, and collect CERB while still making revenue through their business. Both the Ministry of Finance as well as the minister's office were unable to answer that question by press time, and the Ministry of Finance deferred the question to Employment and Social Development Canada.
Cluett says she is frustrated with the Prime Minister for announcing that the government's plan is helping small businesses.
"I'm really disappointed in the fact that he has the opportunity to address all of Canada and he is choosing to leave out the fine print," she says. "So he is saying businesses qualify for these interest free loans for up to $40,000 but he should be including the fact that you have to pay out $50,000 in payroll the year before," she says. "But we don't qualify because we're not big enough, so then he's making statements such as like you should never have to choose between your health and paying your bills. Well right now many of us are trying to choose between our livelihood and our lives. Where do we go with this? We're not allowed to be open, we don't qualify for help, so do we try and live off of $2,000 which barely touches our income or do we keep pushing ourselves trying to make income when our stores are closed?"
Cluett says she has contacted both her local MP and MLA about the issue.
Dingman worried
The Windsor Bar and Grill in Fleming is another business that is worried about its future.
"Our biggest concern is we have no income," says owner Myrna Dingman.
"We have laid everyone off except our one full-time person, and basically I'm just waiting to see what the rules are going to be for the wage subsidy, whether I can keep her or if I'm going to lay her off too."
She says she has also been frustrated by the government benefit programs.
"They're overlooking the businesses like say me and Sam," she says. "Why is it fair that I have to go get a loan when they're giving all these other people $2,000 just for nothing?"
She says the government benefit programs don't fit the needs of small businesses like herself.
"Some kind of rebate like the Conservatives are talking about would help, like refunding the last six months of GST payments. That is not a ton of money but it would help. If they would allow us to collect CERB, it would help, because both me and my husband basically have no income now, but because the business is open they're saying we have the same income, so neither of us can get that $2,000. We can't even lay ourselves off, we have to close. If there was some way they could give us and Sam and all those other little businesses the $2,000 incentive to pay our personal stuff, just so we can keep our businesses going, it would help."
What is next for the business?
"We might try and do a little bit of grocery ordering, and if that doesn't work we're probably going to have to close. But I'm worried if we close we won't be able to open again," says Dingman.
Dingman says the whole ordeal has been very emotional for her and her husband.
"It's hard. We probably take turns crying every day," she says. "We put a lot into it. I don't want to see it fail. I know we have a lot of faithful customers, but they can't come in sit and eat. Our business is pretty much steaks, so we have had people order steaks to go, but it's just not the same so we're pushing pizza and burgers now and doing a little bit of that, and short term we can survive, but not long term.
"I know I'm not special, but they just need to find something to help us, even if they let people like us have that $2,000, then it would sure help a lot. That would save us. I could work here every day and realize I'm not going to take a cent out of this if I knew I had something coming in that I could pay my own loan, car bills and all that stuff, but right now they're saying that if I even take in $1 (through my business) I can't claim the $2,000. It's a tough choice. Do I close and get the $2,000, or do I try to keep my business going? Like I said, I'm just really scared if I do close I won't be able to open again."
"It's hard. We probably take turns crying every day."
Kelly worried about expenses
Shirley Kelly at Shirley's Sewing Room in Moosomin says she hasn't explored the government options yet and is worried about paying her rent.
"I haven't closed completely so I have a little bit of income, but nothing like I normally have," she says.
"I've closed the doors, but I'm still coming in to the store shorter days. I just work from 10 am to 4 pm Tuesday to Friday to answer the phone. I do curbside pickup and I've been mailing out a little bit. I just wanted to be here to help in whatever way I can. I'm very fortunate in that I didn't have staff, it's just me.
"I think going forward it probably won't be viable. I don't really know how it will all play out because what I sell is what people want right now, because they have the time to do sewing that when they were busy they didn't have time to do, and they are discovering the things they need. Part of me wants to stay open at some level to help them out, but I just don't really know how it's going to play out.
"What would be probably most beneficial is a lump sum of money. My big concern right now is to pay the rent. I can go without an income for a short period of time, but I have to pay the rent. That would be best if they just gave us a monthly payout or something, just to cover the rent, that is my biggest concern right now."
Bickerton doesn't trust government
Paul Bickerton, at Bick's Auto in Elkhorn, says he feels that the benefits being offered by the federal government won't actually reach small businesses, and he's wary about trusting the government with their promises.
"Most of these government programs never work for small businesses," he says.
"Usually the problem is that at the end of these programs there are always catches and hitches, and in my experience—we have been here for 15 years and my parents have been working for 45 years—these programs never actually reach the small businesses.
"I actually had another small business guy stop in and say that they're not even applying because we have to have a 30 per cent shortfall in our business (compared to last year), but the problem is a small business like ours has accounts, so when they come here to audit us in two years or a year and half where we have to prove that we had a 30 per cent decrease in business.
"Right now we're sending out month end statements from the month before. So our books are going to look good for the next three months and then they're going to tank. But the government wants us to have proof to them that we have a 30 per cent decrease in business and we are never going to be able to do that.
"So then we are going to make all the promises, give up all the money to the employees, and do all the stuff for the government and they're going to come back and audit this stuff. The business owners that are older have seen this before, not to the same extent but multiple times and they are very, very gun-shy to go and spend a whole bunch of their own personal money. It's actually us that have to spend our wages and our money for our employees, for a promise that the government has made to us that might not be there. So it's very risky."
Bickerton says a tax break would actually help businesses much more.
"The easiest thing honestly is a tax break. That's the thing that is fair for everybody. If you had a tax break and you could close your doors and you knew you only had your utility bill and a few other expenses, it is a fair way to do it."
Bickerton says the government is saying what people want to hear, but not actually consulting with small businesses about what would work for them.
"I think they're making promises that they don't fully realize that they can keep or promises they think people want to hear," he says. "There are thousands of small businesses and the phone has never rung once here from the government to say this is what you should do. It's only Trudeau coming up with promises on the doorstep of his house and us researching from our end what we can do and to validate any of it. There is no real money, nothing has happened yet and I don't know when that might happen."
Tweet