---
Fundraisers coming up for Food Share
RE/MAX, Borderland Co-op both planning fundraisers
June 1, 2020, 3:29 pm
Kevin Weedmark
---
Two fundraisers are coming up to help local food shares meet the needs of local people at a time when many traditional fundraisers cannot be held because of social distancing rules, and when local food programs are starting to see some bare shelves.

The two fundraisers are being organized by RE/MAX Blue Chip Realty, and by Borderland Co-op.

RE/MAX Blue Chip Realty Town wide bottle drive
RE/MAX Blue Chip Realty is planning a bottle drive for this Saturday, June 6 to help raise funds for the Moosomin Food Share.

Everyone who would like to donate bottles and cans can leave them at the curb by 9 am on Saturday and they will be picked up, with all proceeds going to the Moosomin Food Share.

"I talked to the Food Share to get their okay, and they thought it would be great," says Ronal Pranke, who is organizing the bottle drive along with Lynn Fawcett. "Of course there's a need. We checked to make sure we can do this with all the restrictions, and as long as we are picking up the bottles at the curb we're okay.

"I've been thinking for a few weeks, boy it would be nice if somebody did a bottle drive because everybody is so backlogged with bottles now in their garages. I saw that a RE/MAX office did one in Alberta and they raised $18,000.

"We thought since the thrift store isn't open, which usually supports the Food Share, that was a need. I talked to Chris Frape at SARCAN and he said he thinks it would be great. They think they will be overwhelmed when they reopen, so this will help take off some of the pressure, getting these donations in there before they open to the public.

"It'll help people clean out their garages and help a good cause at the same time, and help SARCAN avoid having a big crunch all at once when they reopen."

If anyone from out of town wants to contribute, or if anyone wants to volunteer, they can contact Rolna Pranke or Lynn Fawcett. Their contact information is at the bottom of this page.


Borderland Co-op Fill the Shelves promotion/Food Drive
Borderland Co-op has started a two pronged effort to help local food share programs.
The "Help Us Fill The Shelves" promotion asks people to purchase Co-op gift cards to donate to local food programs, and Borderland Co-op will match those donations.
Gift cards can be purchased at all Borderland Co-op locations, including food stores, C-stores and home centres.
Proceeds will go toward the Moosomin Food Share, Rocanville Food Share, and Whitewood Food Bank.
The gift card donation drive will continue through the month of June. As well, Borderland Co-op is planning a food drive on Tuesday, June 23 for food donations for local food programs.
People can donate food to local food programs at any Borderland Co-op Food Store that day, or can call Borderland Co-op at the number at the bottom of this page to have the donations picked up.
"We wanted to do something to help the food banks, and involve the community," says Tera Harper of Borderland Co-op. "We thought the food drive would be a good idea because the food banks need donations right now and people might have extra food at home they are willing to donate.
"And with the gift card fundraiser, we thought if we can match the donations up to $750 for the three food banks, that will help a lot as well."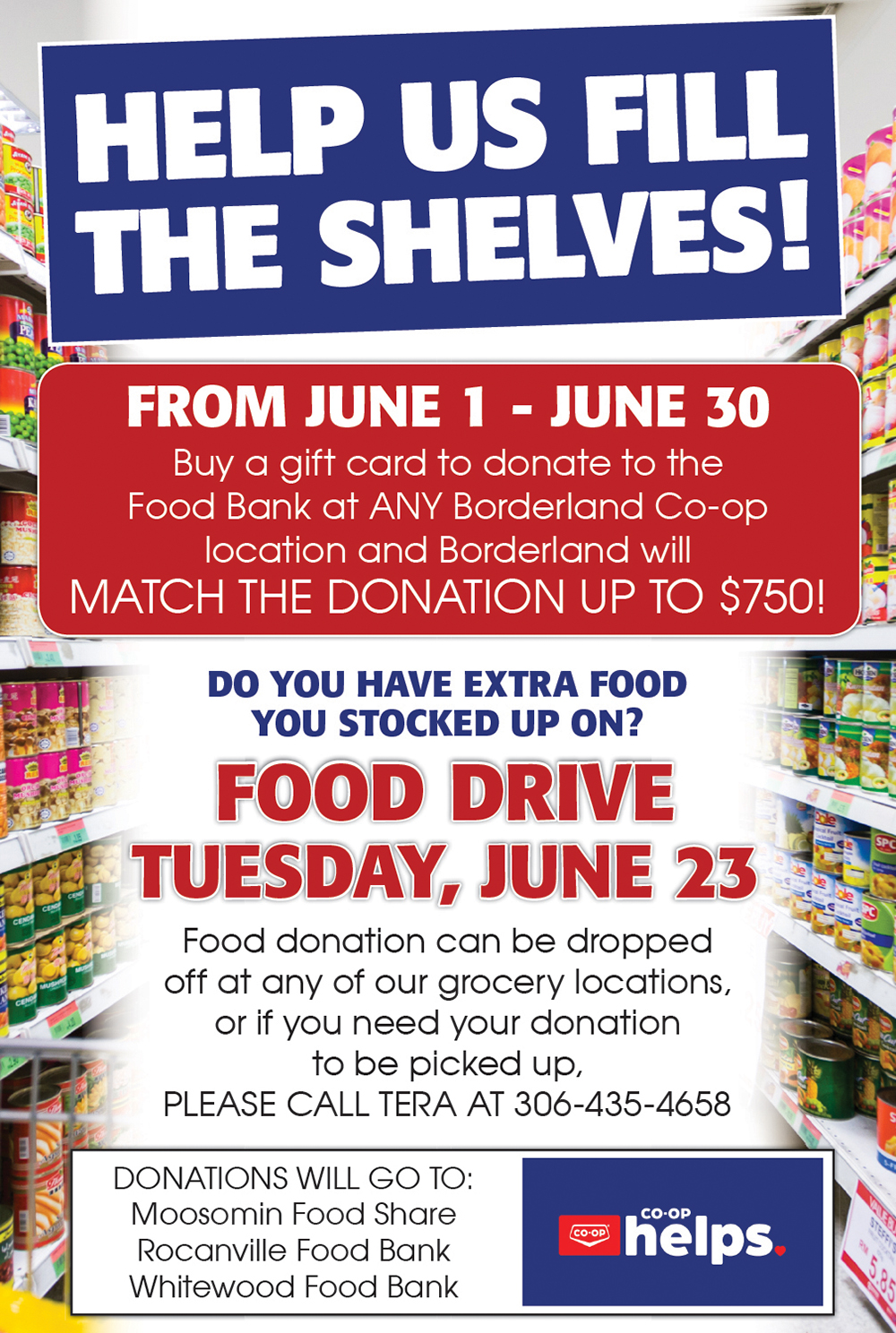 Tweet