---
Choosing Canada
In advance of Canada Day, we spoke to three families who have chosen Canada as their home
July 1, 2020, 5:12 am
Rob Paul Local Journalism Initiative Reporter
---
Being in Canada means a brighter future

The Santos family—Victor and Lesi and their two sons Victor Jr. and Edward—chose to make Canada their home. They came to Canada as refugees from Honduras originally, they are now Permanent Residents of Canada, and they hope to become Canadian Citizens.

In Canada for nine years
"We came here nine years ago, in 2011," says Lesi. "This is one of the best countries in the world. We always wanted to have a better life. We are lucky to be living here compared to living in other countries, like back home in Central America.

"There is beautiful weather there and some wonderful people, but it's too hard to live there. It's to difficult. Canada is a much better country to live in."

How does she compare life in Canada to the life the family would have had in Honduras?

"Here in Canada, the kids have better education, and we have jobs, and things are getting better every day. We're able to get ahead. We own our own house, the kids are so happy and can go out and play with friends, my son has been working since he turned 14 years old, which he would not be able to do in Honduras. Here the kids can work and can be independent. In Honduras you can't do that. He is happy.

"He is saving money for his future, so he can buy a vehicle and go to university. Back home we would never be able to do that.

"I remember I started working after I graduated at 18 or 19 years old, there was no way you could to to university. There was no opportunity for us. He's lucky here. He can have two or three jobs and tells me, "Mom we are happy, we are busy working."


Different world
She says living in Moosomin is like a different world than Honduras when it comes to safety and security.

"It's a big difference, we can live here and open the doors and nobody can go in to your house, nobody does anything bad to you, we can walk in the streets and we can go where ever and enjoy the weather outside, you can go camping or to the restaurant, we can do whatever we want because you feel safe and free.

"There you can not do that, especially in the cities in Central America and Mexico. It's terrible, the kids there they have to pay attention to be safe because of the narcotrafficking, and it's sad but the politicians and the police are involved. Its hard to say that, but it's real. Sometimes my husband watches the news from there. I don't like to watch the news because its too sad. My family lives there. They said they have to be careful to go out.


Brighter future
She said the kids' futures look very different in Canada.
"Its hard, if you don't have good work there or a good income, you are not able to go to university or to have a good education. They have some private schools and its a lot of money you have to spend for the kids to go. Public education is not good enough to get a career or go to university.
"Here in Canada it's totally different. For example from elementary and secondary school they can go to school and we don't have to worry about paying anything for their education.
"My son can work and save for university or we can help them. He can take whatever he wants. He wants to get his pilot's licence. He is in air cadets here and they help with getting his first licence, and after he graduates he can take that and go to college. His goal is to become a pilot.
"My youngest Edward he's only eight years old, he doesn't know exactly what he wants, he only wants to play right now. Our oldest son is always thinking about his future, I like how he's growing. He is always busy and very mature."
Being Canadian means a lot
"Gettting our permanent residency, knowing we could stay in Canada was a big step. We were worried before we got our permanent residency but that changed everything. Once we got the news, our life changed. We have a new life and new plans, we feel safe and happy and hopefully in two more years we can get our citizenship."
She said she looks forward to that day.
"We are proud to be Canadian and we're proud to be in Moosomin.
"The community has been so helpful. Everyone knows our story because of the Spectator and everyone is always asking about our immigration process and how we are doing, everybody knows us and tell us they know us from the stories in the paper.
"When we were allowed to stay, Kevin and Kara were working so hard and Sinclair, Russell, Devona, and a lot more people and all the churches worked together for us. I have never seen any thing like that before.
"I think we are very lucky and thank God all the time, we pray for all the community and the all the churches. I remember thinking we don't deserve this, this is so wonderful.
"I remember them all the people and all the churches working together and I remember saying to Victor okay we have to stay here, we can't move anywhere we have to help the community now.
"We try to do that, to pay back the community for all that the community had done for us.
"It was a miracle. I remember when you the Spectator made a banner for us that said "Let Them Stay" and all the people came out to support us and when we found out we could stay, we got the beautiful picture with the banner and all the people that helped us in all different ways. It was wonderful."
"There are lots of people in Honduras who would like to come to Canada. It's a nice place to live, it's safe, they can find better jobs, there is better education, but it's hard for people to come here.
"We're thankful that we're here in Canada and here in Moosomin. When we first came to Moosomin we had never been here and didn't know anyone. But when everybody was so helpful we realized why God brought us here."
Cacho family has found a home in Canada
Elainy Cacho moved from the Philippines to Canada in 2008 after she and her husband looked into different countries that would best suit them to raise a family.
"My husband first came here in 2007 when he was hired by PIC and then he sponsored me to come over," said Cacho.
"The Philippines is a Third World country and it was overly populated and we thought Canada was a greener pasture for us to start our family here. Before my husband came here, we did our research. We looked at population and culture, and we found Canada was very quiet and a nice place to raise kids plus the job opportunities are really good over here. We decided it would be best to raise our future kids and have our family here."
Moving from the Philippines to Canada was a culture shock at first, says Cacho, but the community embracing her and her husband made the transition much easier.
"Going from the Philippines straight to Kipling—this is our first destination and we never moved—it was a little bit of a shock in the sense that it's so quiet," she said. "I grew up in a crowded city and back in the Philippines we knew of the bigger cities in Canada and that's what I was expecting.
"Then I came here into a small town and my first reaction was, 'this is it? This is Canada!' As we met people, everybody was so friendly and accommodating. Living in a small town, everybody is so nice and you know everybody and everybody knows you. It's different living in a small town than bigger centres and we like it here. We settled down and had our kids, born and raised here. We're loving Canada."
When they first made the move to Kipling, Cacho says, everybody helped them when they needed it most and that sense of community remains to this day.
"The community has been great, living in a small community where neighbours are looking after neighbours," she said.
"We got lots of help from the community when we were first starting. We didn't have anything when we came here. We were renting and we didn't have any beds or anything we needed. The community was amazing, when they knew we needed stuff, they offered their stuff for us to use. It's been like that the whole time. We've lived here for over 10 years and its never changed. That's still the way it is here."
The difference in job opportunities was a factor in moving from the Philippines to Canada, says Cacho, with it being difficult to find consistent work and the pressures of future job security starting at an early age in school.
"My husband was a veterinarian in the Philippines and when we came here he worked as a pig farmer," she said. "He spent six years in university for medicine to become a veterinarian, but the education system is different so when we validated our credentials it was only good for grade 12.
"It was quite a big difference, but once we got here we went to school together and took practical nursing together and we are working as LPNs (licensed practical nurses) right now.
"Here there are good opportunities for employment. In the Philippines there are lots of people and competition for finding a job is very tough. With our kids, there are pros and cons. When we were in school there was so much competition to get higher grades and to be recognized. Here it's more relaxed, in the sense that children are not pressured and it's a good balance of academics and extracurriculars."
The quality of life difference from living in the Philippines to Canada is vast with circumstances like job security and health care, says Cacho.
"We are really proud and grateful to be Canadian and to be here in Canada," she said. "We feel really lucky that we're living where we are right now. For us, it's a privilege. When hearing stories from the Philippines, lots of people really struggle to find work and raise their families.
"At the same time, you have to not only save money for your retirement, but for your medical needs because not everything is free over there. A big thing there is the medical system where people who can't afford to go to the doctor and don't have money and are feeling sick can't do anything because they can't afford it. Here you don't have to worry about that."
Cacho says, her friends and family celebrate Canada Day every year and are thankful that they have the opportunity to do so.
"We get together—Filipino's love a party with food—and we have some Filipino friends and their families that we gather with and have our feast and watch fireworks," she said. "We always do that on Canada Day."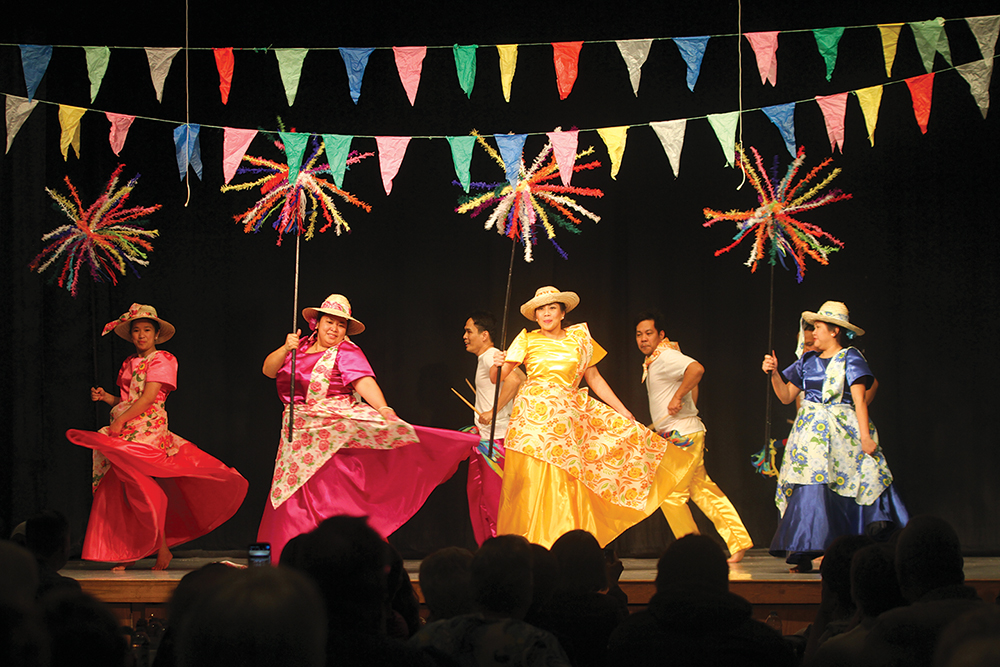 From the Philippines to Canada
—via Saudi Arabia
Warren Valdellon moved from the Philippines to Saudi Arabia in 2002 for work before coming to Canada in 2009. His family joined him in 2013.
"I needed to support my kids so they could go to school," he said.
"I left the Philippines in 2002 and went straight to work in Saudi Arabia and was there for about six years. Then I decided to leave there because with my kids going to college I wanted to look for another job."
Valdellon says it worked out well for him that he ended up in Canada and the community here has been unlike any other.
"I was looking for a job in the Middle East and my agency had a business man looking for a machinist and suddenly they called me and gave me a job in Canada with Goodman Steel," he said.
"It's been good since I got here. It's very very different from the Philippines and Saudi Arabia. Everybody here is so friendly.
"The difference in community is very noticeable. Here they're always asking me how I am and being so nice. Everybody here in Canada is so welcoming."
The biggest difference, says Valdellon, are the job opportunities and the schooling here in Canada.
"The job difference is huge," he said.
"In terms of salary alone it's a very big difference from Philippines and Saudi Arabia. I had the same job in the Philippines as I do in Canada, as a machinist. There's a very big difference here with money. In terms of the work, there's a big difference. I'm doing very specific work here and back in Philippines I was just a small part of the production.
"At first my kids definitely had a culture shock coming from the Philippines," he said.
"The schooling is very different. An example, during high school in the Philippines they'd only spend a half day in school and it was broader subjects. Here, it's all day in school with more specific subjects to focus on."
Living in a country like Canada was always something he wanted, says Valdellon, and it's change his life.
"It's a dream come true to me," he said.
"When I was in Philippines I knew some friends who wanted to migrate to a country like Canada and it became a dream for me. I knew someday if I wanted to have a good job I would need to leave for another country. Now that I'm here in Canada it has become a dream come true."
To Valdellon, Canada Day isn't just one day to celebrate, he says he celebrates everyday he's in Canada.
"When I arrived here in Canada I started celebrating Canada Day," he said.
"I'm celebrating Canada Day every day."
Tweet