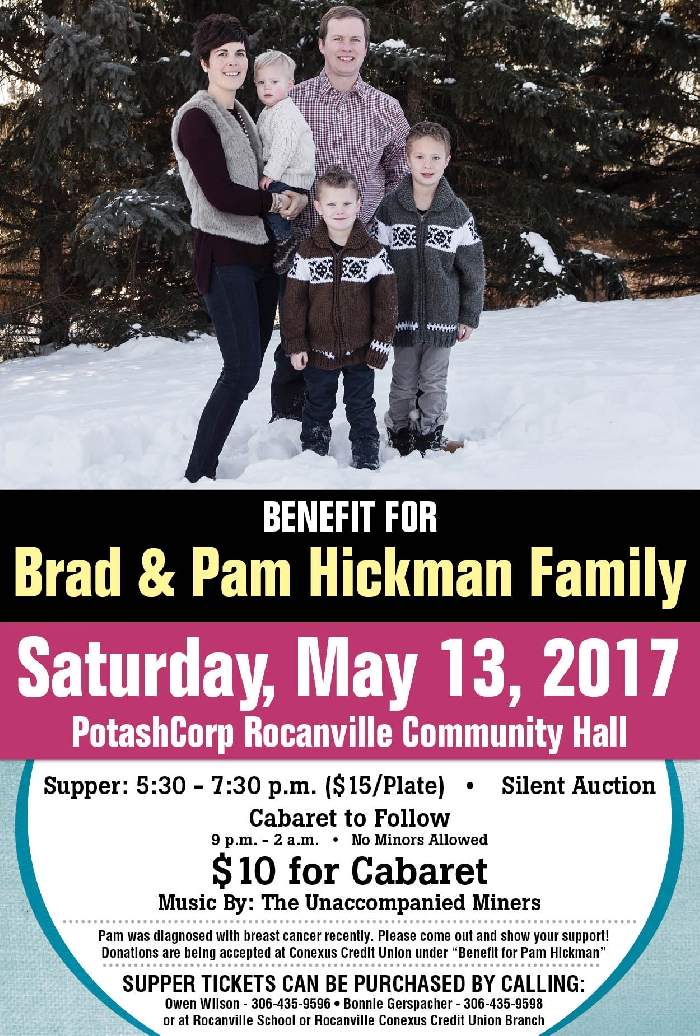 Hickman fundraiser Saturday
May 12, 2017 7:57 am
Kara Kinna
---
A benefit is being held in Rocanville Saturday for a local family who are going through a tough time due to cancer.
Pam Hickman was diagnosed with breast cancer, and a benefit is being held at the PotashCorp Rocanville Community Hall on Saturday, May 13 for the Hickman family. The benefit will consist of supper and a silent auction with a cabaret to follow with music by local band "The Unaccompanied Miners."
Owen Wilson, one of the organizers of the benefit, says a number of people in the community felt that something needed to be done after hearing the news of Pam's diagnosis.
"A few of us put our heads together and kind of had it in the back of our minds when the news broke out about Pam. Eventually we just put ink to paper and started actually planning it and getting everything going," says Wilson.
Wilson, who has known the Hickmans for years, says he was shocked to hear the news.
"You don't really want to see anybody go through that and when it's somebody that you're friends with it just kind of hits home a little bit more," he says.
"They are community and family minded people. Brad coaches minor hockey and is involved with the Tigers and lots of community stuff, and Pam teaches at the school so she sees lots of kids from the community. They are a well-known family. They have three young boys too, so that just kind of adds to it."
Wilson says the benefit is as much about showing how much the community cares as it is about raising money.
"It just shows support. If we make a million bucks that's great, but I think just having everyone out showing support helps them every bit as much," he says.
Pam was diagnosed with two types of breast cancer on November 28. The Hickmans say their life was upended by the diagnosis.
"She found a lump on November 5 and started doctoring shortly after that and within a week of the diagnosis she had a mammogram, a biopsy, and an MRI, which is very overwhelming, very scary as to why it was all happening so fast," says Brad.
The diagnosis led to Pam having surgery on December 29. She has not been teaching at Rocanville School since the start of December.
"I would say that we are coping," she says. "We've definitely had lots of support from our friends in the community and family members, so that has definitely helped us get through and make it as easy as can be. We've had a lot of people show support. A lot of my girlfriends have dropped off meals just trying to lessen our load by helping us out doing meals or taking our kids for a playdate or taking them to hockey when Brad was running one way with one of the boys and we needed someone to take the other one to a different rink."
The couple say they are touched that the community is holding a benefit for them.
"We were pretty overwhelmed when we were approached," says Pam. "Just knowing that everyone is behind us and supporting us is definitely helping us get through. I think there's more people than we know that want to help."
"We just get random text messages or people stop me on the street and we get phone calls or cards in the mail," says Brad. "It's very overwhelming."
A number of local people and businesses have also held events in benefit of their family.
Pam says the support is coming from all over the place.
"There are people in different communities that have sent us cards that I don't even personally know," she says. "They have played hockey against Brad and they've sent us cards. It's not even just our community, it's surrounding communities that are supporting us as well, which is amazing."
The support the Hickmans have been receiving will hopefully lend some comfort to the family who still have a long road ahead of them.
"There is a long way to go yet," says Pam." I'm just halfway through my treatments and then, from what I understand, I will have a little bit of time to recover before I start radiation, and then I have five weeks of radiation in Regina. I've been lucky because I've been able to do half of my treatments in Moosomin and half of them will be done in Regina for my chemo, so that has helped with the travelling part of it. For the radiation it has to all be done in Regina, so five weeks Monday to Friday I will have treatment. And then obviously there's recovery time after the radiation as well."
Both the Hickmans say the benefit will help with the travel costs that mount up from going to the city again and again for treatments.
"It's a lot of trips," says Pam. "As of November 28 we've been to Regina 15 trips so we know the road well now—better than I'd like."
Brad says they are very lucky to know a couple who used to live in Rocanville and who now live in Regina.
"Dave and Michelle Sandomirsky, former residents of Rocanville, have opened their house up to us in Regina and it's been amazing to have friends like that who will take care of us when we come to the city," he says. "We are going into a house instead of having to stay in a hotel."
Brad and Pam have three young boys—Hogan, Hayes and Hardy—soon to be turning eight, five and two. Through everything, the couple say they have been doing the best they can to help their young children understand what is happening.
"That's one question we always get asked is how they are doing and how they are dealing with it," says Pam. "Our oldest one, Hogan, I taught him in school this year, so that was one of the hardest things for him was knowing I wasn't going to be his teacher anymore once I had to leave. But he's the one we've been open with the most just because of his age, he can understand more than the other two. But when my hair started falling out we had Hogan and Hayes shave my head just to kind of be a part of it and not be scared of me when all of my hair fell out. We've read them a story called 'Mommy has breast cancer' and that book really helped them, and I think it helped them think of their own questions as well as have questions answered for them."
"It calmed them down," says Brad.
"It calmed them and we've just been open with them as much as we can in kid terms," says Pam. "We don't want them to be scared but we want them to know that mommy's sick and the medicine that she's getting will make her sick but hopefully in the long run it will make her healthy again."
"We've had lots of support from people saying things like 'let us know if we can take the kids' or people say 'hey we are going to grandpa's farm, do you want to come, the boys can go see calves.'
"We can't say thank you enough for all the support we are getting," says Brad.
Overall, the Hickmans say they feel very blessed and grateful for all the support they are recieving.
The benefit for the Hickmans starts at 5:30 pm on May 13 with supper and a silent auction and the cabaret to follow.
Tweet