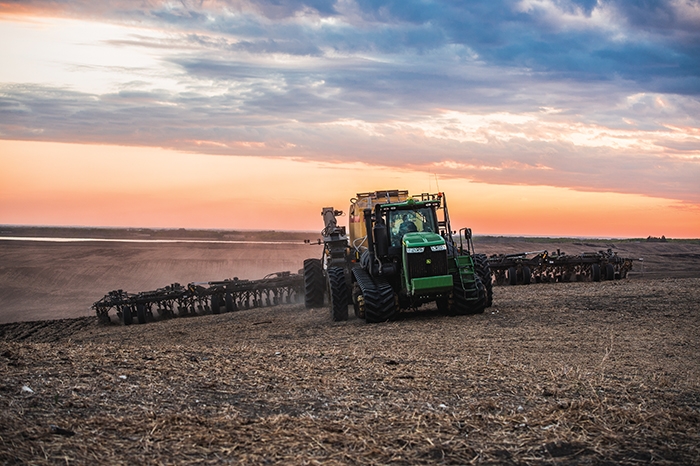 Some farmers at half way mark in seeding
May 15, 2017 8:47 am
Kara Kinna
---
Farmers in the Moosomin area were making good progress on seeding last week, with many at the 50 per cent mark due to a lack of rain in the area this spring. However many farmers in the Rocanville and Whitewood area were just getting started with seeding last week due to wetter conditions in those areas.

The lack of rain this spring has been a blessing to farmers who say the ground is still wet from last fall.

Wendy Leeds, and agronomist with Sharpe's Soil Services in Moosomin, says seeding progress depends on where you are located.

"We'd probably be a solid 50 per cent towards the weekend here in the Moosomin area," she said Friday.

"In the past we've often had seeding almost done by this time. I'd say it's a pretty good average year. That's just locally though. If you go north of the valley they're just starting. Stockholm, the Whitewood area, and Rocanville for instance, there are people just getting going there.

"They're wetter. They had a little bit more moisture going into the winter so they're finding their land just a little bit wetter than immediately around Moosomin.

"A little bit east of here is also wetter than us, and south of here is a little bit wetter than here.

"In the area around Moosomin, the seed beds are quite nice. They could almost use a rain.

"It really depends on what you've had for moisture, how charged the soil is. Canola stubble is a little bit dryer than wheat stubble. So it depends on what you have to seed and what you're seeding onto."

Leeds says seeding has been going smoothly so far.

"I don't think there are any challenges yet. I think everything looks good so far. Hopefully mother nature works with us. I think it's setting up to be an excellent year. It's early but there have been no bug issues yet.

"A little bit of rain would be okay. It would be nice to have a quarter or half and inch, and then sun. Lots of sun."

She says for farmers in wetter areas more sun followed by rain would be idea.

"It would probably be nice to just have sun straight through, get it in the ground and have an inch of rain and set it up," she says.

She says some farmers should be done seeding by the long weekend.

"We'll have people wrapped up if they can keep going. We might have some farmers done by the long weekend or just slightly after and we might have some that need until that last week in May and that's fine too. We're not late, I'd say we're average.

"I think everything looks really nice, the seed beds look really excellent, and just keep going. Get it in the ground."

"I think the start (to seeding) was a little bit later than average, like three or four days later than average this year, but there haven't been any weather issues in between the start date and today," says Kristjan Hebert with Hebert Grain Ventures at Fairlight.

"Daily progression is a little bit ahead of schedule because there hasn't been any rain. The land is at capacity when it comes to water so that definitely hinders things a bit. South of Moosomin is definitely still wet."

If the dry weather continues to hold, Hebert says seeding for most should be done before the end of this month.

"If the weather keeps sticking around for everybody, the majority would be at least getting close to the finished by about the third week in May," he says.

"I would say sun and wind for another 7-10 days would be a good recipe, and then a half inch of rain."

"Most guys in the immediate area are just finishing their wheat and starting their canola in the next day or so," says Kevin Woods, who farms and has a feed lot near Moosomin. "That usually puts them about half done. Most of the rotations in this area are wheat and canola. I would say canola is just nicely started and the wheat is nicely finishing right about now for most guys.

"We are not as far ahead as last year. We had such an early start last year. We had the wheat all in the ground in April last year. But we are really comfortable with where we are at. The timing is perfect as far as we are concerned. Things are moving right along and the field conditions are getting better everyday. It was a little wet when we started a couple weeks ago. But generally speaking everything is moving along right on schedule."

While the ground is still wet, Woods says a half an inch of rain this spring would be okay.

"I don't think you'd hear too many farmers complain if we got half an inch of rain," he says. "Now we don't need two and a half—that would make a mess. Just a small nice shower would be good. It doesn't have to be a lot because we have lots of moisture underneath.

"We were basically saturated coming into the spring thaw. The ground was saturated from last fall, we were just as full as we could get. We had eight inches of rain in October so it just absolutely filled everything right to capacity.

"We're very lucky we've had a good dry spring actually. If we would have had much moisture this spring we'd be in big trouble. From the last half of March on, after we had that blizzard, we really have had almost no measurable precipitation in close to 60 days now."

Is there a risk of it being too dry? Woods says only if the dry weather continues for an extended period.

"I hope we don't go the next 60 days without any precipitation because then we will be in trouble," he says. "There's lots of moisture underneath and it won't take much to bring it together if we have a little shower, but I sure wouldn't chase it away."

Woods also has pasture land, which he says is doing okay so far, but could use a rain.

"Pasture could use an inch of rain every week when it's growing. The pastures—you just about can't hurt them with rain, they just soak it up like a big sponge. The pastures could certainly use a rain. They're not going backwards or anything but it would really help to bring the grass on. They have started nice, it's growing and things are looking good."

Woods says one big risk with getting seed in the ground in April or May is frost.

"We hope that we don't get a hard frost in the next couple of weeks because that's been one of our biggest problems the last few years. We will get going here nicely and we'll get about a minus two or three night on the 20th of May and that's what's hard on things. Everything will get going good and then it freezes and then it has to try to recover from that.

"The wheat can handle a bit of frost but the canola cannot. When you start sowing canola now, you can bet that in about a week, if it stays nice and warm, we are going to have canola out of the ground, and then we have to keep our fingers crossed that we don't get frost."

Cory Woywada with Parrish and Heimbecker in Moosomin says approximately 85 per cent of farmers have started seeding in the Moosomin area.

"Some guys have all the wheat in and some are just starting," he says. "A lot of guys should wrap up the wheat this week depending on the weather.

"It's too cold for canola. I've heard of some guys putting it in but it's probably not a good idea."

He says some rain could be used for Moosomin area farmers.

"They probably need a rain—some guys are saying it's dry a little bit on top, and a rain would just warm up the soil.

"So far everything is going smoothly what we've heard here. All in all I think it's going pretty good."

Seeding is most advanced in southeast Saskatchewan, according to Saskatchewan Agriculture's weekly crop report.

Producers in the southeast now have 30 per cent of the crop in the ground, up significantly from three per cent last week. The five-year (2012-2016) seeding average for this time of year is 21 per cent. Field conditions have been optimal for most producers, although strong winds are quickly drying out topsoil moisture and delaying herbicide applications.

The southeast region received small amounts of rainfall last week, ranging from trace amounts to 24 mm in the Moose Jaw area. The Alida area reported 11 mm of rain, the Broadview area 9 mm, the Glenavon area 8 mm, the Indian Head area 4 mm and the Odessa area 3 mm.
Tweet