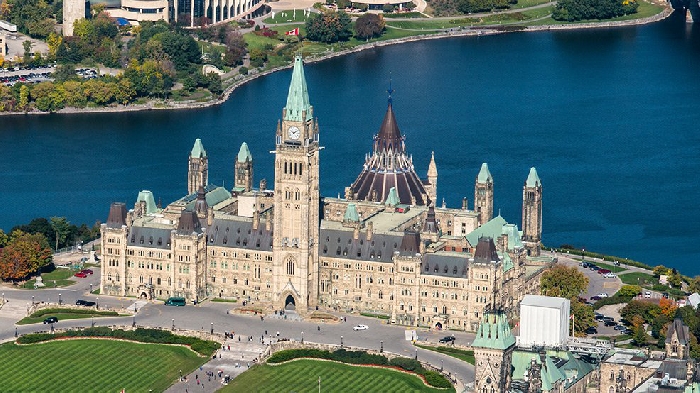 Saskatchewan, Manitoba cut out from carbon funding plan
June 16, 2017 4:23 pm

---
The federal Liberal government is cutting Saskatchewan and Manitoba out of a $1.4-billion federal-provincial, low-carbon economy program unless the premiers sign an agreement on climate change.

Environment Minister Catherine McKenna provided details of the $2-billion climate fund aimed at boosting the efforts of provinces and territories to reduce greenhouse gas emissions. The $2-billion in spending will be spread over five years.

$1.4-billion over five years will be spent on provincial and territorial programs for energy efficiency, but that money is only available to those governments that are signatories to the agreement Prime Minister Justin Trudeau forged last December. Another $600-million will be allocated to the "low-carbon economy challenge" in which provinces, municipalities, businesses and non-profit groups will compete for support on the basis of emissions-reduction potential of their projects; Saskatchewan and Manitoba will be eligible for that program.

McKenna defended the decision to require Saskatchewan and Manitoba to join the carbon pricing agreement before they can receive money from the $1.4-billion fund.

"This was part of the negotiated pan-Canadian plan on climate change, that we would be supporting actions of provinces and territories to help extend what they're already doing," she told reporters Thursday.

"We know we need to have a credible plan and a plan across the board. It's only fair that all provinces step up and be part of this plan. And we're going to be continuing to work with Manitoba and Saskatchewan. We of course would like them to be part of the pan-Canadian accord on climate change and hope they will join us."

Saskatchewan Premier Brad Wall called the Liberal plan "a new low in Canadian federalism."

"This is nothing short of extortion by the federal government," Mr. Wall said in a Facebook post.

"If this fund, which Saskatchewan taxpayers have helped create, is really about reducing carbon emissions, how does withholding those funds from green initiatives in Saskatchewan help that objective?"

Wall strongly opposes the federal position that Saskatchewan must adopt a carbon pricing plan that would increase the price of emissions to $50 per tonne by 2022 or see Ottawa impose its own carbon levy. He has threatened to sue the federal government if it imposes a carbon levy in his province next year, as promised.

Manitoba Premier Brian Pallister has pledged to introduce a carbon price but has offered no details and made no commitments to meet federal minimum-pricing standards. Mr. Pallister refused to sign the pan-Canadian climate deal last September, insisting at the time he was holding out over inadequate federal health-care spending.
Tweet