---
Police say Edmonton terrorist acted alone
October 1, 2017, 2:49 pm

---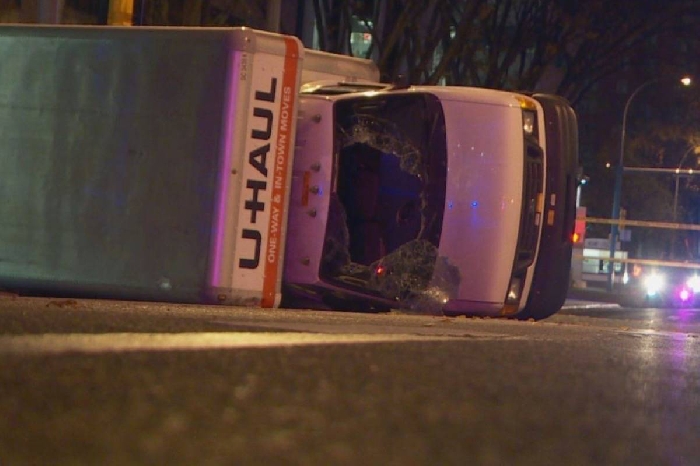 An Edmonton police officer and four pedestrians are in hospital with undisclosed injuries after a violent string of incidents which the city's police chief says is being investigated as a terrorist attack.

"The horrific events last night in downtown Edmonton have left us shocked and angry," Alberta Premier Rachel Notley said, responding to the incidents in a news conference on Sunday morning. "It's left us shocked at the indiscriminate cruelty and angry that someone might target their hatred at places where we gather with our families and friends."

Police have said a 30-year-old man is in custody, and appears to have acted alone.

The incident began around 8:15 p.m. when a white Chevy Malibu plowed through a barricade into a police officer directing traffic outside an Edmonton Eskimos-Blue Bombers game near Commonwealth Stadium on military appreciation night.

A video released by police shows the officer being tossed through the air after being hit by the car, which then plows into a police cruiser. While passersby run to the officer to help, the suspect can be seen getting out of his car and repeatedly stabbing the injured officer. The officer and attacker can be seen struggling before the attacker flees the scene on foot.

A city-wide manhunt ensued and about two hours later, a police officer stopped a U-Haul truck and saw that the driver's name appeared to match that of the suspect in the earlier incident. Edmonton Police Chief Rod Knecht said the U-Haul driver sped away with several police cruisers in pursuit, and began swerving into pedestrians in downtown Edmonton.

Austin Elgie, manager of The Pint just west of the downtown core, said he was outside when he saw a truck speeding into an alley where people were smoking, and run into a patron of the bar.

"It was crazy. It just came around the corner, ripping. I thought at first he was pulling over for the cops coming by, but he was clearly the one they were chasing," he said.

"I have a registered nurse on my bar team and I grabbed her and had her look after the guy until the ambulance came," he said. "He was breathing and we got him in the ambulance and he was still breathing."

The chase ended with the truck careening into Jasper Avenue, a main street in downtown Edmonton, where it overturned.

Witnesses told local media they saw a suspect being pulled from the vehicle through the broken windshield and then placed in handcuffs. Natalie Pon, who was attending a wedding at a nearby hotel, posted pictures of the U-Haul on its side with a large hole in the windshield.

Four pedestrians were injured, but their current conditions have not been made public. Chief Knecht has said the injured officer is not in critical condition, and that the pursuit was justified by the severity of the situation.

Chief Knecht said an Islamic State flag was found inside the suspect's vehicle, and that the investigation is being led by the RCMP's Integrated National Security Enforcement Team, or INSET, counter-terrorism unit.

The Edmonton Police Service also has a specialized counter-terrorism unit, which was launched in August of 2016 amid what Chief Knecht described at the time as a marked increase in radicalization in the city.

The name of the suspect has not yet been released. Chief Knecht said he is known to police, but there was no warning for the attack.

Ralph Goodale, the federal Minister of Public Safety and Emergency Preparedness, said on Sunday that the country's threat level remained at "medium," but is constantly reassessed and evaluated.

"The threat level has been fixed at medium since the fall of 2014. There is nothing known at this moment that would cause that threat level to be changed," he said.

The risk of Islamic terrorism and other forms of dangerous extremism in Alberta has been in revealed in several incidents and arrests in recent years, including the murder of Edmonton police officer Const. Daniel Woodall in 2015 by a man identified as a Freeman on the Land, which espouses an extreme anti-government and anti-authority ideology. Const. Woodall, 35, was an investigator with the EPS Hate Crimes unit, and had been investigating the suspect for anti-Semitic harassment.

In 2014, members of Edmonton's Somali community spoke publicly about the need to address young Somali men being radicalized in the city, and in February of 2015, West Edmonton Mall was specifically identified as a potential terrorist target in a video released by Somalia-based Islamic terrorist group al-Shabab.

That same year, a 17-year-old from Beaumont, a rural community just outside Edmonton, was charged with attempting to leave Canada to join the Islamic State to commit murder, and three other men from the city are reported to have been killed fighting for ISIS that fall. A young woman who left Canada to fight for ISIS in 2014 had been recruited through an online course offered by a woman based in Edmonton.

Testifying before the Senate national security committee in 2015, Chief Knecht said that counter-terrorism efforts were "woefully under-resourced" in Edmonton. He told media around that time that some cases were not being investigated by the RCMP's terrorism unit, which he described as basically operating at full capacity.

"We can't say, 'Well, we'll put this one off,' " he told media then. "These are high-risk files and we, as a police service, have to respond."

In a statement on Sunday morning, Notley said officials have assured her that the public is safe, but she also encouraged people to be vigilant and listen to law-enforcement authorities.

She acknowledged and thanked first responders, as well as by-standers who helped at the scenes, saying "Your bravery in moments of fear and your compassion in moments of chaos are what's very best about us."

She said extremism in all its forms must be condemned and rooted out.

"There is no place for terrorism in Alberta," she said. "And we will do everything possible to stop it in its tracks in our home."

Prime Minister Justin Trudeau also condemned the violence in Edmonton as a terrorist attack, and said he was "deeply concerned and outraged by this tragedy."

"The Government of Canada and Canadians stand with the people of Edmonton after the terrorist attack on Saturday that sent an Edmonton Police Service officer to hospital and injured a number of innocent people who were out to cheer on their football team and to enjoy an evening in their city," he said in a statement Sunday morning.

"We cannot – and will not – let violent extremism take root in our communities. We know that Canada's strength comes from our diversity, and we will not be cowed by those who seek to divide us or promote fear. Edmonton is a strong and resilient city, and I am confident that its citizens will support one another to overcome this tragic event."
Tweet