---
Caring Communities: Online auction planned for families in need
November 16, 2017, 4:10 am
Kevin Weedmark
---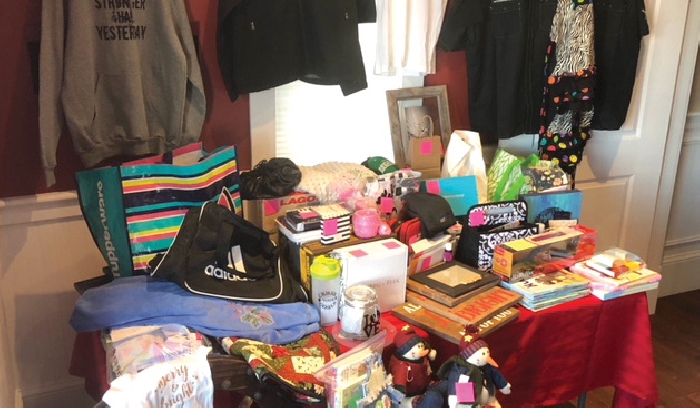 An online auction will take place next week—November 20 to 25—to raise money for families in need through Caring Communities.

"We've been working with local families around Christmas time for the last few years with Caring Communities," said Rolna Pranke, one of the organizers. "We had been known as Adopt-A-Family at first, as we paired with people with families they could help. Last year we set up an actual non-profit organization, Caring Communities, so people cand donate.

"We help people at Christmastime who need a hand with gifts for their kids or a food hamper, that sort of thing.

"This year we're having an online Facebook auction. We have over 85 items donated so far and there are still more items coming in. An online fundraising auction is a simple way to raise money at no cost. All of the money that's raised goes to help people.

"We're hoping to use some of the money from the auction and other donations that come in to purchase necessities for families—anything they need. There are also needs that come up throughout the year—for example if there's a family that has come upon a hard time, maybe lost a job, once we get word of that we can step in and help. Some of the funds raised can be kept in reserve and we can use them as needed."

Just a few of the items donated so far include
• Three hours at the Sportsplex
• A decorative wagon wheel
• A 9 x 13 pan of fudge
• Daily Inspiration cards and book
• A Kids Healthy Lunchbox cookbook
• Denim purse and notebook
• A set of hardcover children's books
• Mom and Me matching aprons
• A barn board picture frame/chalkboard
• 10 dozen homemade treats
• An antique coal oil lamp
• A cookie a day for 20 days
• Four hours of housecleaning
• 10 pounds of hamburger
• A set of two snowman decorations
• A photoshoot
• A birthday party package valued at $260

"We're trying to hit all interests," says Darcy Baczuk, another organizer. "There are some guy things, some girl things, some things for kids."
The women are hoping to raise around $4,000 to $5,000. People can still donate items once the auction starts running.

"I'm very grateful to everyone who has donated," said Rolna.

"It's amazing the support we have from this area," says Darcy. "Every time we do something like this, I panic, and every time we come out with more than I ever, ever dreamt we could do. The community supports us. They just give."

"The same is true when needs come up through the year," adds Rolna. "There's a family we helped from a nearby town. We just said this is what we need, and the support that came in was incredible. I had a truckload that I took. I was met with smiles and tears and hugs."

"People appreciate it, people need it," adds Darcy.

"Everything is kept anonymous," says Rolna. "If someone knows of someone in need they can contact us."

"Last year we had about 30 families," says Darcy. "This year we're at 18 but we could get more."

In some cases, families that once received support have seen their circumstances improve and now donate to the program.

Support provided to the families in the program is tailored to the individual needs of each family.

Darcy says she started the program after participating in Santas Anonymous in Regina. "When my son and I were first on our own, we were in need, and people helped us," she said. "It was like okay, we can give back now. I started with just my family supporting it, and we helped 13 families. It expanded from there. The first year I did it, I just did Moosomin and now I do Fleming, Welwyn, Rocanville, Moosomin and Wapella. We took the idea from Regina and tailored it for our area."

Why do the women put in the time to organize this?

"Because we needed it once, and now it's our chance to give back," says Darcy.

"I was involved with Operation Christmas Child for seven years and you're helping someone on the other side of the world," says Rolna. "Through this we're helping people right here. The hugs and the tears are enough."

"There are usually a few tears when we make a drop off," says Darcy. "The important thing for people is knowing that someone has their back. That somebody cares."

Look for Caring Communities on Facebook to participate in the auction.

Local businesses are also helping with Caring Communities.

When people buy a minimum $10 Borderland Co-op gift card to donate to Caring Communities, Co-op will donate another $5 gift card. RONA is collecting donations for Caring Communities.

On the night of Moonlight Madness, November 29, the Flaman Train will be giving rides around downtown Moosomin and will collect non-perishable food items and unwrapped toys to be distributed through Caring Communities.
Tweet