---
Christmas Events this week
November 27, 2017, 7:35 am
Kevin Weedmark
---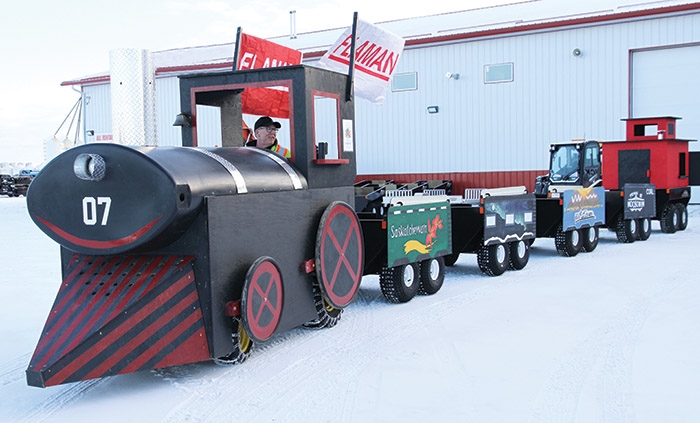 Moonlight Madness Wednesday
Rocanville Light Up Thursday
Wawota Santa Day Friday
Moosomin Santa Day Saturday
Elkhorn Light Up Saturday
Moosomin Carol Festival Sunday
There are a lot of events coming up this week to kick off the Christmas shopping season in local communities.
The Moosomin Chamber of Commerce is planning its Moonlight Madness promotion this Wednesday, Nov. 29.
From 5-9 pm, shoppers can pick up a cash card from participating businesses, have it stamped at that business, make a purchase and have it stamped at four more restaurants or stores, and enter to win $500, $250, or $100 in Moosomin Bucks.
The staff at Flaman in Moosomin will have a Christmas Train to take children and families on rides during Moonlight Madness. The train station will be set up at the Co-op Marketplace Foods parking lot.
Also during Moonlight Madness, Borderland Co-op's mascot Cooper will be making the rounds of the stores with a Santa sack full of coupons and offers from local businesses.
Moosomin retail businesses will also be open until 9 pm on Wednesday, December 20 to give people an extra chance to complete their Christmas shopping locally.
Turn to page C3 in the Christmas Gift Guide inside this week's paper for more information on Moonlight Madness.
Rocanville Tree Lighting
Rocanville Economic Development will be holding its tree lighting this Thursday, November 30.
There will be a trade show at Hope Church from 6-8 pm featuring handmade items and baking, there will be a hot dog roast at the fire hall sponsored by Borderland Co-op from 6-8 pm, there will be a holiday craft at the library at 6 pm, and of course the highlight of the night will be the tree lighting at 7 pm.
Collect stamps at Rocanville businesses and you could win gift cards from participating businesses valued at $750.
Wawota Santa Day
Wawota will hold its Santa Day on Friday, December 1 at the Wawota Forum.
Skating and games are scheduled from 3 pm to 6 pm and kids can visit with Santa from 4 pm to 6 pm. There will also be sleigh rides from 4 pm to 6 pm and there will be free hot dogs and juice boxes.
Moosomin Santa Day
It's an event that attracts hundreds of kids each year. Moosomin will hold its Santa Day on Saturday, Dec. 2.
The Kinettes are organizing photos with Santa from 9:30 am to noon at the Seniors Drop In Centre at 622 Carleton Street, and the Chamber of Commerce is sponsoring a matinee performance of Despicable Me 3 at the Moosomin Community Theatre that afternoon.
The kids who see Santa will receive a free movie ticket for the afternoon showing of Despicable Me 3, and a free small popcorn.
Last year, more than 300 kids visited with Santa, and 305 took in the free movie.
Elkhorn Light Up
The Elkhorn Chamber of Commerce will present the Elkhorn Christmas Light-up Night this Saturday, December 2.
There will be a craft sale at the Elkhorn Legion from 1-5 pm, there will be a movie at the Elks Hall at 2 pm, sleigh rides at 3:30 pm, hot dogs and a concession starting at 4 pm, free hot chocolate and cookies from 4 pm to 5:15 pm.
The Memory Tree will be lit up at 5:15, followed by a parade down Elkhorn's main street at 5:45 pm.
Stores will be open late in Elkhorn Saturday, and the Elkhrorn Elks Chase the Ace goes at 7 pm at the Elkhorn Motor Hotel.
Moosomin Carol Festival
If you have attended all those events and you're still not in the Christmas mood, you might have to take in the 2017 Moosomin Carol Festival.
Each year, the Moosomin Carol Festival features Christmas music performed by performers including choirs, soloists and instrumentalists.
Organizers stress that the Carol Festival is a community event, and everyone is welcome.
The Carol Festival will be held in Bethel United Church this year.
There will be two performances, an afternoon performance at 2 pm and an evening performance at 7 pm. Donations will be accepted for the Moosomin and Rocanville food banks.
Tweet