---
Freezing Rain Warning in effect
January 9, 2018, 5:31 pm

---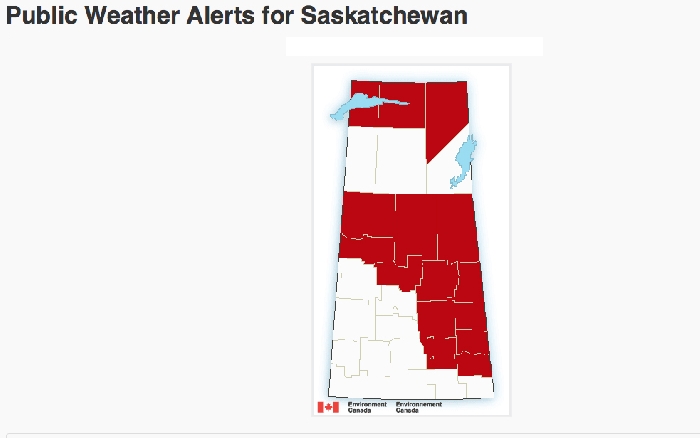 A freezing rain warning is in effect for the Mosomin-Rocanville-Wawota-Grenfell area.

Specifically, the warning is in effect for:

R.M. of Chester including Windthorst Glenavon and Peebles
R.M. of Elcapo including Broadview and Cowessess Res.
R.M. of Golden West including Ocean Man Res. and Handsworth
R.M. of Hazelwood south of Kipling
R.M. of Kingsley including Kipling
R.M. of Martin including Wapella and Red Jacket
R.M. of Maryfield including Maryfield and Fairlight
R.M. of Moosomin including Moosomin Welwyn and Fleming
R.M. of Rocanville including Rocanville
R.M. of Silverwood south of Whitewood
R.M. of Walpole including Kelso
R.M. of Wawken including Wawota Kennedy and Kenosee Lake
R.M. of Willowdale including Whitewood and Ochapowace Res.
R.M. of Wolseley including Wolseley and Summerberry
Freezing rain is expected or occurring.

A low pressure system tracking across Southern Saskatchewan is producing an area of freezing rain that will impact the Trans-Canada and Yellowhead Highway corridors over the eastern half of the province, then move into Western Manitoba this evening and onwards into the Manitoba Interlake region overnight.

While generally light in intensity, the periods of freezing rain will persist for several hours.

After the freezing rain tapers off, flurries will develop across much of the affected regions as a surge of Arctic air builds southwards into the Prairies.

Surfaces such as highways, roads, walkways and parking lots may become icy and slippery. Take extra care when walking or driving in affected areas. Slow down driving in slippery conditions. Watch for taillights ahead and maintain a safe following distance. Be prepared to adjust your driving with changing road conditions.
Tweet