---
Moosomin MLA Steven Bonk not in new cabinet
February 3, 2018, 6:37 pm

---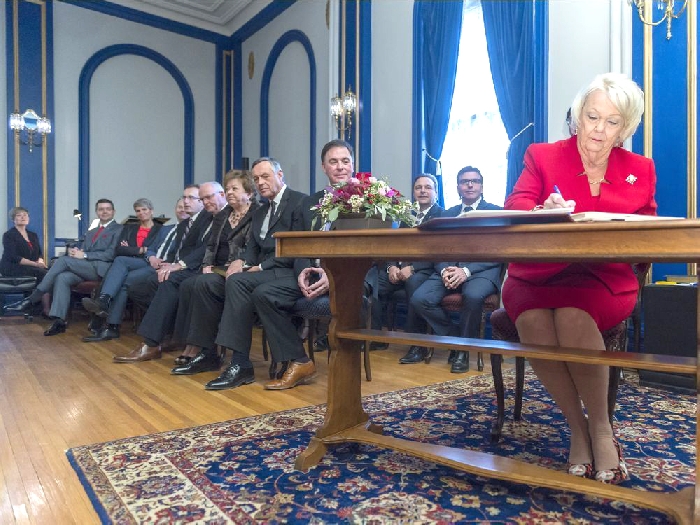 New Premier Scott Moe was sworn in and unveiled his cabinet Friday, including some of his leadership rivals, but Moosomin MLA Steven Bonk, who had served as Minister of the Environment since August, when some cabinet ministers stepped aside to run for the leadership, is no longer part of cabinet.

Bonk had served as Minister of Economy, Minister Responsible for Tourism Saskatchewan and Minister Responsible Innovation and Trade. Gene Makowski is now responsible for Tourism Saskatchewan, Tina Beaudry-Mellor is responsible for Innovation Saskatchewan, and Jeremy Harrison is responsible for Export and Trade Development.

"Premier Wall always said this was a very difficult decision," Moe told reporters. "I understand precisely what he meant with those statements."

Melville-Saltcoats MLA Warren Kaeding, whose riding includes Spy Hill, Tantallon, and Esterhazy, takes on the role of minister of government relations and minister of First Nations, Métis and northern affairs.

New to cabinet or taking on new roles are

Gordon Wyant — Deputy Premier and Minister of Education
Jeremy Harrison — Minister of Export and Trade Development and Minister of Immigration and Careers Training
Tina Beaudry-Mellor — Minister of Advanced Education and Minister responsible for Innovation Saskatchewan and Status of Women
Ken Cheveldayoff — Minister of Central Services and Minister responsible for the Public Service Commission and the Provincial Capital Commission
Warren Kaeding — Minister of Government Relations and Minister of First Nations, Metis and Northern Affairs
Bronwyn Eyre — Minister of Energy and Resources and Minister responsible for SaskWater and SaskEnergy
Christine Tell — Minister of Corrections and Policing, and Minister responsible for Saskatchewan Gaming Corporation

10 other ministers will retain their current cabinet responsibilities:

Don Morgan — Minister of Justice and Attorney General, and Minister responsible for Labour Relations and Workplace Safety and Workers' Compensation Board while adding responsibility for the Global Transportation Hub and SaskTel
Donna Harpauer — Minister of Finance
Lyle Stewart — Minister of Agriculture and Minister responsible for Saskatchewan Crop Insurance
Jim Reiter — Minister of Health
Dustin Duncan — Minister of Environment and Minister responsible for the Water Security Agency and SaskPower
Greg Ottenbreit — Minister of Rural and Remote Health
David Marit — Minister of Highways and Infrastructure, and Minister responsible for SaskBuilds and Priority Saskatchewan
Joe Hargrave — Minister of Crown Investments Corporation, and Minister responsible for Saskatchewan Government Insurance
Paul Merriman — Minister of Social Services
Gene Makowsky — Minister of Parks, Culture and Sport, and Minister responsible for the Saskatchewan Liquor and Gaming Authority while adding responsibility for Tourism Saskatchewan

Moe won the Saskatchewan Party leadership race last weekend. On Monday, Moe met with Lt.-Gov. Vaughn Solomon Schofield who asked him to form government.

He was elected at the party convention with 8,075 votes — or 53.7 per cent of the overall vote — after five rounds of voting.​
Tweet