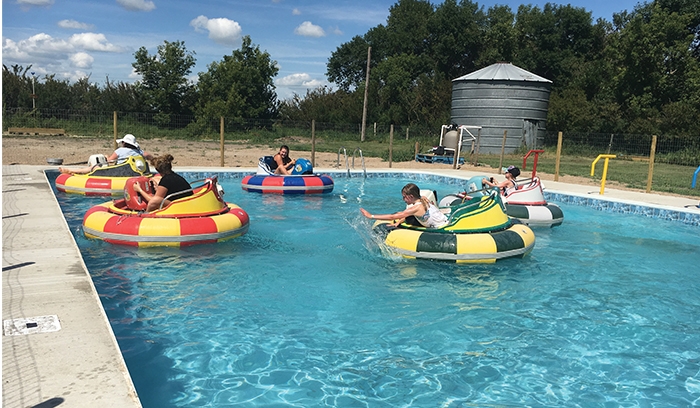 Angel Acres FunZone unique in rural Sask
August 1, 2018 4:42 pm
Kara Kinna
---
Most people wouldn't expect to find an 18-hole mini golf course, blaster bumper boats, human foosball and ziplines in the middle of the country in Southeast Saskatchewan, but those are just some of the things located on the farm of Tannis and Scott Lovell, who run Angel Acres FunZone, a rural amusement park located on their farm northeast of Carnduff.

Angel Acres has just opened for its third summer, and has been growing every year. It has blaster bumper boats that squirt water, mini golf, kids and adult ziplines, a bouncy castle, a sand pit with a play structure, human foosball, beach volleyball, and a concession with a slush machine, drinks and frozen treats. There is also a picnic area where people can have birthday parties and barbecues.

"Since we expanded this year it's going crazy," says Tannis Lovell. "This year we went full out, adding the boats, the beach volleyball, and the adult zipline.

"We just started out with a little bit at the beginning. We had the bouncy castles, the kids ziplines, and then bubble soccer. The bubble soccer balls didn't last very long and we wanted something bigger and better. We were out of town a little bit so we thought let's get something that will help people cool off, and that's when we thought about the bumper boats.

"There is something for everyone, for all ages, from three years old and up. Last weekend we had some seniors that were on the adult zipline!"

Tannis says the addition of things like the human foosball has been a hit.

"We host bachelorette parties. One group, they wanted to do the mini golf and human foosball, and they went into the human foosball and stayed there all night, they had a blast!

"We added beach volleyball this year, the adult zipline and an in-ground pool for the bumper boats."

She says there has been a real increase in the number of people who are coming out to their farm to go to Angel Acres.

"In the past, during the week it would be slow and you might see the odd person trickle in throughout the day, but now we are open at 1 pm and people are there. Last night they were there until 8 o clock. It was constant.

"This summer we have been way busier. And of course we get the odd person saying 'are you going to add on?' "

Tannis says people are starting to come from as far as an hour or more away.

"If the weather is hot and people are around we are busy," she says. "And we are centrally located. We are half an hour from Oxbow and Redvers, we now are getting some people from the States. We've had lots of Estevan people come out. Melita we've had, and that's about 45 minutes."

What inspired the Lovells to start Angels Acres Fun Zone?

"Ten years ago we lost our little boy," says Tannis. "He passed away—he was two. We thought to help us with our grieving, let's get something in memory of Evan. And we also thought there isn't much stuff around Carnduff to do for young kids or families, so we just sat at our table one day and Scott, my husband, and I thought "what can we name this?" And we thought Angel Acres. We are in the country, we are on a farm, and Evan is our Angel.

"It's a fun zone. It's somewhere where you can be safe, have fun, cool off, have a good time and share with your family and friends.

"We just thought we wanted to do something in Evan's memory. He would have been 12 this year. July 12 would have been his birthday and August 6 is the anniversary of his accident.

"So it helps us. When I hear all the laughter and see the smiles and those little ones that are turning 12, I think my son would have been that age. Just to make a little one smile or laugh is perfect."

Tannis says they are seeing a lot of repeat customers now.

"People come back to our office and say 'thank you so much, we had a great time, I'm booking my grandchild or child's birthday next year.' And they go and tell their friends or they go onto our Facebook page and talk about it, and it's like a wildfire. It's been pretty good.

"We're actually getting the odd person ask us if we have RV parking. We actually have old barns that are getting close to the end of their days that could come down and we could actually maybe turn it into an RV park, and the other day I was wondering if it would be possible to put a splash park in. So my wheels are already turning."

Before Angel Acres opened, the Lovells had a hobby farm and Tannis worked at Sun Country Health Region.

"2008 is the last year that I worked in Sun Country Health Region as a home care aide, and after I lost Evan I just didn't feel strong enough to go back to work," she says.

Her daughter Mckenzie is helping her run Angel Acres this summer and into the fall.

"At the beginning of September I decided to be home schooled. I wanted to stay home and help with the fun zone and it's been going good," she says.

Tannis's mom Mary, her husband Scott, her eight-year-old daughter Rayah (who collects the mini golf balls), and one of their neighbors down the road, Shannon, also help run the amusement park.

"At our school, me and Rayah, we are the only people who can say we have a funzone in our yard," says Mckenzie.

Angel Acres opens in the spring, and will be open until the end of September this year.
Tweet