---
Royal Wood coming to Moosomin May 10
May 10, 2022, 2:23 pm
Sierra D'Souza Butts, Local Journalism Initiative Reporter
---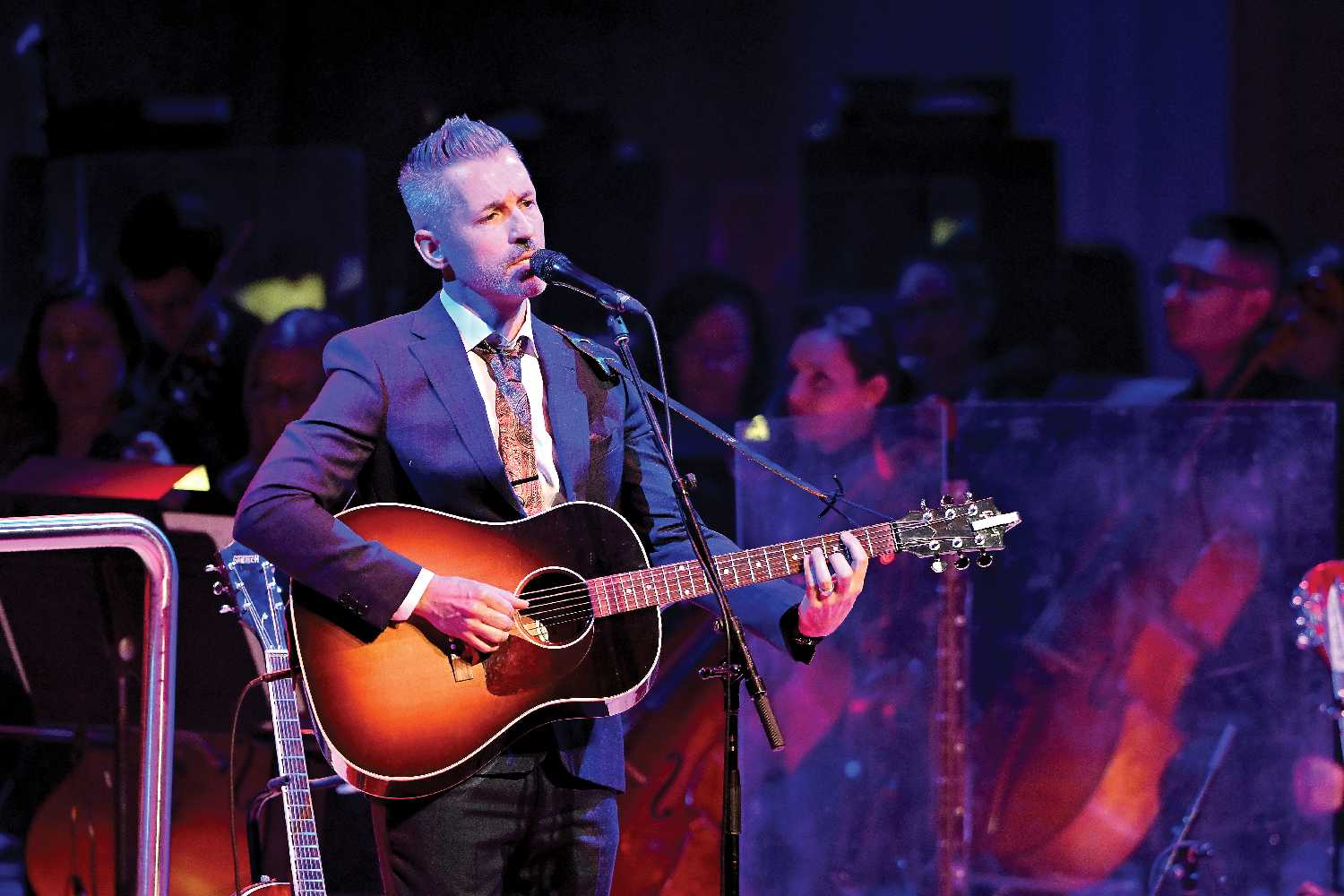 As part of his tour across Saskatchewan, Alberta and Ontario, Canadian musician Royal Wood will be coming to Moosomin on May 10.

"This tour was offered to us two years ago, but then obviously the pandemic hit so everything got put on hold and we weren't quite sure when to do it," Wood said.

"But then with the new record coming out this fall and wanting to get on the road with the band, the Saskatchewan tour would be perfect. I can just go and play new songs, make sense of them and find my voice again, to be on the road again, and be with the team again.

"It works perfectly too because my wife and I, she's from Saskatchewan, we had two kids in the last two years and this gives us a chance to be in Saskatchewan for two weeks. We get to see her family, my kids get to be with their cousins, it's turning into a big family getaway, where at the same time I get to do some work."

Wood said he is excited to go on tour and start performing with his team.
"I'm just happy to get on tour, I did live streams, but honestly I just miss the energy of the room, I miss performing for people, I miss the give and take of it all, and just making a spontaneous moment at a show that never happens again," he said.

"Secondly, I miss getting to meet people. That part has been so strange, because my life in the last 15 years of touring has been new cities, new people, new places, new experiences, and when you stay in one place you don't close in on yourself, but everything gets pretty sheltered. You live in your little bubble and you forget there's a whole other world out there."

Wood's passion and love for music started at the age of four, he said.

"It's all I've ever known, it's all I ever wanted to do. I was four years old when I started playing piano by ear and I was just one of those kids that saw an instrument and can hear it, and understand it before I had any training," Wood said.

"Some kids will pick up a hockey stick or are good with numbers, I just had an ear for music and I loved it.

"It's all I could see myself doing, so much so in fact that there's five kids in my family and my mom had this book that marked your way all through school.

"Part of it was on the first day of school, you would fill out this thing where she would put your first day of school photo in it, and whatever other sort of memorabilia, but there was this section where it would have a list of questions for you, asking what's your favorite color, what are you looking forward to the first day of school, and there would always be that 'what do you want to be when you grow up' question and I wrote musician every single time. I was just a little kid, so clearly something in me wanted to do it."

Starting his career at an early age Wood pursued his dream of being a musician at the age of 18. He explained how he first got into the music industry.

"I think it was just blind faith, a lot of hard work, and just luck. I just kept following my instinct and taking big risks and things paid off," Wood said.

"I left home when I was 18, I had a scholarship to go to McGill University. I went there for only two years and dropped out, I didn't want to be in school I just wanted to do music.

"I gave up my scholarship, left Montréal, moved to Toronto, I only knew my brother I didn't know anyone else there so I moved and said this is what I'm going to do. I just started writing and playing shows, trying to record, then somewhere down the line things just worked in my favor.

"I quit a day job long before I could really pay the bills with music, but I just thought it would and it did, then things just kept going."

Performing for more than 15 years now, Wood said there were challenges that he had to overcome to get to where he is now.

"It certainly wasn't a straight line, it was a lot of left and right, a lot of two steps forward one step back," he said.

"But listening to that voice on the inside, making what I wanted to make, and saying what I wanted to say, doing what I wanted to do.

"The most challenging part (for me)which never goes away, is making music that is uniquely your own, that has your own genuine voice, and then you have to put it out to the world then it's judged.

"That part never goes away, I think every artist I know and people who are still playing music, all say the same thing. That's why it's a difficult part of the job because there's so many other career paths you can take where that doesn't happen," he said.

"You go and do your job five days a week, from 9 a.m. to 5 p.m., you know what your job is and you get paid for it. There's a very specific set of rules and you follow them and it's a respectable, amazing and incredible way to live a life. There's nothing wrong with it at all, but if you're going to be in the arts or self-employed, you have to be able to take a lot of rejection.

"It's like 99 per cent 'no' in this business and one per cent 'yes,' but it's what I wanted to do and if it's what you want to do, you have no other option. When someone says 'no' you're like okay, I'll try again, then maybe one day you'll say yes, and I've definitely learned that is what happens."
Wood said the most rewarding part about being an artist is that "one percent."

"The most rewarding part is that one per cent, the wins, the small micro-wins that add up to a big win at the end of your life, I think that's what it comes down to."

Wood was asked what he is most proud of from his career, so far?
"I'm most proud of my two kids, but in terms of my career I'd say I'm proud of headlining at Massey Hall and I did so well that I get to come back again this October," he said.

"To know that I'm an artist in Canada that can headline, I mean that was a goal of mine at 12 years old, to headline at Massey and play shows there."
Being a full-time musician, Wood said he has built a catalogue for himself.
"When I started, musicians got paid from always being on the road, it was the biggest part that you had to do," he said.

"Obviously other things have come along the way, I certainly listen to a lot of music through TV and film, stuff gets used in advertisements, there's streaming and there's all sorts of things that are passive income that happens once you've had a career long enough and have enough music released, which is certainly part of it now.

"It takes a long time to get a catalogue and to be able do that, but playing shows is still a major way to make a living. Especially now because people don't buy records, so you definitely have to play some shows."

Wood's will be playing at Moosomin Community Theatre on May 10. Tickets are available on his website: https://royalwood.ca/shows/.

He will also be playing in Saskatoon, Langenburg, Indian Head, Moose Jaw and other communities in Saskatchewan, throughout the month of May.
Tweet