---
Sod-turning held for Esterhazy's $29.9 million water project
June 23, 2022, 10:27 am
Sierra D'Souza Butts, Local Journalism Initiative Reporter
---

On Tuesday, the Town of Esterhazy celebrated the sod-turning for their more than $29.9 million regional water system project located at the north end of town.

The project involves building a water treatment facility that will provide and improve potable water to residents and businesses of the town.

The system is expected to be fully operational by Spring of 2025.

Through the federal government's Investing in Canada Infrastructure Program (ICIP), the Government of Canada will be contributing up to $11.9 million towards the project.

In addition, the Government of Saskatchewan will be contributing up to $9.9 million. The Town of Esterhazy will be responsible for funding the remainder of the project.

"On behalf of Premier Scott Moe, the Government of Saskatchewan and your Government Relations Minister Don McMorris, it's great to be here. We're gathering today to mark the start of a new infrastructure project, and the provincial government is proud to be a part of that," said Warren Kaeding, MLA of Melville-Saltcoats.

"Today we celebrate this project moving forward from vision to reality, the Government of Saskatchewan is very proud to play a role in this very important water project which is now really starting to take shape.

"Esterhazy is a community that definitely has significant growth potential for business and for residential, and it had an urgent need to improve the water treatment side of things."

Kaeding said over time, the water treatment plant has the potential to also supply water to nearby communities and industries, which include the villages of Dubuc, Stockholm and Yarbo, surrounding rural landowners, along with Mosaic Potash.

"This project is really going to help strengthen the community of Esterhazy and the surrounding area, making this part of Saskatchewan even better. That's why our government continues to make infrastructure investments like this across this great province," said Kaeding.

"Since 2019, the Ministry of Government Relations has announced more than $290 million in provincial funding under ICIP, to support over 229 projects across the province. An investment like this is going to ultimately enhance Esterhazy's quality of drinking water for its residents, it's going to better position the town to attract even more residents and businesses. Congratulations to the town of Esterhazy for achieving this very important milestone."

Kaeding said the Town of Esterhazy has been working towards this project for a while.

"I would say council certainly expressed interest the day that the building Canada fund was originally announced, which was in 2018. They have certainly been working towards getting their application in to have the project approved," he said.

"It's very exciting to be here, anytime that a community gets to build and develop their infrastructure, is a very exciting time for the community."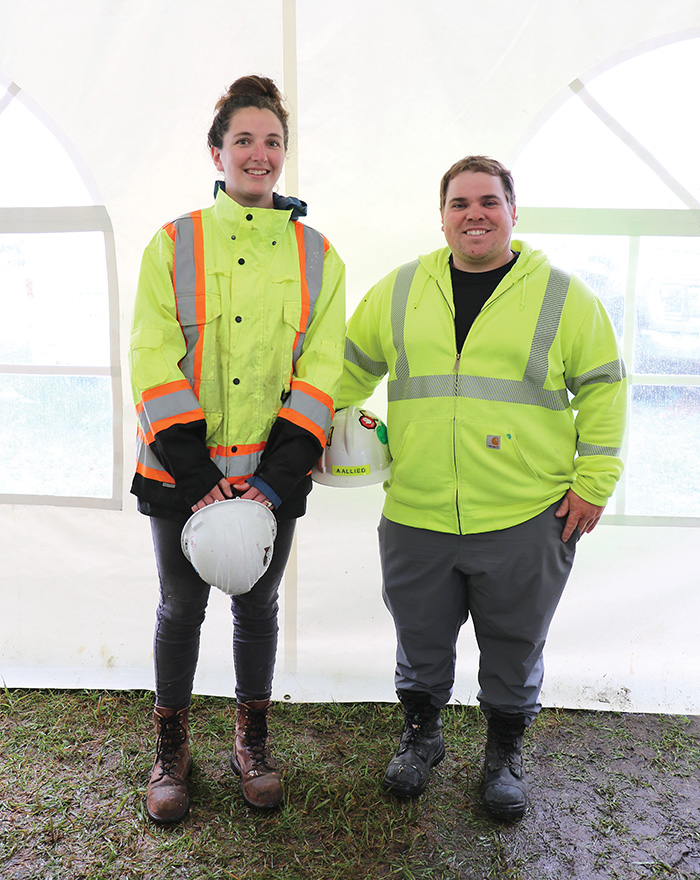 Town council happy to see project come to light
At the event Grant Forster, Mayor of the Town of Esterhazy, thanked the town's councillors, engineers and staff for all their hard work put into the project.
"I'd like to take a moment to acknowledge my council colleagues, councillors Maggie Rowland and Vernon Petracek, as well some of our town staff, our recreation director Garth Forster, our director of operations Joel Friesen, our utilities foreman Ron Hozjan, as well our CAO Mike Thorley," he said.
"We're so proud of the work already put into Esterhazy's regional water system by our town councillors, engineers, and staff. Providing an affordable, high-quality drinking water for the residents of Esterhazy is an essential service of the town.
"We're so excited to be partnering with the Government of Canada and the province of Saskatchewan in bringing such a service to our community.
"We're also excited to be in a position, at the completion of the project, to supply water to our neighboring communities and industries. A high quality of water supplied will help us attract new residents and produce economic development to benefit the town and surrounding region. This is truly a great project for Esterhazy, and the area."
Forster said the project has been a priority for the town for at least a decade.
"It's fantastic to have the regional water system here now, it's something we've been working towards as a community upwards of 10 to 12 years now," Forster said.
"Previous councils have been working towards this, and for us to have taken this final step and have gotten not only the approval, but to actually see it happening, is fantastic."
"It's a great day for everyone, and some of the councils who have been around for those 10 to 12 years, I feel really happy for them because this is finally a dream come true for them.
"It's a project they've been working towards and it's finally happened. We're looking at this as a project that will benefit absolutely everyone in town.
"It's going to be something that should give everyone extra quality drinking water. It should be a bit of a cost savings for them too because there will no longer be the need to have water softeners, the water heaters should last a little bit longer because the quality of the taps will be better, everyone who buys water bottles won't have to do that anymore as well."
"It will be a cost savings for everyone by providing that high quality water, which we've never had in this community," Forster said.
"I've lived here for about 55 years now, and the quality of water here has always been a concern, hopefully now this will put that to rest."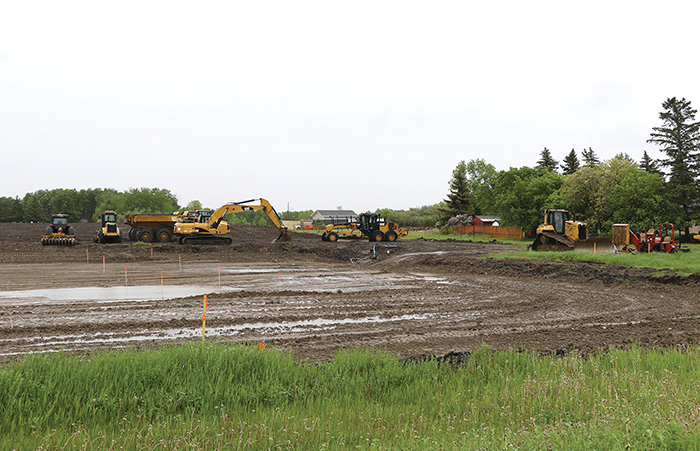 Construction workers come to light
Engineers of Allied Infrastructure spoke about what the next three years will look like for developing Esterhazy's regional water system.
"The first step would be Carmen from Duncan Construction, he will be doing the first phase for the plant on the construction site, just bringing the site to top face elevation," said Brandi Neibrandt of Allied Infrastructure.
"We'll then have a building contractor doing the piles, foundation and the actual super structure for the project so you'll see the actual physical building. Then we'll follow that with all the interior and mechanical stuff, all the cool stuff."
The entire project is expected to be completed by spring of 2025.
"The first phase should be done whenever the weather decides to cooperate which should be fairly quickly, but we've been having a tough go recently because of the rainy weather conditions," said Neibrandt.
"After that's done, the building should be up hopefully, depending on the shipments of material, by the end of this year around Christmas time. Then by 2025 everything will be finished, that's the goal."
Tweet