---
Grand opening held for Rocanville's new golf clubhouse
November 17, 2022, 11:06 am
Kara Kinna
---

On Saturday, November 5 Rocanville Golf Club celebrated the grand opening of its new 3,000-square-foot golf clubhouse and restaurant with a ribbon cutting, coffee and doughnuts, and a soup and sandwich buffet.

The new golf clubhouse opened its doors this summer and features a full sit-down restaurant, a bar, a fireplace lounge area, and a full commercial kitchen.

Rocanville's old clubhouse dated from the 1960s and was in disrepair, so the board knew they needed to start the process of building or purchasing a new building. After a former restaurant building was found for sale, and in good shape, in Archerwill, Sask., the golf club decided to purchase the building and move it to Rocanville to serve as the new clubhouse. In the spring, the finishing touches on the landscaping around the building will be completed, including a putting green.

"I'm on the board as secretary and when we had the old clubhouse we all started talking about how we needed to get a new building," says Denise Kruppi with the Rocanville Golf Club. "The old one was done, and the floor was almost falling through because it was in such bad shape.

"We started to look at options and look at buildings, and of course we couldn't afford to build brand new with the way that the prices were. So I went to Tobin Lake, to help my husband tow the boat to Tobin Lake so we could go fishing and camping. We drove through Archerwill and I saw what looked like a brand new restaurant sitting there with a For Sale sign on it. I got to Tobin Lake and Googled it just to see what the price was on it and I couldn't believe it. It was listed for around $120,000, so that's what made my jaw drop.

"I stopped and peeked in the windows and started to imagine how it would look sitting on our property with all of the windows facing out to the green space and the parking lot covered up on this side. So I started to think that maybe we should take a better look at this."

Kruppi asked Rocanville resident Ken Nixon, who has a background in construction, to take a look at the building to see if it was in as good of shape as it looked, and Nixon told her the golf club would be crazy not to buy it.


The inside of the new clubhouse, including the free coffee and doughnuts on November 5.

The golf club also began fundraising for a new building and explored a few other options, such as an RTM or modular building, but none of them were affordable.
"We looked into lots of different options but all of them were a million dollars or more for the most part," says Kruppi. "So then we thought that we had to get creative as to how we're going to get this building and also hope that when the building came, people would see the potential and then hopefully realize that this is worth investing in. The thought was if you build it, they will donate."
That plan worked out for the golf club with donations starting to roll in once the new building was moved into town.
"We've had good success with that—we've had tons of community support from personal donations to corporate donations. So we've been able to secure a mortgage and then have the donations which has allowed the project to get to completion," says Kruppi.
In the end, with the cost of purchasing the building, doing the ground work and foundation for the new building, moving the building, and doing final renovations on the building, Kruppi says the total cost of the project will be around $650,000.
"That includes the purchase, the move, the new foundation and we had to put in gas because we didn't have gas here before. We had to upgrade the power and the town put in some extra services for the water, so all of that had to be changed, upgraded, or installed. So with all of that, that's what we're thinking we're going to come in at with the final price," she says.
Fundraising has gone well for the project so far.
"Our fundraiser board originally started with the hope of raising $350,000 and we're at about $300,000," says Kruppi. "That was of course just to supplement what the mortgage wasn't going to cover. So we'd still have the mortgage to pay off 20 years from now, but we've had good luck with the fundraising so far. I'm very happy with the community and corporate donations and the support that we've had."
Kruppi says when people see the new clubhouse, they are often shocked by how nice it is.
"People walk in and sometimes they're like 'Wow, this isn't at all what I was expecting.' So to me that's quite gratifying when people walk in and their jaw kind of drops. It makes it all worthwhile with all of the volunteer hours we've put into it."
Ken Nixon was the project manager overseeing the move of the building and all of the work that had to be done before and after it was moved. Nixon is retired but says it was a pleasure to be able to lend his time to work on a project that benefits the town.
"I thought it was a great project for the town," he says. "When they initially looked at the building when it was in Archerwill, Denise asked me if I'd have a look at it just to see what kind of building it was. I said sure, and we happened to be going on holidays, so I went up through there and had a look at the building. I went 'this is a no-brainer.' The building that was sitting there and for the price it was, if we were going to do this, then it was the best bet we've had.
"From there on it was basically making sure that we had our ducks in a row. I dealt with all of the building inspections, the designing, the engineering and all of that sort of stuff that had to be done. I had to make sure we had drawings—all that kind of stuff.
"One of the biggest things was dealing with the movers and finding a proper mover, which we were quite successful at. We definitely got the best guys to move it.
"Once we had it sitting here, then the first thing you have to do is get everything like gas, power and phone in and hooked up and ready to go. The next thing is that we had some minor cracking from the move, which always happens. That all had to be addressed and once that's addressed then you repaint, and once that was done you have a lot of cleaning to do. So you just get the building to a functional place. And groundwork was a big part of it as well. Once you put a building on site then you have to make sure all of your elevations are right so your drainage works properly."
Nixon says the old clubhouse and new clubhouse are like night and day. Not only is the new building structurally solid and beautifully finished, but it came with things like kitchen appliances, dishes, chairs and tables from the former restaurant.
Nixon says he is also proud that he was able to keep the project within budget—both by volunteering much of his time, and with the help of others in the community who donated labor, materials and equipment for the project.
"I'm very proud to be part of this project because I'm lucky that I was able to," he says. "I'm in the stage of my life that I've been able to give up time to do it, and it helped keep it in budget because there was lots of volunteer contribution.
"We had people doing stuff like donating skid steers and other equipment. They'd bring the equipment to us. We had people donate the dirt that we had hauled here. The community pulled together and there was a lot of donating to get us where it is. It was all done within budget and what we wanted. It's fantastic."
The clubhouse will operate year-round, with the ability to serve the community as a restaurant and event venue. Kruppi says people from other communities have come to Rocanville just to check out the new clubhouse and eat there.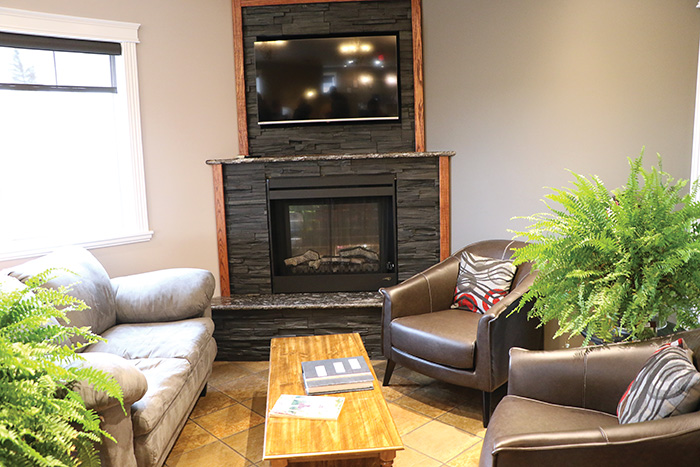 "We've had people from all over in different communities come just to have a meal and also from other communities just to golf or participate in our tournaments and to see the new place. It's been a great draw. Next year it's going to be a whole new place once again when we get a bit of landscaping and other things done to really finish it off, and the putting green will be completed as well.
"We've got some Christmas parties booked already for November and December. Before we had the building open, we actually had someone inquire about hosting their wedding."
Kruppi says they are planning to name the restaurant the "2640 Nine & Dine" after the clubhouse's phone number and nine-hole golf course.
Kruppi says it's was a wonderful feeling to see the project almost completed.
"It's really amazing to see the community come together," she says. "Talk about community building when you can have everybody working towards one goal—it's really quite satisfying. The first tournament that we had I just sat here with a grin on my face because I just watched people walk in and be like 'Woah, this is going to be awesome!' Just to be able to see that grin when people walk in made all of those volunteer hours worthwhile."

Long list of volunteers to thank
Kruppi says there is a long list of thank-yous that are needed for all of the volunteers who helped with the project.
"To help Ken and I, we had Garry Williamson who spent hundreds of hours here cleaning fixing, painting, etc. Daryl Fingas did the same sort of thing, he did lots of volunteer work; Kevin Burke helped us to fix all of the cracks in the ceiling, which was amazing, because there was damage from the move, and he was tons of help to paint as well.
"Glenda Brown helped us to run an online auction fundraiser, so I'd like her to be recognized for that. We had people who helped us when we went up to Archerwill to pack and get everything ready for the move. We had a bunch of ladies who actually made us meals, they sent us with sandwiches, drinks and everything, which was really quite a treat. We had two or three trucks of people that went up and helped us pack, and then the same with unpacking and moving in.
"We had lots of people who helped us to clean everything that was in here because it all had a layer of dust because it had sat vacant for six years before we brought it here. There was also dust from the move.
"Also I need to mention the previous board, because a lot of the board has changed since we got the building. There was a lot of planning for the building. Steve Fortney was our project manager before Ken came on as project manager, and he did a ton of work in terms of guiding us, planning and preparing us for what has to happen, because none of us have a construction background and he had the knowledge to lead the project. He was super valuable to have in the beginning phases.
"Then also Cory Woywada, Jeremy Wray, Kari Lessmeister, Duane Hanna and myself—that was the original clubhouse committee, and since then there's also been some changeover in the clubhouse board, so more people to be recognized are Ashley Howie, Dylan Danielson, myself and Karen Payant.
"All of the hours that just went into meeting—we met every week for months and months and months on end to just plan on how we can get this building here, so it wasn't actual physical work, but it was a lot of time and planning.
"The current board is Ashley Howie, Dylan Danielson, myself, Duane Hanna, Karen Payant, Ken Nixon, and then Allan Howie is our maintenance supervisor and Crystal Rankin is our new clubhouse manager."
Tweet