---
Haubrich, Homick earn national silver in Junior Pairs
Haubrich got start with Skate Esterhazy, trained in Virden
January 19, 2022, 4:19 pm
Kara Kinna
---

Marty Haubrich—a Skate Esterhazy club member who grew up in Dubuc, Sask. and who has also trained in Virden, Manitoba—earned a national silver medal in pairs skating last week at Skate Canada Nationals in Ottawa along with his partner Summer Homick.

Haubrich and Homick came in second with a score of 136.24, behind national champions Brooke McIntosh and Benjamin Mimar with a score of 155.95 at Nationals.

The silver medal has earned the pair a chance to compete at the Bavarian Open in Germany to represent Canada for a chance to qualify at Junior Worlds.
Homick and Haubrich also won silver medals at the Skate Canada Challenge, Dec. 1-5, in Regina.

Haubrich, who now trains in Ontario, says he and Homick have been skating together since the middle of April last year.

"This is our first year together," says Haubrich. "We had our first Sectionals together, our first Challenge together, our first Nationals together, and then this (Germany) will be our first internationals together."

The team went into Nationals with the aim of making the podium.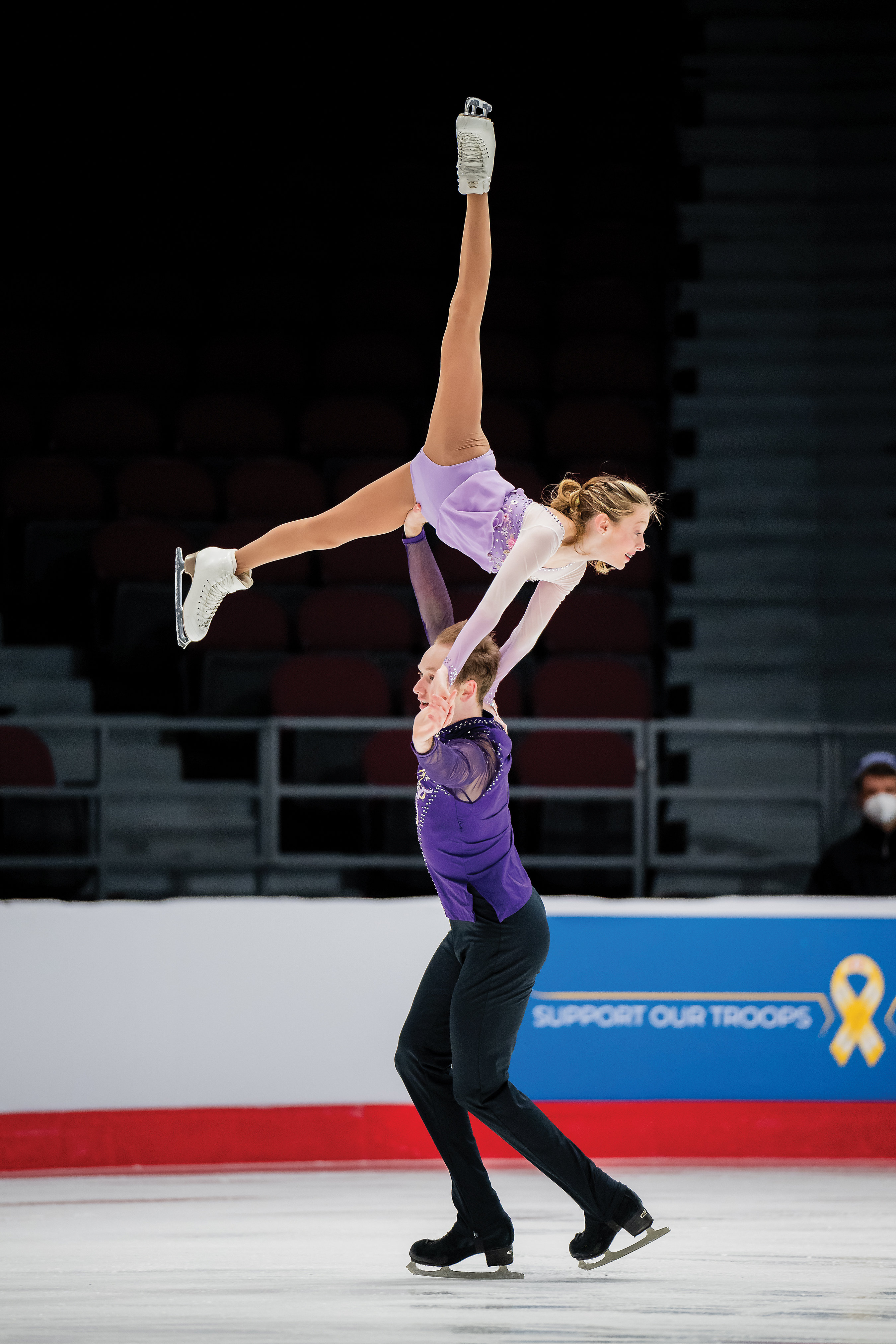 "We usually want to lay it out on the table for our performance and just show Canada what we can do as our first debut on the big stage, and we were kind of hoping the rest would just fall into place afterwards," says Homick. "We were hoping to get a podium spot at least, especially with all the hard work we've put in the past nine months. It was kind of exciting to see it all happen."
"We've been skating very well in practice," adds Haubrich. "So we really just wanted to come out and showcase what we do every day at home. We just tried to go on out there and do our thing and not really worry about anything else."
The pair placed second in the short program on Monday and were able to hold their spot after a personal best in the long program.
"It's pretty exciting," says Haubrich. "We didn't have the skate we wanted to in our free program but at the end of the day it's our first national medal together as a team, and my personal first national medal. It was pretty exciting overall."
Haubrich is an Esterhazy product. He got his start with Skate Esterhazy before moving on to train in Virden with coach Patty Hole for a number of years, moving to Ontario in March.
"I went into Canskate in Esterhazy when I was just turning three," he says. "Then I was in Canskate for two years, and then got up into the Starskate group, into the Bridging program under Bev Pangracs, and kind of worked my way up from there. I competed in singles and did ice dance for eight years, and then started doing pairs when I was 17, and I moved to Virden, Manitoba for that.
"I came out to Ontario for the first time in March to do a couple tryouts and then that's when Summer and I first had our tryout. Then I came back to Saskatchewan because Ontario got locked down again. And then I moved to Ontario in the middle of April."
What is the ultimate dream for the pair when it comes to their sport?
"A good goal would just to be to bring a lot of attention to the sport and get more pairs across Canada," says Homick. "There are only seven teams competing with us. So it's not very many, but it would be cool to see more people join the sport."
"I think it's every young person's dream that in sport and anywhere across the world really to go to the Olympics and represent your country," says Haubrich. "So obviously, we would really like to see ourselves take it that far, but we're just going to go one step at a time and see what happens along the way."
Tweet