---
Kahkewistahaw First Nation: Birds Point purchase part of long-term economic plan
September 4, 2019, 1:49 am
Kevin and Kristen Weedmark
---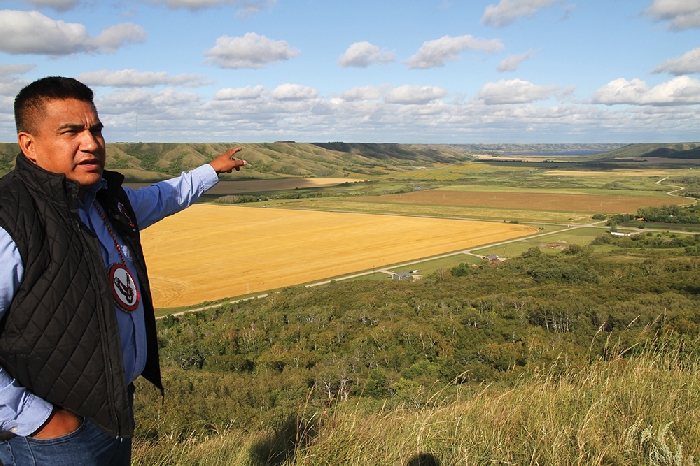 The purchase of Billy's Pub and Restaurant, mini-golf and barbecue at Birds Point, and the planned purchase of the adjoining campground and beach area, are part of a long-term economic development plan aimed at gaining financial independence for Kahkewistahaw, says Chief Evan Taypotat.

The Kahkewistahaw Chief and Council, along with the Kahkewistahaw 1907 Specific Claim Trustees, announced last week they have purchased Billy's Pub and Restaurant, mini golf course and barbecue at Birds Point, with the property officially changing hands September 4. There will be a grand opening at Billy's Pub and Restaurant Saturday, September 14.



The purchases at Birds Point are part of a plan to develop new tourism-related businesses at Round Lake—a hotel, cabins, a marina—which are part of a much larger plan to develop businesses that will create independence for Kahkewistahaw.
Economic Development is our new Treaty
"Economic Development is our new Treaty—that's the way we look at it," says Taypotat. "Every year we need about $7 million to sustain ourselves on Kahkewistahaw and that's what the government gives us. That's a low standard. So we have that number in mind when we're going out there and buying these businesses. If we can reach $7 million in annual revenue then we'll be fine, and we won't need to wait for the government. So that's the number we have in mind right now. We aren't quite there yet, but give us a few more years and we'll be well over $7 million."
He said reaching their business income goal will help the community be more independent. "We get about $7 million a year from the government. That's what we get to sustain ourselves. At the end of the day it is just trinkets and beads—it's not enough. You can see the poverty on the First Nation to prove that it is not enough. Our goal is to be self-sovereign, to be able to govern ourselves and to take care of ourselves. If we can self-generate $7 million a year then we don't have to play those games and hold our hand out to the government and say 'please help us.' That's our goal. We're about half way there. Where we see ourselves eight or nine years from now, we're going to be self-sustaining. We will be rich with jobs and rich with opportunities and hopefully ridding ourselves of poverty."
Taypotat emphasized that self-sufficiency is the goal.
"We just want to get our members off of welfare, off of social assistance," he says. "In previous years, there have been economic ventures from our First Nation, but they pay minimum wage. If you're going to entice people to get off of welfare, the wage should be good, it should be better than minimum wage. The way social assistance is set up is that people get their power, their water, and their electricity paid for. If you're going to ask them to pay their own bills with only minimum wage to get by, they're going to say no."
He said there have been efforts to provide training for better jobs at Kahkewistahaw.
"We currently offer on our First Nation a second year teaching program through the Indian Teaching Education Program at the University of Saskatchewan. It's important to understand that if we're going to make jobs for people, people have to have the education level needed for that job. You can't just pay someone to do a job if they don't actually know how to do it. We've found good success by hiring based on the skill level, not based on the last name or based on who voted for who. We try to hire the best person for the job."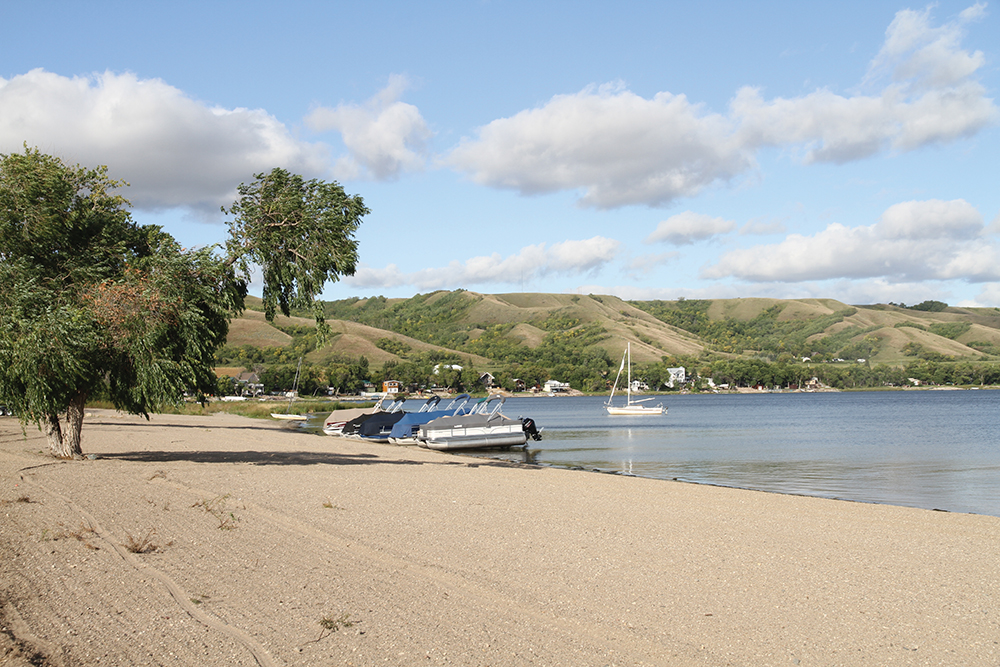 Military background
Chief Taypotat has a military background which he said developed his leadership style.
"I was in the Forces for five years. I was an infantry officer with Princess Patricia's Canadian Light Infantry. I reached the rank of captain and served in Afghanistan in 2011. A lot of my training was leadership training, and I was trained to tell people what they need to hear, not what they want to hear, and sometimes that rubs people the wrong way. Politicians will tell you what you want to hear. Leaders will tell you what you need to hear."
He chose to return to Kahkewistahaw rather than remain with the military, to take on the role of principal at the school, then was elected Chief two years ago.

Breaking the cycle
By providing training and jobs, Taypotat believes it is possible to break the cycle of poverty.
"Jobs create money, money creates opportunity, and opportunity means breaking the cycle. If you think about the people on our First Nation right now, if a mother can't afford skates, elbow pads, shin pads for her son to play hockey, then he won't play hockey. Then that kid will stay in the cycle of destruction. If we can get that kid involved in sports, if we can get young girls or boys to dance class, they have a better chance at succeeding in life. The only way we're going to do that is if our people have money. So that's why when this Bird's Point thing fell into our lap, and we can get about 8 to 12 full-time jobs there, we took the opportunity."

Small part of a large plan
Taypotat said the Birds Point project is a small part of the overall economic development plan.
"Birds Point is a minor acquisition in our eyes. It's going to help us sustain ourselves and provide jobs, but it's not going to make us a bunch of money. We have a few other ventures right now. We own the land in Yorkton that the casino and gas station are on. The hotel is ours too. We lease that property and get taxation dollars on it. We also bought land in Saskatoon by the airport and are planning on developing that. We have 40 acres in Saskatoon and once we start developing that we can start the process of making it First Nations status land. We can then work on developing infrastructure for that.
"We have a group called the Kahkewistahaw 1907 Trust, and they have an agreement with the government to acquire a certain amount of acres of land every year. So we've asked the trustees to acquire land with businesses on it or assets so that we can provide for our people. We have been buying a lot of farmland with houses because there's a housing shortage on our First Nation. Then they came to us and said that they had an opportunity to buy Billy's Bar and Grill, so we thought about it and came to the conclusion that this would be a good thing for our First Nation in regards to jobs. We are looking for jobs. If we can get jobs for our people then we're on the right path."
There has been some opposition to the purchase of the campground and park area expressed by people in the Birds Point area, but Taypotat says there was no attempt to contact Kahkewistahaw before petitions and letters were circulated.
"No one at any time approached our council about the plan for Birds Point," he said. "There were petitions that went around and letters to Minister Warren Kaeding that went around, there have been news stories, but not once did our phones ring. If they had actually called us and found out what we were planning, then they would have found out that the plan is to acquire Billy's Restaurant, to acquire the beach, and to build a hotel near the restaurant. Further down on Round Lake we own land, we want to develop a marina there, and cabins and lots to lease. If we do that, the property value of the home owners at Birds Point will go up.
"But no one asked us what the plan was. Everyone just assumed right away that we were going to come in and make it private land and block everyone off, which is not the case. People are going to see on September 4, the day we take over the restaurant, and on September 8, the day that the Province gives us approval, they will see that it's going to be a seamless transition. You aren't even going to know that First Nations people own the land."

No timeline for further development
Taypotat said there is no set timeline yet for development of the hotel, marina, cabins and lots.
"We don't know exactly how long it will take to build the hotel and marina," he said. "We need to make sure that our economic ventures are making money. If they're making money then we can fund the expansions. So the timing depends on how well our economic ventures make out. I would say as an estimate that I'd expect to see something up within the next three to five years."
Taypotat said he believes the developments at Round Lake will benefit both Indigenous and non-Indigenous people.
"Money sees no colour," he said. "We are not going to restrict employment just to First Nations people. We have a saying on Kahkewistahaw that fours hire threes and nines hire tens. The council I sit with are nines and we hire tens. We aren't going to discriminate based on race, colour, ethnicity, or religious beliefs. If you can come and work for Kahkewistahaw and be a hard worker, honest, ethics, morals, then you can work for Kahkewistahaw.
"We don't have an exact number of how many jobs this venture will provide, but you have to think about having a restaurant and hotel, you need people to work there, for cabins you'll need someone to clean them. We're looking at about 30 to 50 people employed."
Jobs important
He said the jobs are important to Kahkewistahaw residents.
"First Nations people are the poorest people in Canada. Health is directly related to wealth. Because we're the poorest people, we're also the unhealthiest people. We are dying from all these things that are directly related to wealth. We want people to have that feeling of what it's like to get $2,500 in their bank account every two weeks because they put in good work. That's why we're doing these economic ventures and why we've acquired Bird's Point.
"The average Canadian thinks that people on First Nations get everything handed to them. I'll show you our mold infested houses and I'll show you the broken homes and a First Nation that's trying to fight that poverty. We actually aren't that bad off, there are a lot of First Nations that aren't doing as well as we are. But we are situated in an area where we can reach out and work on these economic ventures."
Taypotat said it didn't disclose its interest in Birds Point because the sale had not yet been finalized.
"The reason we didn't disclose Birds Point earlier is because we hadn't signed the papers yet. We haven't received the land from the Province yet. We didn't want to release it and put the cart before the horse, but then this petition started going around and we had to discuss it."
He said the opportunity to purchase Billy's Pub and Restaurant arose first, and the opportunity for the recreation site came up later.
"Our trustees should get a lot of credit for this acquisition. They are the ones that jumped on this opportunity, it wasn't a chief and council thing. They brought the opportunity to us and we had the chance to accept it or deny it. We discussed back and forth and eventually the council was unanimous in deciding that it was a good thing.
"We spent $2.1 million for Billy's Pub and the land that goes with it, including the mini-golf. It was appraised and that's what it came back as, so that's what we paid for it."
Trustees have important role
Kahkewistahaw Councillor Corey Alexson said he gives a lot of credit to the trustees of funds that Kahkewistahaw has in trust because of the surrender of land in 1907, when Kahkewistahaw was reduced to 13,000 acres from 46,720 acres.
"I give credit to the trustees because it's not an easy job," he says. "Part of the vision is that they're responsible for the trust itself and its sole purpose is to acquire lands so that we can implement and build upon our vision. They aren't just out there buying land for the sake of buying land. The vision, and the steps we're taking to progress, are Nation-specific. The trustees were the lead for us on this. It was a very good opportunity for us. The trustees are a team, they come versed in their experience and what they can contribute as far as their connection to the land here at home so that they have the ability to know what's of value. They understand the value and the opportunity in the land. They are responsible for every dollar they spend out of that trust for lands, to ensure that we are getting value for money.
"In our Yorkton investment, we invested $30 million and because of safe, sound, secure, proper management style, and bringing in the right people, it's currently valued at $90-plus million."
Credit to previous councils
Chief Taypotat says the current successes are built on the work of previous leaders. "You have to give credit to the previous chief and councils who went through the process of attaining these opportunities. A lot of our wealth today is based on what the previous chief and councils did for us. So now we're kind of reaping the benefits and we have these opportunities. Our First Nation has always preserved the money, and that's why we can go out and buy these things."
Transparency
Chief Taypotat says transparency is important to Kahkewistahaw. "We are very transparent and very open, we don't hide anything. Our salaries can be found online. I think there's a misconception out there in the non-Indigenous world that we're just a bunch of wild Indians that don't have a vision and don't have a plan and get free money from the government, and live in this beautiful place called the Indian Reserve. That's not the case. It's a struggle every day. And I can only speak for my reserve. I don't know the struggles that other First Nations face. I'm sure they have their struggles just like we do. With respect to those Nations and their fight, this is how we're trying to fight back. When I think about this land at Birds Point and the posts on Facebook, it's racially driven.
"We actually run pretty good businesses. We have a good business approach. If the people of Birds Point took the time to understand us and our business strategy they are saying we are going to privatize and lock them out of, they would understand that the beach is probably going to remain the same. It might even be in better condition next year than it was this year. If we own the beach, we want it to be clean and safe and in good condition.
"The government isn't just handing out money for First Nations to build businesses. It isn't that easy. We don't know how much we're going to be able to put into it because a lot of this is hinged on the success of our other economic ventures. We do know that we're going to develop it and that if we do our economic ventures right, we do know that the opportunity will be there.
"The long term goal is to make money for our First Nation and also to get people employed. If we can make more money for our First Nation, then we can build more houses, we can build better houses. If we can get people employed then we can break the cycle of poverty, and our people can break away from that. A lot of people have broken away from it and a lot of people are going to break away from it. We just want to make sure that our people have all the opportunity available to live a healthy lifestyle for them and their families. The people of Kahkewistahaw are no different than the people of Moosomin, the people of Fort Qu'Appelle, or the people of Calgary. We just want what's best for our own people and we want to live long, healthy, meaningful lives."
Inspiration
Taypotat says there are a few entrepreneurial First Nations communities he looks to for inspiration.
"There are a couple of First Nations that I base my vision for Kahkewistahaw on. The first is Membertou First Nation in Nova Scotia, Osoyoos First Nation in BC, and Tsuut'ina First Nation in Calgary. Those reserves have their own fire departments and their own police forces, which in turn leads to a safer, better life. They have their own ambulance services. We want all of those, but we can't fund all of those right now. We want hockey rinks for our people and dance classes for our young girls and guys that want to take dance classes. The end goal is to live a good life like you're living in any other place that has the opportunity. We want that for our people. Our people have always been dealt the least out of everybody. The original people of Canada are treated the worst out of all of the people of Canada. That cannot happen anymore. We need those opportunities just like everyone else. The goal is just to be wealthy with jobs, and if we're wealthy with jobs then we'll be wealthy with all the other services. It's no different than the people of Moosomin, Esterhazy, Yorkton.
"If you drive 30 minutes to Esterhazy and drive around you'll see million dollar homes there. Why are there million dollar homes there? Because there's a potash mine. Then you drive back 30 minutes to Kahkewistahaw and you see third world conditions right in the middle of Saskatchewan. How can that be? That kind of comparison strikes me. Good for the people of Esterhazy. They're rich with jobs and opportunity. Then you come to my reserve and ask why aren't they rich too? They're the original people of this land. So it kind of irks me that the people of Birds Point are upset that we bought land that we originally owned anyway. We are just buying it back and the Province is getting some of the money."
Good neighbours
Taypotat wants to sit down with the leadership at Birds Point and discuss the land purchase.
"We are planning on sitting down with the council of Bird's Point and talking about everything. We want to be good neighbours with the people of Bird's Point.
"One of the problems in Saskatchewan is that we live right next to Broadview, Grenfell, Whitewood, Esterhazy, but we don't actually understand each other. It just so happens that my skin colour is different than yours, and that's the difference. People don't look beyond that. When we want to go spend money in Broadview and Whitewood they'll welcome us with open arms. But when we want to go buy land from them, when they might see that as our people getting ahead a little bit, or on par, they are not so welcoming.
"Our approach is to go in there and be a good neighbour."
Yorkton has had good experience with Kahkewistahaw
Yorkton Mayor Bob Maloney said that Kahkewistahaw is a major landowner in Yorkton, and he said the city has always had excellent relations with the First Nation, and Kahkewistahaw has been an excellent corporate citizen.
"If the people of Birds Point take the time to find out what the real plans are, that can allay a lot of concerns," he said. "In Yorkton, Kahkewistahaw are the owners of the casino property, the gas station, and the Home Inn and Suites. Working with them has been terrific. We've had a great working relationship. This property is urban reserve so there's no taxation on the land per se, but we've entered into an agreement with them that's basically a fee for services. That fee for services is equal to what taxes would be. We've had that agreement for a few years now and they've been terrific corporate citizens. We have no concerns or worries in that regard. They support a lot of things around our community. Recently Cowessess has been looking at a major development in the city as well and those negotiations have gone really well."
The mayor of Yorkton has some advice for the mayor and council at Birds Point.
"To the people of Birds Point with these concerns, I'd recommend that they meet with people," he said. "Meet with the chief, talk with the chief, talk to the development officer. I'm sure if you talk with them they'll be fine with sharing plans for development. If people take a look at the plans and talk with people before they react, it's helpful. We get concerns in the city over new developments, whether it's an aboriginal band or a business from Calgary that's coming in and buying up properties, there can sometimes be pushback. Generally once people understand what a development is, how it's going to be done, that can allay a lot of fears."
He said First Nations are a large and growing part of the community, and he expects municipalities will do a lot more business with First Nations in the future.
"First Nations are huge contributors and spenders, They support our local businesses, they support our hockey team. Any time you go to a Terrier game you see a lot of people from reserves and they definitely support our junior hockey teams. They're a big boost to our local communities and I think we do ourselves a disservice when we don't regard them as good customers and as people who support our community."
Tweet