---
Sask announces Safe School Plan
August 10, 2020, 7:33 am
Rob Paul - Local Journalism Initiative Reporter
---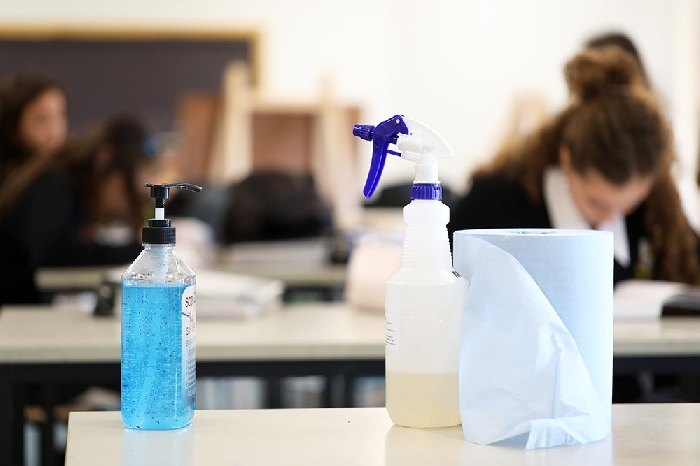 On Tuesday the Government of Saskatchewan announced that the province's 27 school divisions have plans in place for a safe return to classrooms for staff and students come September.

The school year is set to begin as early as September 1 for some school divisions.

Schools across the province have been closed since March 20 due to the Covid-19 pandemic, with optional remote learning methods being implemented to keep students as on pace with their learning as possible.

To prepare for a return to the classroom, Saskatchewan school divisions have used the last few months to work on putting together plans for their schools to re-open safely with guidance from Saskatchewan's Education Response Planning Team.

Every school divisions plan was then reviewed by the Education Response Planning Team to ensure that they adhere to all guidelines developed by the Education Response Planning Team in consultation with Saskatchewan's Chief Medical Health Officer Dr. Saqib Shahab.

"Our guiding principle continues to be ensuring schools are a safe place for students and staff," said Deputy Premier and Education Minister Gordon Wyant. "These plans and eight areas of focus will allow school communities to have the guidance and appropriate time to implement the required safety measures."

All school division plans incorporate eight components in the Safe School Plan:

1. Safe attendance
• Parents and caregivers are being asked to monitor their children for any signs or symptoms of illness. If any symptoms are present, the student is to remain home.

• For those unsure if they or a student present symptoms or may need to be tested for Covid-19, they should refer to the Saskatchewan Covid-19 Self-Assessment Tool.

• There will be dedicated quarantine areas in every school where individuals exhibiting symptoms will properly isolate from the rest of the school until a parent or caregiver can safely pick them up.

2. Safe transportation
• Assigned seating for students on buses and a record of the seating plan on the school buses.

• Students who live in the same household will be seated together.

• Where possible, the ministry is encouraging parents to transport their own children to and from school.

• Cleaning and sanitation of buses or other vehicles used to transport students is required between each run.

3. Safe access
• Implementation in all facilities of dedicated entrance and exit doors.

• Staggered recess, lunch, and other class transition times to allow for additional space.

• Controlled flow of students and staff in common school areas, incorporating the use of directional signage and floor markings.

4. Safe facilities
• Increased availability of hand sanitizer wherever possible.

• Custodial staff will provide consistent sanitation of school facilities.

• Maintain hygiene of all frequently-touched surfaces and objects such as toys and classroom equipment.

5. Safe classrooms
• Wherever possible, limiting physical contact such as hugs and handholding, as well as encouraging the use of alternative greetings such as "air high fives."

• Utilizing outdoor spaces for learning when possible.

• Clear protocols for bringing supplementary school materials such as backpacks and school supplies in and out of schools.

• Classroom configuration to minimize contact.

6. Safe supports
• Personal interactions with students who have intensive needs/immune-compromised conditions will be in place to allow for the provision of supports within a safe and secure environment.

• Medically fragile students will have supports in place to address their educational needs.

• School divisions will work with their local medical health officer to address the uniqued needs of immunocompromised students, to prepare for the ongoing safety of students and staff in proactive and responsive measures, and will have alternating learning opportunities in place for students who are unable to attend school for medical reasons.

• School divisions will communicate regarding these supports directly with their local school communities.

• The Ministry of Education will continue to support mental wellness through initiatives such as our work with Kids Help Phone to promote professional counselling services.

• Weekly briefs will occur between the education sector and health officials to bolster monitoring and access to local context and needs.

7. Safe activities
• Established protocols for reduced use of shared materials and classroom supplies.

• Identifying alternatives to in-person assemblies, such as virtual assemblies.

• Participation in extra-curricular activities will be dependent on the most current guidelines as provided by Saskatchewan's Chief Medical Health Officer.

• Extra-curricular activities such as indoor sports are allowed as part of Phase 4.2 of the Re-Open Saskatchewan Plan.

8. Safe alternatives
• There are four alternative return scenarios that can be activated regionally or provincially based on the advice of the Chief Medical Health Officer.

• Level 1: Return to school, as close to normal as possible with additional health measures and precautions. This is the scenario currently being planned for September 1.

• Level 2: Mask usage as determined by the Chief Medical Health Officer. These masks are being purchased centrally by the ministry of education and distributed to school divisions.

• Level 3: In the event it becomes necessary, school capacity will be reduced. This may include establishing cohorts and hybrid learning models as considerations.

• Level 4: Implementing learning continuity plans, which means transitioning to mandatory remote learning.

"Two months ago, our government released the primary and secondary education guidelines so school divisions could begin developing their local plans for a safe return to school," said Wyant. "Since that time, education and health officials at all levels have been working tirelessly to ensure learning spaces are safe for our students and staff returning to school. We've evaluated best practices from emerging research, we've reviewed local plans to ensure they adhere to our provincial guidelines and started preparations for September 1, including the procurement of necessary hygiene, sanitation, and PPE supplies. As a result of this work and the support of our Chief Medical Health Officer, we're releasing the Safe School Plan. Our plan will provide safe spaces for our staff and students for the new school year."

"After almost half a year, we're excited to welcome staff and students back into our safe learning spaces. School divisions will be communicating with students, parents and caregivers, and staff regarding their plans immediately. While every effort is being made within this plan to ensure transmission risk is minimized, that risk is not eliminated.

"Saskatchewan people have been able to return to a new normal and resume their daily activities and we know ask for their continuity cooperation as we adjust to a new level of normal for schools," he said. "We've made every effort to make that adjustment as comfortable and as safe as possible for our students, for parents, and for our staff."

Each of the 27 school divisions in Saskatchewan have used the Safe School Plan to develop a more focussed return plan for their specific context of needs, says President of Saskatchewan School Boards Association Dr. Sean Davidson.

"Safety of our students, staff, and school communities has been at the forefront of the work of the Saskatchewan School Boards Association and all of our members," said Davidson. "Based on the provincial guidelines developed under the direction of the Chief Medical Health Officer and with the help of the Response Planning Team, each school division has developed a local plan specific to the particulars of their communities and facilities. The Education Response Planning Team is made up of members of the Saskatchewan Teachers' Federation, Saskatchewan School Boards Association, the League of Administrators, Directors, and Superintendents, the Saskatchewan Association of School Business Officials, and the Ministry of Education. That group has worked very closely with Chief Medical Health Officer's office in approving and getting out the guidelines and approving these plans that have been developed at the local level.

"Each plan has been approved and staff, family, and students can expect further communications about the details of their specific school divisions plan very shortly. These will be specific to their school community given that each of our facilities is different and each community has its own local context."

As the Safe School Plan outlines, safely providing education is the top consideration," he said. "Working together with all of our sector partners and following the direction of the Chief Medical Health Officer, school boards are committed to local engagement and timely communication as we approach the start of the new school year in these unprecedented times. School boards will continue to seek the best information available to make decisions as circumstances develop or change so plans can be adjusted accordingly. Divisions have a plan for returning to school as close to as normal as possible with safety precautions in place for September 1, but divisions are all aware that they may have to implement contingency plans depending on the direction of the Chief Medical Health Officer.

Wyant says that physical distancing isn't practical in schools due to a lack of school space and staff shortages.

"What we've emphasized in our plan is minimizing physical contact within schools," he said. "Those recommendations have come based on advice that we've received from the Chief Medical Health Officer. As Dr. Shahab has eloquently put it, that's going to be somewhat difficult in a school setting. As we move forward into a different phase—if that direction is required on the recommendation of the Chief Medical Health Officer—those things may well come to fruition. We may well have to reduce class sizes, we may well have to put other things in place to ensure that the school settings are safe. But that's really based on a school community transmission model and based on the advise of the Chief Medical Health Officer."

Class sizes will remain the same, despite other places having restrictions on numbers in a room or at a gathering. Wyant says that's to make the return as normal as possible for the students.

"We want school to return as normal as possible in phase one," he said. "Any decision to move between levels will be based on the advice of the Chief Medical Health Officer and will be determined by issues of community transmission. At the present time, school will return as normal as possible, but that could possibly change. This is an evolving situation and could change depending on how we see community transmission and the number of cases and we'll take that advice from the Chief Medical Health Officer. The key to this is to ensure that students return to school in as normal a situation as possible. We want to make sure that students are subject to re-socialization with their friends, mental health challenges as a result of not being in school, all of those kinds of things. This is not just about the learning environment, but this is really about the holistic child. That's why we want to get back to as normal a situation as possible.

Masks have been made mandatory in school returns in some province, but remain optional in Saskatchewan.

"We have chosen in our opening phase not to mandate masks," said Wyant. "We think that that's the best practice for Saskatchewan. We'll leave the door open of course for the Chief Medical Health Officer to recommend to us otherwise, but Dr. Shahab has been in contact with his colleagues across the country around this. There are differences with respect to plans in every jurisdiction in this country and while there's lots of similarities, there's lots of differences. Saskatchewan has chosen, in this particular instance, in phase one to open up schools in as normal a way as possible and that masks won't be mandatory for schools."


"Whether or not Dr. Shahab recommends mask use as we go into a different phase of our recovery plan, the government has sourced six million masks in the event that that's required. We're prepared, but not required at least in the first phase. We're ready in case that's an eventuality."
Saskatchewan's Chief Medical Health Officer Dr. Shahab believes there are benefits to mask use in school, but thinks it would make a normal school environment difficult to uphold.
"Schools have been out for three and a half months," said Dr. Shahab. "If you add in summer vacation, children have been out of school for five and a half months. Many experts have said that you need to provide as normal and reassuring of an environment as possible when school starts, especially with younger children. The plan takes into account that when you have low transmission—which is what we had in May and June—you can safely start school without the use of masks. We've already also seen that daycares have been continuing and for the most part, we have not had any outbreaks in daycare's so there's some reassurance there.
"For younger children under the age of 10, effective transmission doesn't happen in settings such as daycare or even schools where schools have started. Having said that, all the precautions outlined in the resumption of school plans are important to minimize transmission within a cohort—a cohort of a single class with a teacher—and also to minimize transmission between classes. There's also increasing evidence at a population level that mask use does have benefits in an indoor environment.
"My recommendation of mask use for everyone has been becoming stronger the last two and a half months and starting in September as the weather cools and we do more activities indoors, expectations should be that we can't have reliable physical distancing in a public place, everyone should wear a mask," he said. "How does that translate to the school setting? It may mean no changes to the current plan in settings where there's low transmission and in setting where there's increasing local transmission, mask use may be more relevant for senior grades. I think we need to balance the benefits of mask use—especially in the younger children—with the challenges that they could present to providing a normal school environment. This pandemic is going to continue for the next weeks and months and we need to be very careful trying to provide as normal environment with the precautions, but as well as use masks as required."
With masks being mandatory in similar large group settings throughout Canada, Shahab says what makes schools different is the cohorts staff and students will stay within.
"If you go to a restaurant you're mixing with an unknown number of people and you're not part of the same cohort," he said. "In a classroom, for the most part, you're part of the same cohort and there's protocol for screening so you should not be going to school if you're unwell and you can be immediately separated from the class if you've fallen ill in the class. I think with those additional precautions it may not be as relevant to have that two metre physical distancing within the cohort, just like when you go to a restaurant the physical distancing is between tables, but you don't have physical distancing at a table of six. That's the principal, as well as with junior classes transmission is not as efficient as in adults."
Built into the Safe School Plan is different levels based on how the Covid-19 situation changes during the school year, Wyant says moving from one level to another—at the local or provincial level—is going to be a decision he, Dr. Shahab and their peers will make as things evolve.
"There's no real threshold," Wyant said. "This will really depend on the advice and the consultation that we have with our education partners in conjunction with the advice that we get from the Chief Medical Health Officer and Public Health. That would depend really in any one circumstance, there might be one circumstance where you can simply say, 'at this level we're going to do this.' It will really depend on a community by community basis and a school by school basis."
"On the one hand the school sector is a large sector, about 180,000 or so K-12 students and going back to school with 14,000-plus staff," said Shahab. "It's a huge sector that's reopening and the feasibility is it has to reopen as close to normal as possible with additional precautions. Daycare's have been successful moving from 15 in one area to 25 and if transmission remains low, the assumption is if there was a case, the child would not come to school. If the child did fall ill in class, Public Health is working closely with school divisions so that there should be minimal impact at the school level, there may be some impacts at the class level.
"We know Covid-19 can be serious in every age group, the severity can be lower in younger adults and children,"
"One would not expect to see large outbreaks in the school setting. Just like in Saskatchewan with similar precautions in place, we have for the most part not seen large outbreaks in other settings like personal care homes and work places. The same principals being laid out for the school have served us well in the work place. Having said that, if student transmission did increase we would have to understand why is that happening? Is it related to transport to school? Is it related to transmission within the classroom? Or other interactions that happen while children are moving in school?
"All the learnings we've learned from work places over the summer have been applied to the reopening. But certainly if there are challenges, proper modifications would be made."
Tweet