---
Chamber hears update on airport project
October 25, 2021, 2:31 pm
Kara Kinna
---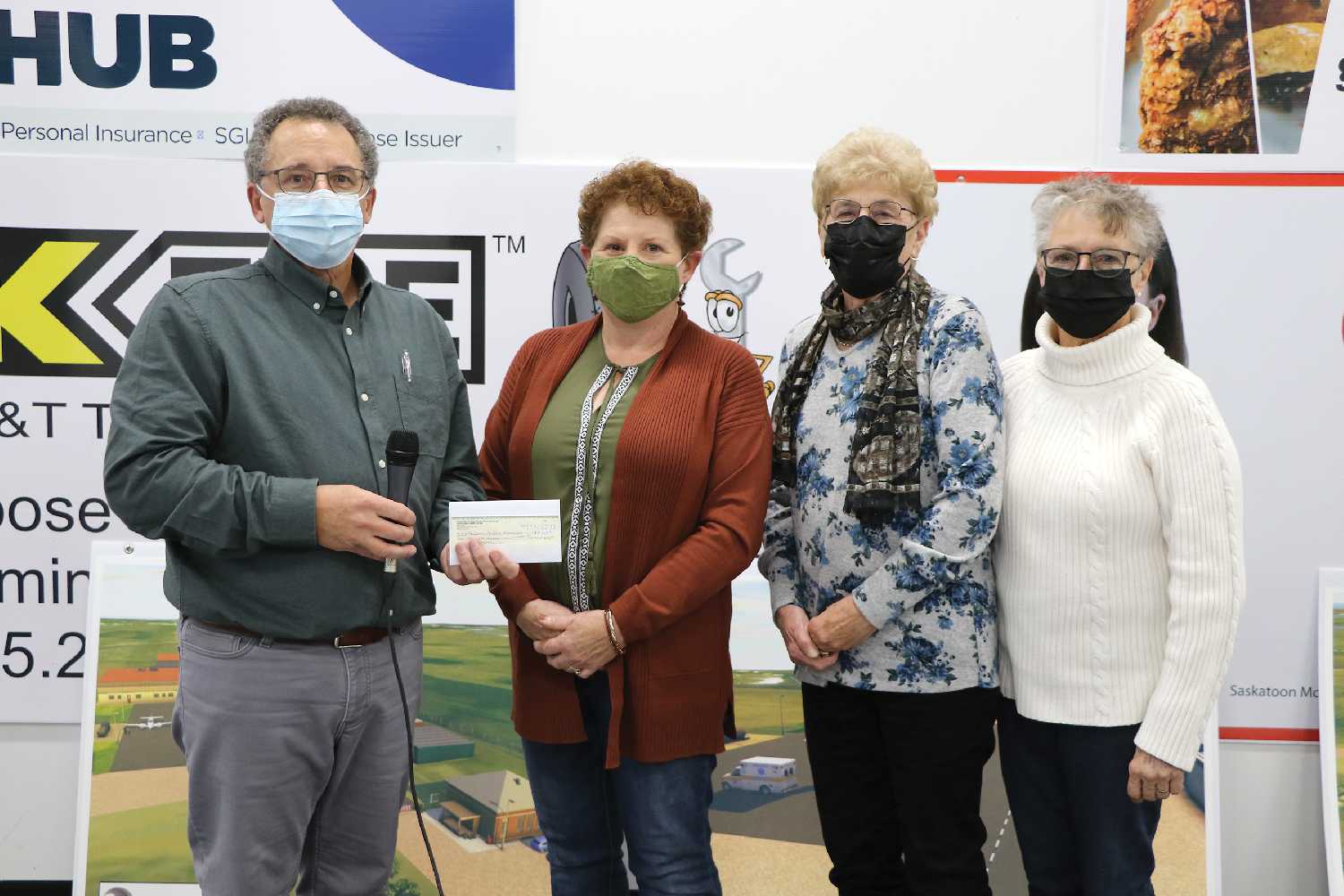 At the Moosomin Chamber of Commerce meeting on Tuesday, Jeff St. Onge with the Moosomin Airport Fundraising committee gave an update on the Moosomin airport project.

Moosomin is building a new, longer runway in order to be able to accommodate the Saskatchewan Air Ambulance which can transport patients, and in particular stroke patients, to hospitals in Saskatoon quickly. The project has been in the works for a few years, and construction on the new runway is now underway.

"I think the last time I was here we had moved some gravel and I was excited as a five-year-old at Christmas," said St. Onge. "I'm now a teenager waiting on the weekend. I am getting pretty darn excited about the airport. By the time they put pavement down I'll probably be the first stroke patient to be going out here," he said with a laugh.

"Things have been on a bit of a Covid hold for a little while and are ramping up again. We have stripped all the topsoil off. We're at a phase in the project where that there are some real cost savings to be had by the participants that are in there. The different RMs, they build roads. The town has all kinds of equipment and they've dropped it on site and put people in here.

"So the in kind and the in lieu donations have gone right up through the roof. So it's been really, really exciting. Jeff McMullen donated 100 hours of his tractor and scraper. Flamans put a packer on site and the RM of Martin brought their scraper buggy. The town put their fire truck out there, their old one to move water around.

"I was talking to Dave (Moffatt, the Reeve of the RM of Moosomin) and he said the town has been absolutely amazing at putting an employee out there. Louis and Kristjan Hebert put a tractor and a packer out there.

"The in-lieu has been absolutely amazing, between people and equipment.

"The RM of Moosomin has their scraper out there. The RM of Martin is using their water truck and they're filling up at one of the borrow pits by the highway. The town has made that available. Gary Bonkowski put his personal ATCO trailer on site so that people can have coffee. He was out there one day and identified it as a need, he knew he had one and he dropped it off. It just absolutely puts a tear in your eye, it's just so, so nice.

"Borderland Co-op has made a significant fuel donation to the project and they've put a fuel tank on site and they're making sure it's full and they're making sure the equipment is running. So it's totally, totally amazing.

"This is an absolutely wonderful, wonderful community. They're just coming together and putting stuff together."

St. Onge told Chamber members it's extremely important that this project get done so that the Saskatchewan Air Ambulance can land in Moosomin. He says right now the town is using the STARS helicopter air ambulance for hospital transfers and that is not how STARS is to be used.

"STARS does on-scene pickups and we're using them to do hospital transfers and we should not be, they should be for on-scene pickup," he said. "We need to be using that airplane. We currently can't land the air ambulance in Moosomin.

"That plane comes out of Saskatoon dropping to Moosomin in 49 minutes, on a normal day. It's 59 minutes to put a helicopter here from Regina. They just have a different function and I've said it's like you're on the farm—you've got the quad, the ATV, the side by side, and you have a half ton and you need them all. Use one of them here, use one of them there. We just have to use the right tool for the right job."

"It's a little over four hour drive to get up to Saskatoon on a ground ambulance which is what we're doing now. Occasionally, we've had a few that we have brought the helicopter out for, we get them into Regina and they meet the airplane, but the plane should be on the ground right here.

"For a while we used the Virden airport and then we couldn't use Virden because we couldn't cross the border because of Covid. So we're surviving, but we do need it.

"If you look at all the paved air strips that we have around Moosomin, you draw a 50 kilometer radius around them and we are in the epicenter of not being able to put an airplane here."

St. Onge said moving forward, the airport fundraising committee is looking to secure more grant money for the project.

"Right now the next stage moving forward—we're trying to make arrangements on this one and Steven Bonk is trying to get this put together—we want a meeting with the Department of Highways, Sask Builds and Procurement, Government Relations and Rural and Remote Health are the four ministers we want to put into the room and have a conversation about that.

"There's a little bit of behind-the-scenes stuff where there's a CAP grant—a Community Airport Partnership Grant and that's the one that we had received from the government for three years. A number of them that have been turned back in this year because they don't have the ability to use them. So there's a pool of money that they want to spend.

"Jim Thompson who is the flight director for Saskatchewan air ambulance is quoted as saying 'there is no more important aviation project in the province than the Moosomin airport.' So the Department of Highways who controls that fund of money knows that. So we did need to push and find out what money is there."

Thrift store makes $10,000 donation
Following St. Onge's presentation, the Moosomin Thrift Store came forward with a $10,000 donation to the airport project.

The donation was presented by board members Lori Shepherd, Marilyn Klinger and Beryl Stewart.

"It is absolutely heartwarming when something like this happens," said St. Onge.
Tweet