---
Jameson Plewes wins Men's 18-24 Triathlon at Ironman World Championship
May 19, 2022, 12:42 pm
Sierra D'Souza Butts, Local Journalism Initiative Reporter
---

Twenty-two year old Jameson Plewes won the Men's 18-24 triathlon, at the Ironman World Championship in St. George, Utah, on May 7.

The triathlon consisted of a 3.8 kilometer sprint, 180 kilometer bicycle race, and a 42 kilometer run.

"It felt pretty good (to win), it's nice to see some results after so many years of working hard in the sport," Plewes said.
Triathlons have a variety of different distances, the one Plewes recently competed in was the full Ironman race.

In September of 2021, Plewes placed fourth in the half Ironman triathlon race.

He said coming first in the race on May 7 is his biggest accomplishment yet.

"I would say this is the biggest milestone for me so far, I came fourth in the 70.3 (half Iron Man) world championships for my age group before, it was a lot faster because it was shorter than this race I just did," he said.

"But, winning my age group for a full Ironman was probably my biggest accomplishment so far. I'm proud to see that all my training and dedication manifested itself, to winning a race."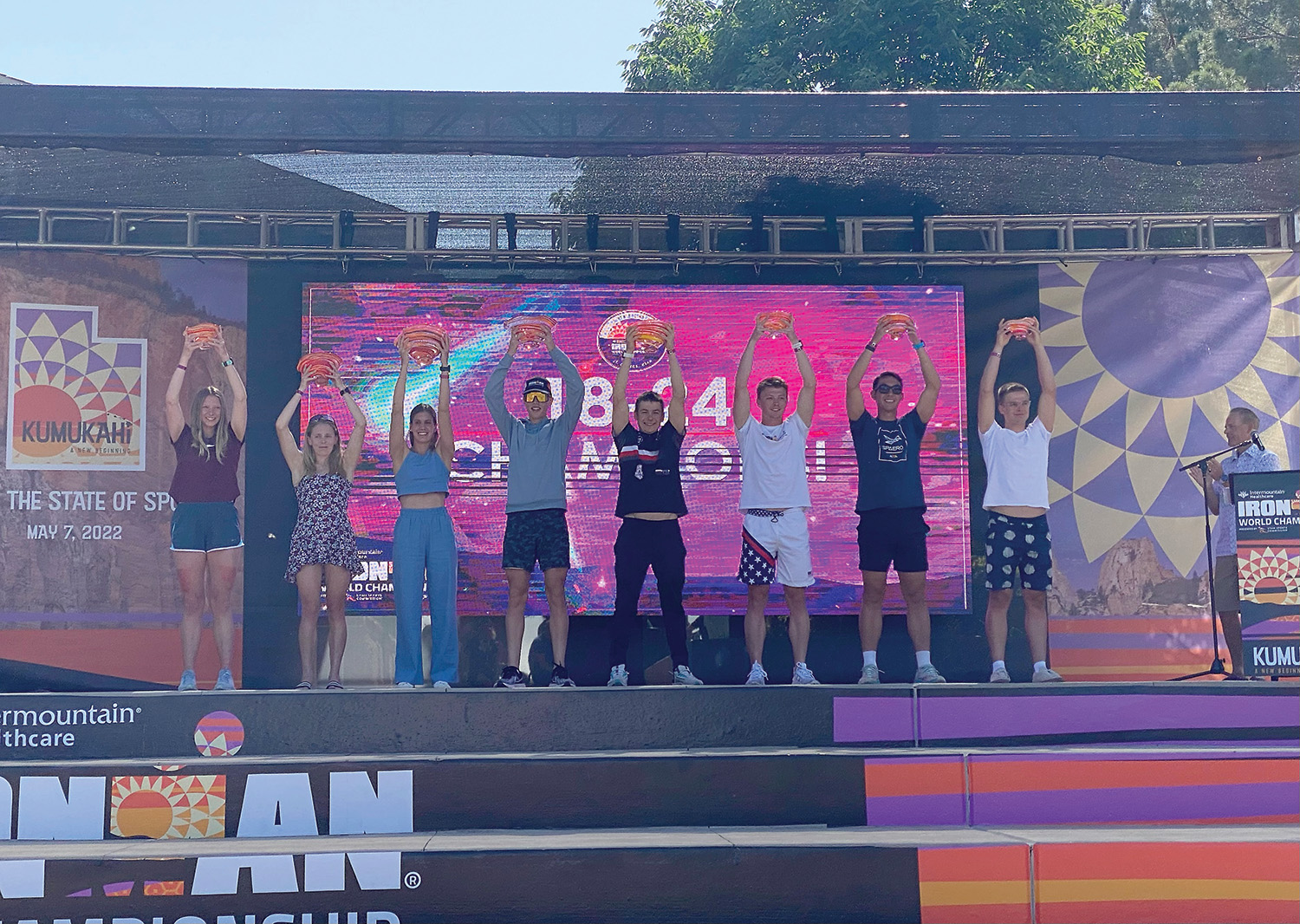 Plewes said he has been training as a triathlon athlete since 2017. In preparation for this race, he did about 1,000 hours of training last year.
"I've been training for five years pretty seriously, but in 2021 I did about 1,000 hours of moving training," he said.
"Cumulatively, I was swimming, cycling, and running, but this year right now, will probably be my biggest year ever for training.
"So far, I've been averaging 25 hours a week of training, of just moving time, that's not including everything else going into it, like the eating, the driving, and physiotherapy."
What it's like being a student-athlete
In April, Plewes graduated from the University of British Columbia. He spoke about what kept him focused while being a student athlete.
"It's challenging, but it just comes down to discipline really, staying disciplined with my sleep, with my diet," he said.
"When I sit down to do school, I actually sit down and make the most of that time that I've decided to spend on school. It's the same thing, if I'm doing a workout, I do the workout well. It's all just time management and discipline."
"It took a long time though, the more I did it the more I got better at it. When I first started at 17, I wasn't nearly as good, but now after a couple of years I'm much better at it now."
Accomplishing a lot at such a young age, Plewes said he is proud of how much he has achieved in his sport so far.
"I would say it's going well, relative to my age I've accomplished a lot. In the sport, the average age of professionals are 34 years old, I'm pretty happy so far with how far I've gotten at 22," said Plewes.
"It's nice to be seeing real improvement and to be moving towards a goal that I've had for a long time. I've always known that I wanted to be a professional athlete, but actually becoming one is a whole different story."
"It feels good to know I've put in so much work and to actually have my dreams start to become a reality."
Plewes was asked what he enjoys about participating in triathlons and being an athlete.
"I think the most rewarding part is the lifestyle, to be able to go and race all around the world, to travel, to be around other dedicated and like-minded people, it's great," he said.
"Obviously I do really like racing, but I think it's the lifestyle, that is the best part of it really.
"It's really the feeling of always having a goal, and moving towards something. Every year you have a World Championships race to look forward to, as well as many other races throughout the season.
"You're always trying to improve your numbers in training, whether that be how fast you're running or how much power you're putting on the bike, or how many times you're in the pool, just always having something to look forward to, that's one of the greatest parts about it."
Plewes plans for the next World Championship
After winning the most recent Ironman race in his age group, Plewes talked about what is he working towards next.
"Now that I've won the World Championship for my age group, that qualifies me to enter the pro-category," he said.
"Over this winter, I'll spend my time continuing the training that I've been doing, and starting next season, I'll probably be racing professionally in the sport."
Right now Jameson is working towards the pro-category of the World Championship.
"The next step for me is becoming a pro. Now that I qualify, I'm going to finish off my season racing for my age group, and then I'll move into the pro-category probably for the 2023 season," he said.
"Then from 2023 and onwards, it will be all about getting on a podium in a professional race and then qualifying for the World Championships.
"But you know, you have to be realistic in this sport because once I enter the pro-category, I'll be racing guys who are a lot older than me, a lot more well trained and who have been in the sport for a long time. I can't just expect to be winning races off the start, it takes a long time to work your way up, but that's my goal, to make it to the World Championship as a pro.
"I just want to achieve my full potential in the sport, that's what I want to do."
Plewes spoke about what he enjoys most about training and preparing for triathlons.
He also said he is thankful for the support he received over the last couple of years.
"It's really about working towards something and having goals, living the professional athlete lifestyle is what I look forward to the most, it's just something that I've always wanted to do," he said.
"I do want to say thank you to everyone who has supported me throughout this triathlon journey because it's not just me. I'm surrounded by great people who make this a reality for me, like my parents and my family, and lots of people who have believed in me for a long time."
Tweet