---
Local students compete at High School Rodeo finals
August 4, 2022, 9:33 am
Kara Kinna
---

Ten local athletes have recently returned from competing at High School Rodeo finals in Gillette, Wyoming from July 17-23.

Coy Gervin from Spy Hill, Sadie Hollingshead from Moosomin, Sheradyn Griffith from Stockholm, Drydan Griffith from Stockholm, and Cassidy Hudacek from Tantallon all went to Wyoming with the Manitoba High School Rodeo Association, as did Chloe Woods from Moosomin, Clara Houff from Kennedy, Lara Bierbach from Whitewood, Jace Bierbach from Whitewood, and Trinity Bear from Whitewood with the Saskatchewan High School Rodeo Association.

Holly Hollingshead, who is with the Manitoba High School Rodeo Association, says going to finals is a big deal for high school rodeo competitors. Manitoba, Saskatchewan, Alberta, and B.C. all send teams from each of their provinces, but competitors must be in the top four in order to qualify. At nationals they compete against other contestants from the U.S., Mexico and Australia, which are also part of the National High School Rodeo Association, along with Canada.

This year there were just under 1,800 competitors at the event, making it the biggest rodeo in the world.

"A lot of the kids go on to be professional rodeo athletes after competing at such a high level in their teenage years. It's kind of like the Olympics of rodeo for students," says Hollingshead.

The annual event also gives students a chance to compete for scholarships, and there are a number of clinics and jackpots held throughout the week as well.

Hollingshead says it is tough to make it to finals.

"They compete throughout the year. The season starts in August and goes until June. And then we have our provincial finals at the beginning of June. And from there they take the top four in each event who qualify to go to nationals. They work hard to get that spot," she says.

"There is a team from each province that goes each year. They have to work hard to be in that top four. We have 100 members now in the MHSRA, and out of 100 members you have anywhere from 10 to 40 competing in each event, so the top four spot is a tough place to hold.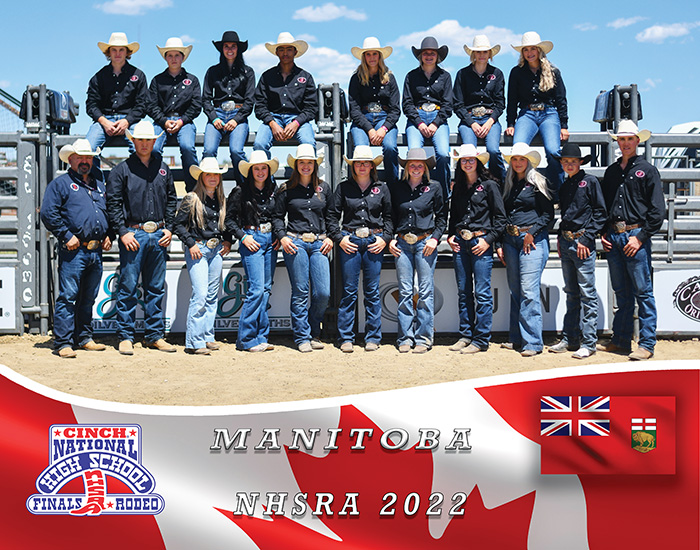 "They also have to maintain a good grade average to be a part of high school rodeo association. There is responsibility that comes into effect to in order to partake in that.
"As a team this is the first year since Covid that everyone has gotten to go in the four provinces."
Hollingshead says being at finals is an experience.
"They compete in two goes and then a short go. The top 20 in each event get to compete for the short go. You have 30 kids per performance and there are six performances in one go round. So you have 180 kids competing for that top 20 spot to get to go to the short go. It's a big stage to compete on.
"They are super excited to go. They get to compete with kids their age but that compete at a higher level all year round with bigger associations. They compete all through the winter in a lot of the States, whereas we get a short season to compete in. So for them to know that their times are very close to the kids that get to do this all year around is pretty exciting.
And even just the noise and the amount of people and the banners and flags, it's a very stimulating environment, so for them to take all that in and still focus on their run. It's pretty exciting for them to compete at that level.
"This is the top of the top, this is the biggest rodeo in the world at any age level. It's bigger than NFR, it's bigger than the Calgary Stampede just because of the number of contestants.
"For grade 12 kids they compete for scholarships also. So that's the big incentive for high school rodeo too is for these kids to get rodeo scholarships doing what they love and go to school while doing it."
Students from Grades 9-12 attend the high school finals.

"It's very exciting," says Hollingshead. "They have two announcers announcing two different arenas at the same time. So you're watching two rodeos at the same time. They announce with each other and between each other. There is constant action, there is never any down time, there is something going on in each arena. The carry the flags for grand entry each day, they do the national anthem for each of the four countries every performance, and a cowboy prayer. There is a lot of energy and excitement. It's kind of nerve wracking for the kids, but they are just so excited to be there and get to perform with all those kids of different calibres."
Despite the massive number of competitors in Wyoming, there were some good moments for some of the local competitors. Cassidy Hudacek from Tantallon ended up tied for an impressive 10th place out of 112 competitors in girls cutting. Hudacek also received a scholarship. Coy Gervin from Spy Hill ended up 23rd in boys cutting out of 88 competitors. Lara Bierbach was 34th in goat tying out of 178 competitors. Trinity Bear ended up 42nd in team roping out of 95 competitors.
Tweet