---
Esterhazy High School hopes to raise $61,000 to pay for new football field
February 3, 2023, 9:47 am
Sierra D'Souza Butts
---

This year, Esterhazy High School is aiming to raise $61,000 by June to finish paying off their schools community council loan, which was used to pay for the school's newly formed football field.

Aside from being used regularly by EHS sports teams, the field also serves as the annual location for the Good Spirit School Division track and field meet, along with 16 other communities who use it through the Warrior Football program.

Tyler Metz, general manager of Esterhazy Warrior Football spoke about the impact the upgrades to the field has had on the community.

"Esterhazy Warrior Football was already a strong program with lots of players in both our junior and senior program," said Metz.

"But, since the upgrades, it's basically made it a much safer playing surface, a more consistent playing surface, and obviously aesthetically, it looks a lot nicer. It just adds professionalism and extra legitimacy to the program."

The Warrior Football program has multiple sponsors and participants from all over the area who benefit from using the field.

"We have players coming from Langenburg, Churchbridge, Stockholm, and all the smaller surrounding communities," he said.

"All of the students who go to school in those areas that want to play, come to this program.

"The program gives everyone in the surrounding community an opportunity to play even if they don't necessarily live in Esterhazy.

"That really bolsters the program, we think of it not as a program for Esterhazy, but a program for all of the surrounding communities who use that field too."

During the football season, the field gets used between three to four hours a night, in addition to it being used daily by EHS.

Because upgrades for the field were completed right before the pandemic occurred, members of the community did not get to enjoy the field until close-contact restrictions were brought down.

"The new field has been there for a couple of years, but we didn't use it because of the pandemic," said Gord Erhardt, principal of Esterhazy High School.

"We used it last year, it was limited, but this season it was fully open."

"This last fall in 2022, it was fully used," added Tracy Huckell vice-principal of Esterhazy High School.

"It's been awesome to see it be used because the field before was a real risk for injuries. The field was uneven, it was really muddy, everything drained to the centre. A lot of the times you couldn't even play on it, whereas now, the field is beautiful."

Looking for support from the community
After identifying the field at EHS was in disrepair and in need of an upgrade, EHS, Good Spirit School Division and the Warrior Football program joined forces to invest into a new football field.

To date, the community has raised $165,000 out of the $225,000 for the total cost of the project, since 2019.

"We were supposed to pay the loan off in five years, then the pandemic happened so we've been a bit delayed paying it back," said Huckell.

"This is our fifth year, that's why we're hoping to fully pay it off by June. It will take a lot of stress off the coaches because they are also a part of our fundraising committee. They work full time jobs, then they coach, and then they're trying to fundraise so this would be a huge stress off of their backs."

EHS is hoping to complete paying off the loan by June of this year through help from local businesses and donations made by the community.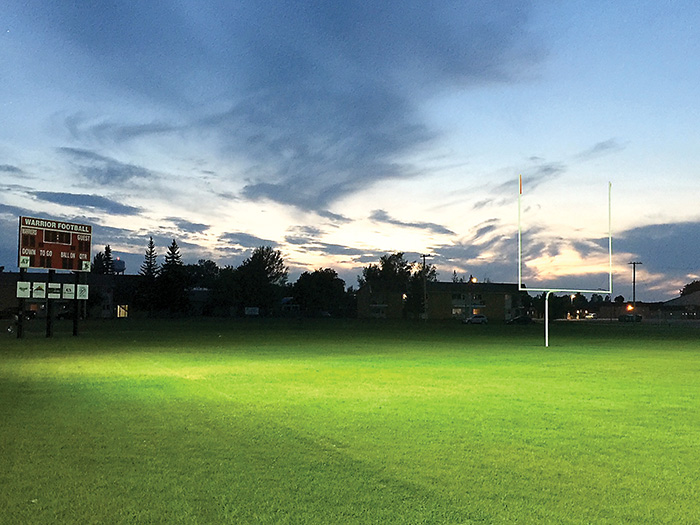 Metz emphasized the importance of the field and how impactful it has been to youth in the area.
"The Warrior Football Program traditionally and recently as well, has always been a very positive outlet for young people," he said.
"We basically accept and encourage anyone that wants to come play, to come and we will teach you. Our main prerequisite to play is you have to be a good person, and the rest we'll figure out.
"The field has been an outlet for all kinds of students and for athletes who want to come out and play.
"We've had players who have gone on to the next level in our program whether that be junior or college level, but we've also had players who have gone on to be very positive members of society, whether they pursue post-secondary training or trades, being involved in the workforce, but also just being involved in the communities they end up being in.
"We have a really solid volunteer system, and a lot of those people end up being coaches or helpers who help keep the program running on a daily basis. They put in countless hours to make it what it is, in order to benefit these young student athlete lives."
At the beginning of the project's construction phase, EHS received a lot of support from the community which included Mosaic Potash Esterhazy donating $50,000, Richardson Pioneer donating $20,000, the local Credit Union donating $10,000, and Esterhazy Lions Club contributing $20,000 towards the field.
"It would be appreciated if businesses consider giving, and a lot have already. This program has, and will continue to positively affect a lot of lives in the future," said Metz.
"Major sponsors will be identified with permanent signage at the field. The 100 for $1000 supporters will also be identified at the bleacher/hamburger stand area to recognize their contributions once the goal has been reached.
"Donors will also be recognized on the EHS Facebook page. Tax receipts will be provided for donations. We are asking for your support of this worthy cause. To contribute call EHS at 306-745-6618
"If you have any questions or want to contribute in other ways, please contact myself, or Gord Erhardt at EHS.
"Thank you for your consideration. We greatly appreciate any donations toward this project that youth will enjoy for years to come."
Tweet