---
Airport announcement an emotional moment for St. Onge, van der Merwe
February 15, 2023, 11:57 am
Sierra D'Souza Butts and Kara Kinna
---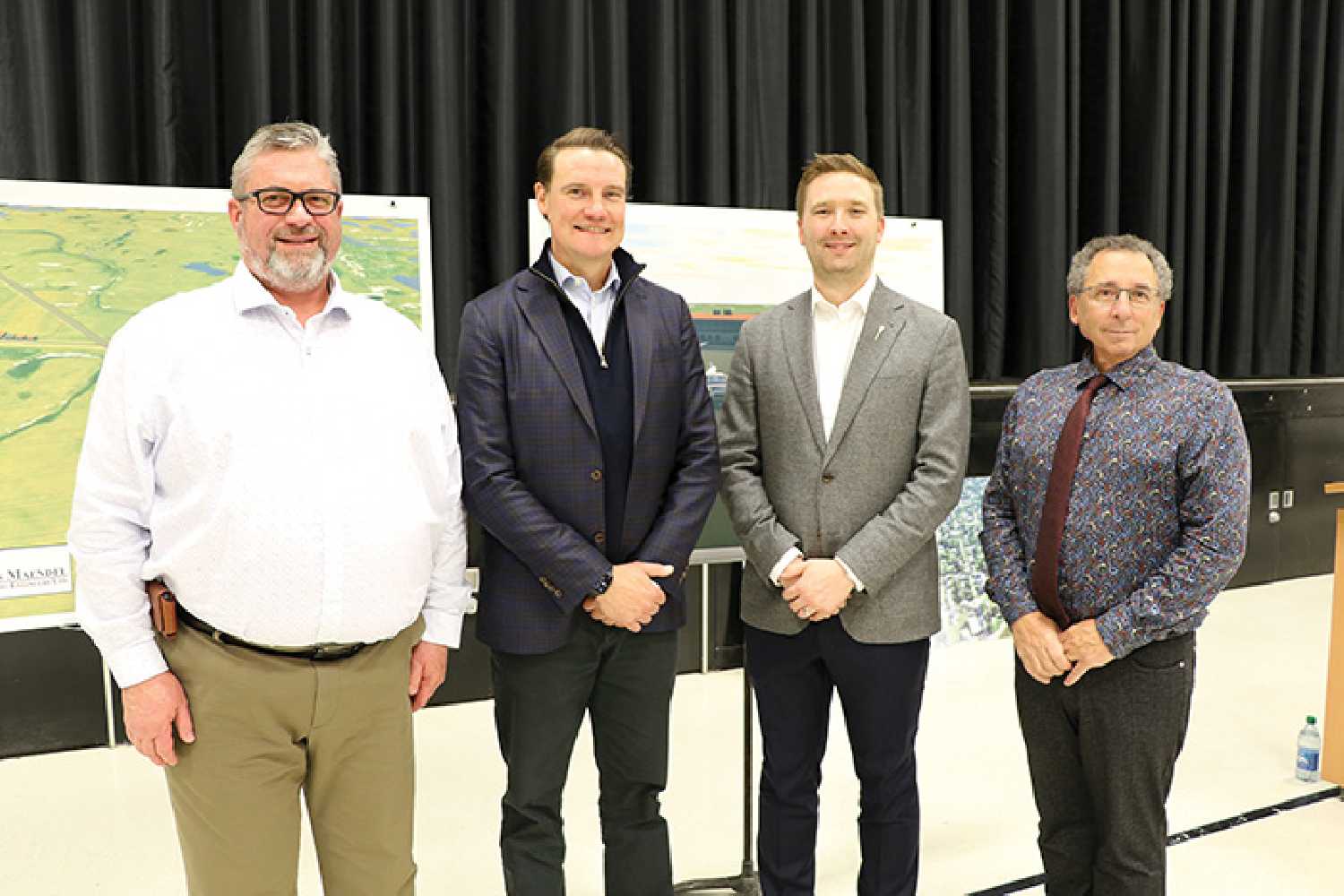 The announcement of $4 million for Moosomin's airport project on Wednesday came with lots of emotion for two people in particular—Jeff St. Onge and Dr. Schalk van der Merwe, the two people who got the ball rolling on the project in 2018 by pointing out that there was a big need to pave Moosomin's runway.

St. Onge and van der Merwe brought forward the issue of not able to land the Saskatchewan Air Ambulance in Moosomin, putting a solid case together for why Moosomin needs a paved runway, and pointing out that it is one of the only communities of its size in Southeast Saskatchewan that does not have a paved runway.

They lobbied local municipalities in Southeast Saskatchewan and Southwest Manitoba for support for the project, met with the provincial government to make a case for the project, and presented information on the need for an airport upgrade to the Moosomin Chamber of Commerce before groups such as the Community Builders Alliance got involved to aid in moving the project forward.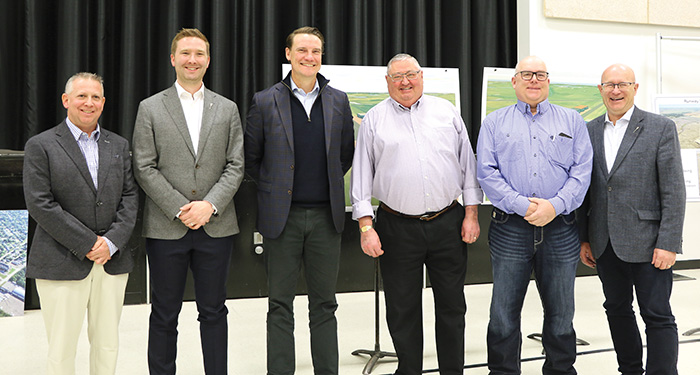 Both St. Onge and van der Merwe were tearful after the announcement on Wednesday.
"It is just so emotional," said St. Onge. We've just been at it for so long and understand how important it is.
"Dr. Van and I were just the ones sort of pulling the people in. Saying 'Oh we need that, there's a person who will do that.' So you bring them on board or you explain to them. Actually, it's not even that you bring them on board, you tell them how important it is, and then they jump on board. So there was an awful lot co-ordinating.
"And we've been so close a number of times on an announcement and then something different would occur.
"We've been talking with Nutrien for quite a few years, and they have had a few different presidents, so every time they had new turnover then you start that ball rolling again. And every one of them would recognize the importance of it, but then before their term was up, nothing happened.
"So it's not that you never thought it would happen, but sometimes you felt like it wouldn't happen. But you always knew it would.
"Certainly I'll never forget this day. For whatever reason, all that energy and effort turned into a day, and today is that day."
When St. Onge and van der Merwe got started on the project, St. Onge says they did envision something big.
"This is what I would have envisioned. We held a really good focus on what we needed at the end," says St. Onge. "Dr. Van was on the inside of the medical part. My daughter flies with Saskatchewan Air Ambulance and she told us 'there is whole area of the province we can't fly to Dad.'
"Carly (my daughter) identified a gap there, and Dr. Van and I knew each other from the flying club, so we started talking about that and we formulated a plan, and we've never deviated from that plan.
"We've been very fortunate. The Community Builders Alliance came on board. We had the RMs on board. We were really close on Nutrien and the government has been helping. And now all of a sudden it's like just that perfect storm of things coming together.
"It's just so, so wonderful."
St. Onge says the main reason for the initial push was for health care reasons, but he became aware of just how important the economic impact of the project was as well after getting others involved in the project.
"I under appreciated the economic spin that would come from it as well," he says. "And I've since been educated by having different conversations with Kristjan (Hebert) or Tyler (Thorn) with the CBA. Because I'm not a business person, I teach, that's what I do. So I've never, ever had that mindset, but having those conversations, I realized I hugely underestimated the economic impact.
"Between the two—the health care and economic impact—it will be enormous for this area."
Dr. Schalk van der Merwe was ecstatic to see the contributions made from Nutrien and the government of Saskatchewan at Wednesday's event.
"I haven't stopped smiling for the past two days since I was invited to this meeting because I knew it was going to be something big, I didn't know how big it was going to be, but I can honestly tell you that since this morning and since coming here I couldn't wipe the smile off of my face. I really appreciate it," he said tearfully.
"This airport is such a big deal, number one for health care, and number two for the economic development.
"If you think about it, the current stroke protocol is having to go to Saskatoon. If you have to drive to Saskatoon, it will take you five hours. With an air ambulance being here, we can be in Saskatoon in 53 minutes, from the time we call to the time it takes to get there.
"We can have people in Saskatoon for strokes within that two hour window. As well, we can quickly access care at the Children's Hospital in Saskatoon, that includes all children and not just little infants, but children 17 years and under who are classified as a child—any health care that they need they would have to go there.
"For the economy it's unbelievable how much of a difference it will make to the whole region. If you ask an entrepreneur to come down here they'll see that they can either drive five to six hours, or fly for an hour to visit their branch in the area or come down to see what they want to, and then go back in an hour. This airport benefits people from every community, from every RM, it's just fantastic. That's all I can say."
Van der Merwe was asked how having an upgraded airport will help medical workers at Moosomin's hospital.
"In acute emergency, what you have to remember is you're dealing with a lot of stresses, and even for the medical people providing the service, now suddenly, you have one more option which would be fixed wing transport," he said.
"We now have the opportunity to say, do we want to go by road, do we want to go by helicopter STARS, or do we want to go by fixed wing aircraft which would be air ambulance.
"You now have three options. All of those people are on the line at the same time when we talk to them, so everyone can bring their expertise to the table and say, yes we can come or our aircraft is out and we can come, and before we didn't have that option. You eliminate ground transport or fixed wing transport almost immediately because we always had to go to Virden because Virden was the closest paved lighted airport.
"For us I think it will make a huge difference because they can fly to the airport on GPS approach. That means they can fly in much worse weather and in Saskatchewan the weather changes a lot."
Van der Merwe and Jeff St. Onge came up with the idea for expanding the airport in Moosomin back in 2018. He spoke about how the idea came to light.
"Jeff and I said we should put lights at the airport, then we thought, oh well if we're going to put lights on why don't we pave it," he said.
"Then we thought it's expensive, so what should we do? We then approached all of the communities, we made a Power Point presentation and said this is what we would like, this is how much we think it would cost, and the communities just came together after that.
"Now, here we are today because of people who bought into the concept because they thought it was a really good idea. Thank you to everyone, thank you to everyone that contributed and obviously thank you to Nutrien and thank you to the government of Saskatchewan."
Tweet