---
Tipi installed at Bradley Park in Moosomin
February 22, 2023, 11:51 am
Sierra D'Souza Butts
---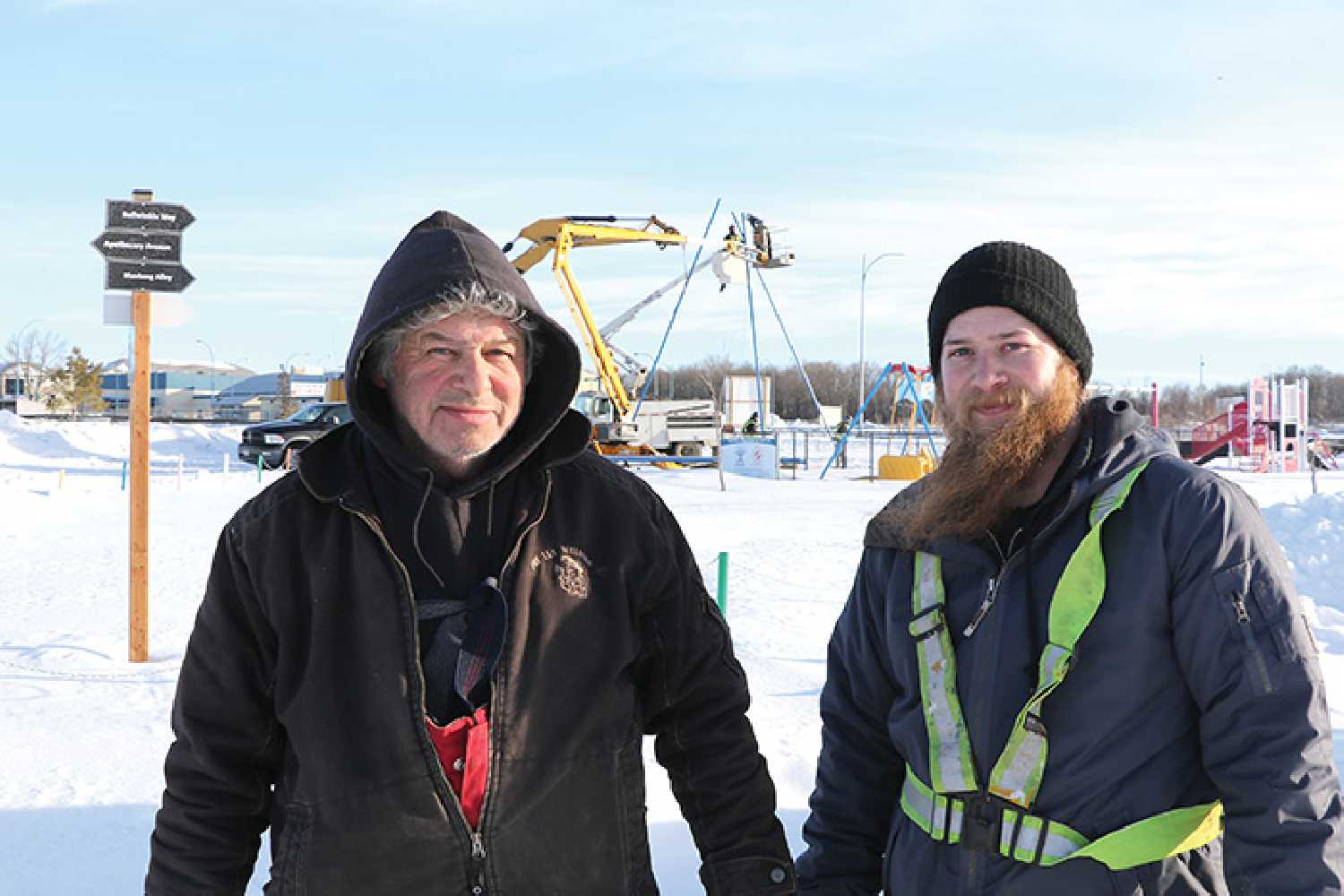 On Friday, Feb. 10 people from the Métis Nation—Saskatchewan (MNS) Moosomin local 44, town employees and volunteers came together to install a tipi at Bradley Park, in Moosomin.

The installation of the tipi is also part of a larger project that will develop throughout the year for teaching youth and people in the community about the local Metis Nation.

"What we're doing is we're getting the school involved, the community, the town. It's a big undertaking, but it's all for the community and that's what we like about it. It gets us out there and visible too," said Ed Blondeau of MNS Moosomin local 44.

From Saskatchewan's Early Learning and Child Care (ELCC) Community Enhancement Grant program, the community was able to build the tipi in Moosomin to support Métis early learning, and child care programming.

"The grant was one of those programs where they took in three main concerns, one was land based learning, one was language and one was elder programming. This tipi incorporates all three of them," Ed said.

"Being the community enhancement grant is good because we pretty much have the whole community involved, right from councillors to rec director to the town crew."

Now with the tipi being installed, the community will have a dedicated space for Métis educational activities and child care community programs.

"There's going to be different Indigenous plants at the tipi, and along the paths and trails at Bradley Park where we'll be teaching kids," said Ed.

"We're going to have some Indigenous plants and plaques explaining their medical use and their original purposes," added Kelsey Blondeau of MNS Moosomin local 44.

"In the tipi itself, we're going to have books on languages. It will be like those free libraries in town where people can come and grab books as they go.

"We're incorporating some of the elders too. We'll be having some of the elders from around the community who speak Michif, who still know the language in this area.

"It will be very interactive. We're actually speaking with the school right now to have some of their communication kids help out, we might even send out a QR code where people can activate it when they're inside the tipi, it might also be available on the town website."

In addition to the Indigenous flowers and plants planned for the area, there will also be a plaque present that will be dedicated to Métis Nation—Saskatchewan ancestors.

"This was important to have in Moosomin more so to symbolize our culture, to have a gathering spot for the kids and really, just a shelter for anyone who's out at Bradley Park," Ed said.

"Also with this community enhancement grant, the whole community has been helping out. It's been unreal what the town guys, Mike Schwean have been doing, even the town councillors, everything has been positive."

Kelsey added that the placement of the tipi was important because it helps show the active presence of the Metis community that is in the Moosomin area.

"We have our local here, Wawota has a local, Rocanville has their own local, all together in our community there's more (Métis) people than you think," said Kelsey.

"Having this tipi here is also part of it too, trying to get people back out and be proud that they're Métis."

The Moosomin local 44 applied for the grant to have the project set up back in November.

Now with the tipi poles set up, the next steps will be to place a tarp around it.

"Our next step will probably be to put a cover around it," Ed said.

"Then we're going to put some flooring so that it's wheelchair accessible. We want everyone to be able to use it.

"Plus we're going to be doing some landscaping around it with the native plants."

To celebrate the installation of the tipi and the start of the Métis early learning, and child care programming for the future of the area, the MNS Moosomin local 44 will be having a grand opening in mid-June.
Tweet