---
Fleming community hosts hybrid pie auction for this year's fundraiser
March 13, 2023, 2:36 pm
Sierra D'Souza Butts
---

For this year's Fleming Pie Auction, people will have the opportunity to bid on pies both online and in-person.

"This year we wanted to try something different," said Cindy Green one of the organizers for Fleming Pie Auction.

"We felt that the online portion was really well received by the public. We also hit a bigger base, I think, doing it that way.

"Anyone who used to live here before in the area would bid online and pick it up at another time, but we were missing the in-person part of it because that's always fun to have too. We decided to do a hybrid this year."

The online auction will be happening from March 29 to March 31. People will be able to pick up their pies in person during the afternoon on March 31.

As for the in-person auction which will be taking place on April 1 at the Fleming Hall, at 7 p.m.

Between the online auction and in-person auction, the group is aiming to sell a total of 100 pies.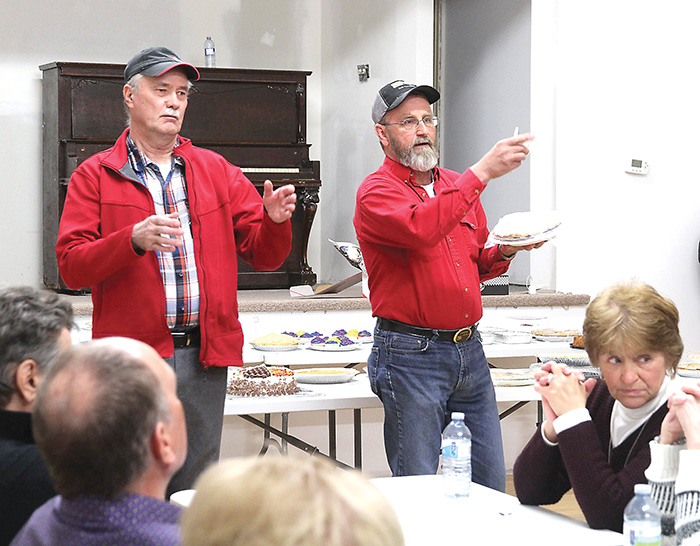 ">

Green said they are still deciding on how many will be dedicated to the online auction and how many will go to the in-person portion.
"Last year I believe we sold 70 pies. This year we're aiming for 100," said Green.
"It's not just pies too, we've allowed other baked goods as well. Last year we had a set of cinnamon buns that sold for over $100, we had cakes and cupcakes. It's a lot of fun."
All of the proceeds from the auction will be donated to the Fleming Community Organization, and it is their largest fundraiser of the year.
"The money raised will go to the FCO. We are working on various projects for the community, for kids activities, for adult activities," said Green.
"We're also maintaining the Fleming Hall and hopefully going to be doing some renovations in the near future."
Green explained how the Fleming Community Organization gives back to the community.
"We're a community based group that organizes activities for kids and adults," she said.
"We organize suppers to have with the community, and we look after the maintenance of the hall."
Green said she is looking forward to this year's auction, especially the in-person portion.
"We missed doing the in-person aspect of it, but because the online part was so good we wanted to keep it that way too," she said.


Tweet