---
Métis, Francophone community celebrate inauguration of Fort Ellice site
June 7, 2023, 2:00 pm
Sierra D'Souza Butts
---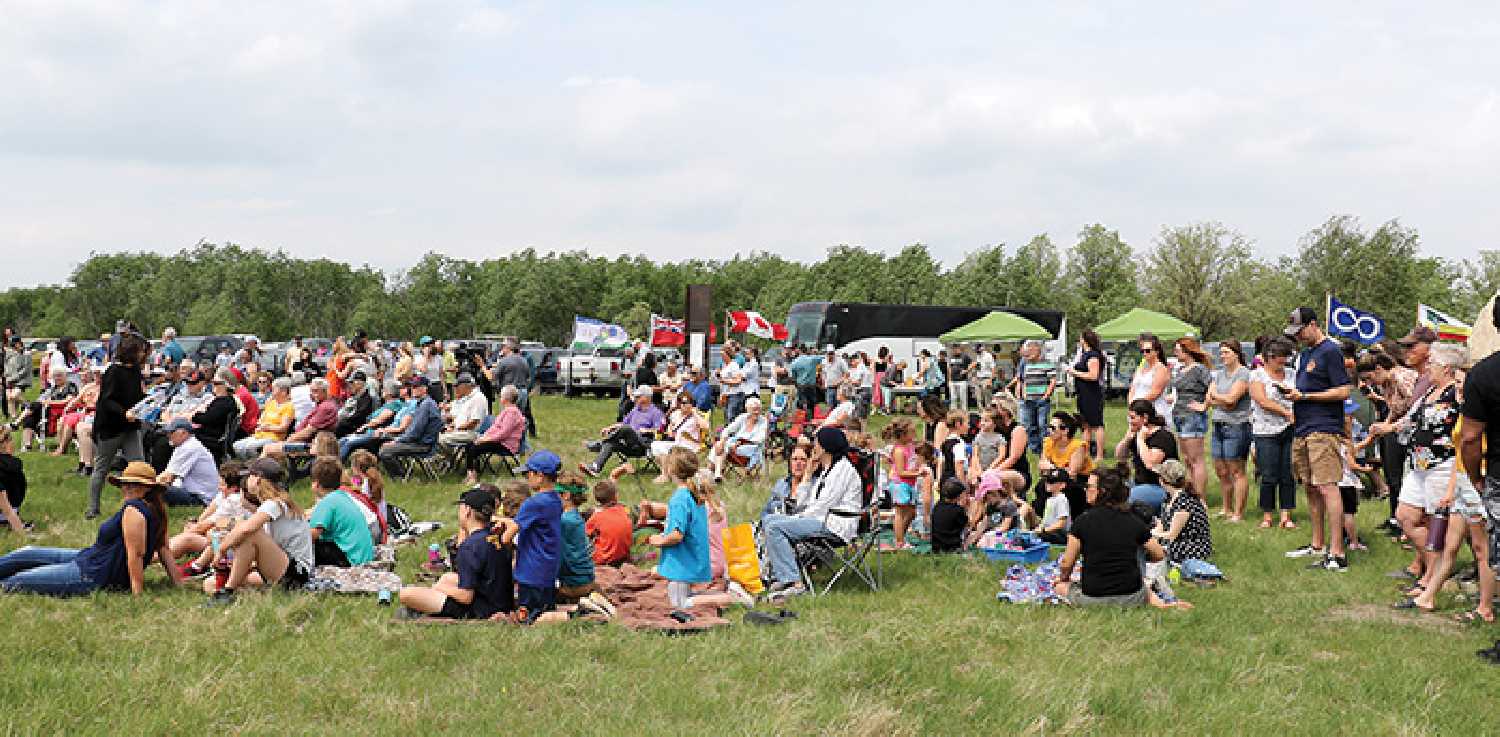 It was an emotional day for many Métis families and local community members during the grand opening of the historical Fort Ellice site, located St. Lazare, Manitoba.

Nearly 200 people attended the ceremony for the site on May 26. The $100,000 project took about three years to create through the help of various organizations and local groups, including CDC P'tite Fourche, RM of Ellice-Archie, Nature Conservancy of Canada (NCC), Manitoba Métis Federation (MMF), MEME IM Consulting, and more.

"May 26, 2023 will be a historical moment in the story of Fort Ellice II site," said Richard Fiola, president of CDC P'tite Fourche and principal of École Saint-Lazare.



"We are proud to gather around the original site of Fort Ellice II to give it back to the people. Tourists from around the world and visitors from different towns can now come here to appreciate the land.
"It has been an honor for me to be the president of CDC P'tite Fourche during the whole process of this project. Numerous hours have been volunteered by our committee, and different organizations."
The ancestral site has more than 10 different sculptures and plaques outlining the history of Fort Ellice—a major fur trading post established in 1794 by the Hudson's Bay Company (HBC) on Beaver Creek.
"This is a lost gem of Canadian history, you have all of the other forts, but this was a major fort that got lost because it was on private property, but I'm glad NCC bought it," said Terry Haney, president of Manitoba Métis Federation (MMF) Fort Ellice local.
The land of the historical site was purchased in 2012 by Nature Conservancy of Canada (NCC).
Although the idea for the Fort Ellice project started back in 2006, it was not until the last few years that local groups actively started working towards the development of the site.
"For the past three years we have met people from the First Nation that have a long story with this site. We also consulted the people of our towns to hear their stories," said Fiola.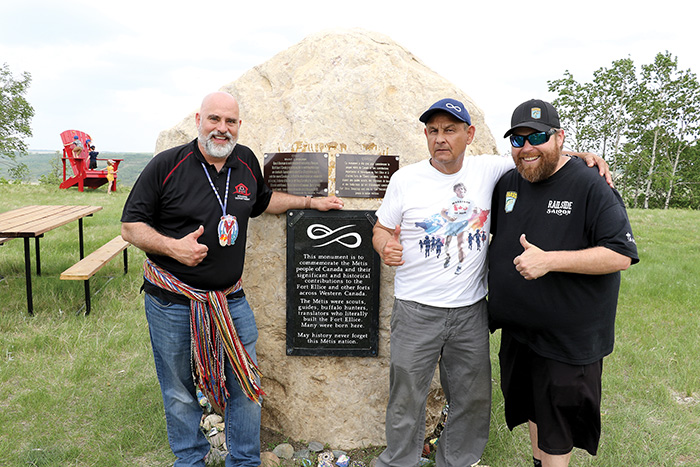 "As you walk along the trail on the site, you will see and read different aspects of the lives that were once here at Fort Ellice."
At the ceremony, NCC said they were proud to work with local groups to help contribute towards the project.
"When we were first approached about the Fort Ellice project, for me it's been 20 years, but for NCC and the organization it was 10 years when they made the decision to allow NCC to become the stewards of the site," said Kevin Teneycke, regional vice-president for NCC 's Manitoba and Saskatchewan region.
"Immediately we knew that the site is not only important as an ecological gem, but it's also an opportunity to bring together nature, history, culture, and local economy.
"Today marks the official opening of this beautiful community site, and celebrates the people that have worked so hard to bring this to fruition.
"At Nature Conservancy of Canada, we are proud to have worked with those involved to create a space that continues to build on the connections to the land.
"As a gathering place for many generations, it's inspiring to know that future generations have the opportunity to connect with this place and their personal history, and hopefully, strengthen their self of sense and community through a love of nature, and desire to protect the natural world around them."

Close family connection to the site
A local First Nation family—the Boyers—lived at the original location on Beaver Creek at Fort Ellice.
Anne Stubodden, of Gambler First Nation and a relative to the Boyers, said seeing her family's history on the site was of great sentiment.
"I'm pretty amazed with the turnout, and it feels special to be a part of it, very special," Stubodden said tearfully pointing to one of the plaque's showcasing her family's history.
"I'm just happy that our family is being recognized after how many years, because growing up we were the outsiders, they were so mean to us and to see this happen in 2023 is just amazing."
Stubodden's brother, Rod Boyer, also shared how significant the site is to him.
"Our grandmother and our grandfather were buried someplace here," said Boyer. "It's very touching being here. I never thought it would've happened."
Boyer said the plaques at the site will help share the knowledge of the Métis and First Nation people who worked, and lived near the forks of the Assiniboine and Qu'Appelle Rivers,.
"People should know about how we got here, the struggles that our family went through so that we could have a good life today," said Boyer.
"It was their hardship that made us do this grand opening today, and it's so gratifying and satisfying knowing that our family can finally be recognized here from the beginning. Our family's history goes back to 1601 back to the fur trade.
"I hope people can take away the knowledge that was passed through the years from this spot.
"The treaties that were signed, we have to acknowledge what our people wanted for us, and the reason why they signed for us, but now we're finally being recognized for who we are, who we represent and it's all around good."
Boyer's great-nephew, Blake Manulak said he is grateful to see the history of his ancestors at the site.
"When I first sat down and looked at it I was like, that's directly my history, that's my nan's (grandmother's) life," said Manulak, whose grandmother is Stella Boyer.
"We already knew it was here, but seeing it is a whole different thing, to actually see my family be recognized and that their history is explained here, even though it's not in ground permanently, the fact that it's here is enough."
Manulak said he has been trying to learn more about Métis cultural practices from this family
"My nan tries to teach me Ojibwe, Michif, and Cree. They're all trying to teach me some part of a culture that I never got a chance to grow up with," he said.
"As a kid I can't say I was ever too interested in it, but in the last four or five years I've really started taking an interest in it.
"I was enrolled in a course to learn Ojibwe, it's all part of my culture and brings a sense of peace and balance when I'm learning and speaking around my family."

Archaeology behind creating the site
Many hours of research went towards creating plaques for the site to help showcase the prolonged history of Métis families who once lived at Fort Ellice, said Mireille Lamontagne project manager and heritage consultant at MEME IM.
"As the curator and researcher of the project, I had to determine what the needs were and had to go out and get what I needed," said Lamontagne.
"Because it's an archeological site, it meant I needed professional field archeologists so I formed a partnership with Lakehead University, who already had a lot of knowledge about Fort Ellice."
"Then I worked with the land owners and with the funders,"
said Lamontagne.
"My job was to write the story, but really, it was all about how I got those stories because I could go into books that were written before, I could go to Wikipedia, but they were not getting to the heart of the story.
"The heart of the story are the people who have always lived here, and their lineages that are still here to this day. They have all extreme close connections to this place, it means a lot to them.
"They were dispossessed of their lands, and ultimately, that's what today represents is after a great long period—Fort Ellice in general—it represents the great change that happened on the great plains.
"What this site is doing is it's reconnecting communities that have been almost forced apart for many generations, at least three if not four, and this is like a reclamation and symbolic after the dispossession.
"What it means now is they can also feel ownership of this place that's always been sacred to them, even if it is Nature Conservancy of Canada that owns it, and NCC has been wonderful to work with.
"They really have been the ones that understood how much this meant to the community to actually say to us, we'll give you this spot and you all can make an exhibit."

Tweet