---
Heart of harvesting on the Prairies
September 6, 2023, 3:51 pm
Sierra D'Souza Butts, Local Journalism Initiative Reporter
---

Since he was six years old, Mark McCorriston would drive the grain truck on his family's farm.

As soon as he was old enough to work, McCorriston would help his parents load the truck with grain, drive it back to the yard, unload the truck, and do it all over again during harvest.

Thirty years later, McCorriston finds himself farming 7,500 acres in southeast Saskatchewan, more than double of what he used to help his father with, during his time living on his family farm.

"My dad really wanted someone to farm. I started out farming, then I was a long-haul truck driver, then after that I worked on the oil rigs," said McCorriston.

"I would help my dad on the farm, it's just something I felt like I had to do. A lot of it is family obligation because we grew up farming."

Over the past decade, McCorriston has expanded his farm to fields between Moosomin and Rocanville, as far as the potash mine and south to Moosomin Lake.

"I started farming in 2013, this is my 10th year on my own. I would help my dad before that, he started here in 1976," said McCorriston.

"I guess that's part of the reason why I have to do it too is because my dad created this opportunity for me, and it was his goal to have someone in the family that did it. He gave me the opportunity and I feel I have to do it.

"Don't get me wrong, I love it. If someone is lucky enough to have a family farm and their family is trying to help them enough to do it, then that's why they do it because it's an opportunity for one in a thousand.

"My goal is to have one of the kids take over. If they don't end up being farmers then hopefully one of my nephews. I want the next generation of our family to carry it on too."



Sense of community behind farming
Growing up on a farm his entire life, working alongside his parents and siblings, farming is second nature for McCorriston.
"I always run this combine, it is its 32nd harvest and its 30th year on our farm," he said. "I remember the day it got delivered on the farm, I was 13 years old.
"I remember riding with my dad for the very first time in it. It seems weird, but to me it's part of the family.
"My dad's passed away, but even at my dad's service, they showed a picture of my dad and I washing the combine, so to me, it's like a piece of the farm itself.
"Truth be told, every year when I start harvest, I usually shed a few tears when we start combining. It's such an emotional thing because you live off of the land.
"Everyone talks about how they love their garden, well I've got 7,500 acres of garden. I would say I have a green thumb."
When McCorriston's father passed away, he and his siblings all inherited a portion of the family farm.
"My dad, it was his goal that one of his boys farmed, and my brother helped, but he works in the city for SaskPower now," he said.
"I rent my brother's portion of the land from him and my sister and her husband, they farm too, towards Kipling. They farm her portion of land.
"Farming, it's an addictive occupation. I've done it for as long as I remember. I find it very rewarding. When I walk out of the house, it's the same path I've taken basically my whole life, and I find that very rewarding."
McCorriston grew up watching his mother play a vital role in helping his father, and sees it now with how active and helpful his wife is with helping him on their farm.
"I would say some of the ladies that support the farmers are probably some of the hardest working people," he said.
"When I was a kid all of those farming wives, they stayed home. Well there's not enough money in farming anymore, they all have full-time jobs and still have to cook the meals, help with the cattle, run the combines. If we're short on operators, my wife will come out and run a combine."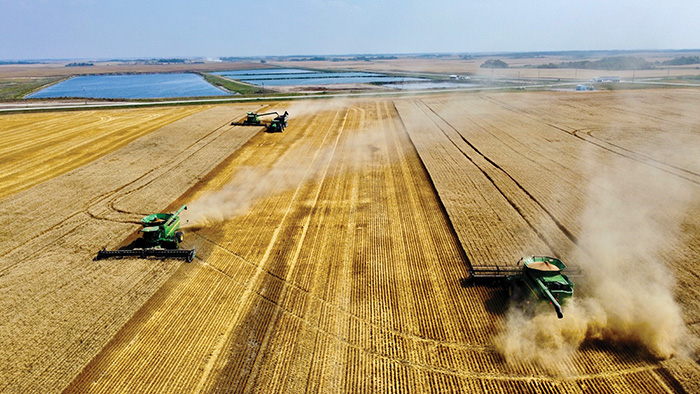 Farming industry has evolved over the years
Throughout his years from living on the farm, helping his family, and now owning a farm of his own, McCorriston said the industry has changed considerably.
"When I was a kid we had about 900 acres, and my dad, at the end of his career he was up to about 3,200 acres. Now I farm 7,500 acres," he said.
With farmers operating larger farms than before and dealing with higher prices for equipment, McCorriston said it has been challenging for families to continue in the industry.
"Everything is so expensive now, you go to buy parts and it's hundreds of dollars for something so simple," he said.
"I had no idea when I was a kid how much our political structure would affect me as an adult.
"The farmer doesn't make as much money because everything is costing him more, but the price of grain hasn't gone up. It's not different than how our economy is going because the price of grain isn't changing as fast as everything else is getting expensive."
Being able to start a farm from scratch is almost impossible given the expenses, said McCorriston.
"I don't think there's money in it like it once was, so you have to have more acres to make the same amount of money," he said.
"I've had some excellent farming years and then in 2019 I lost a couple hundred thousand dollars, and I was devastated. I said if I had one more year like that I would have to quit. Then in 2020 I had the best farming year of my life. It teaches you how to be humble.
"This year I hope I break even or make a few dollars, but in the life time of a farmer it's quite something. You just hope next year's better and when you do have a good year, leave some money in the bank."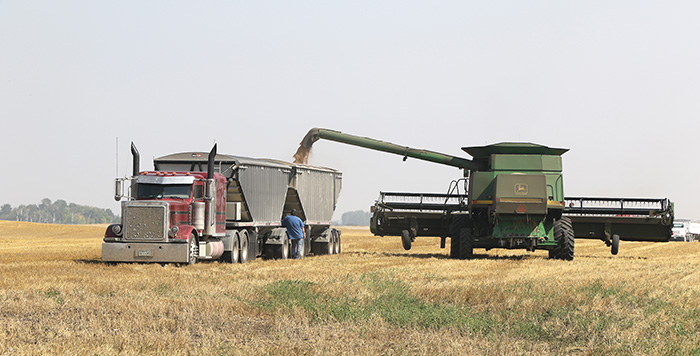 Challenges that come with farming
One of the many challenges of running a farm is finding full-time workers, said McCorriston.
"Finding good full-time reliable staff has probably been one of the bigger struggles," he said.
"We have a really good thriving economy, I always say I have lots of good guys who help me out, but because they're good guys they already have a full time job. They already work in the mine or they work in the oil industry, I have lots of part-time guys, but to find good full-time guys it's tough."
McCorriston shared a few tips he would give to farmers based on his experience over the years.
"You definitely don't want to skip any steps. You want to use a good amount of fertilizer, that's one cost you don't cut on," he said.
"The other thing is to not get in a panic if it's a wet spring, my dad called it 'mucking it in.' In the spring time everyone gets anxious and I've seen it too.
"Not panicking would be one tip, but it's so tough because if you don't put in a crop you're not making any money, so you feel an obligation to go out early, but sometimes it's not the best choice either.
"Another thing I've learned is no matter what happens you can't control the weather and you just can't let it ruin your life or summer because I definitely know people who pout and whine about it, but you can"t change the weather. You just have to deal with what Mother Nature gives you.
"One of the other things, which my dad told me, is if your grain isn't storing properly, it happens on the top.
"If you're going to check your grain, you need to look at the top of the bin. Grab the ladder and look in the hatch because that's where it will start to spoil."
Joys of farming
One of McCorriston's favourite parts about farming is working with local farmers and being involved with the community.
"I really love the friendships I've made. I've got three landlords up here in Rocanville, I've been up here for six years and I consider them some of my closest friends," he said.
"Being a farmer is also really good for the local economy because I've got all of these people employed, they're making money. Not to say I'm rich, but I'm turning money which is helping people out too. You support a lot of people."
McCorriston said he has picked up different tactics from other local farmers over the years.
"I would say my dad taught me a pile of stuff, then I worked for a few farmers like Heides, I've worked for Craig Roy, and learned stuff from them later on," he said.
"They do stuff differently and know how to address the situation from a different angle.
"Ultimately, there's no two farms that are identical. They all accomplish the same goal, but no one has the same line of equipment, and nobody does it exactly the same.
"One of the most rewarding parts about farming is the friendships I've made with my landlords as well."
Tweet