---
New dance club completes first season
April 27, 2021, 9:24 am
Kara Kinna
---

A year has passed since a group of parents and volunteers got together to work on the formation a new dance club in Moosomin. Despite the challenges of getting a new club started, and doing it during a pandemic, the club is proud to have completed their first season, wrapping up with a virtual dance recital on April 12.

"Around a year ago, (Moosomin's economic development officer) Greg Gillespie came and introduced himself to me at the store and was asking our take on what we felt Moosomin was missing, whether it was a business, clubs or organizations, and we brought up dancing," says Kari Kosier who is one of the board members who helped to get the club started.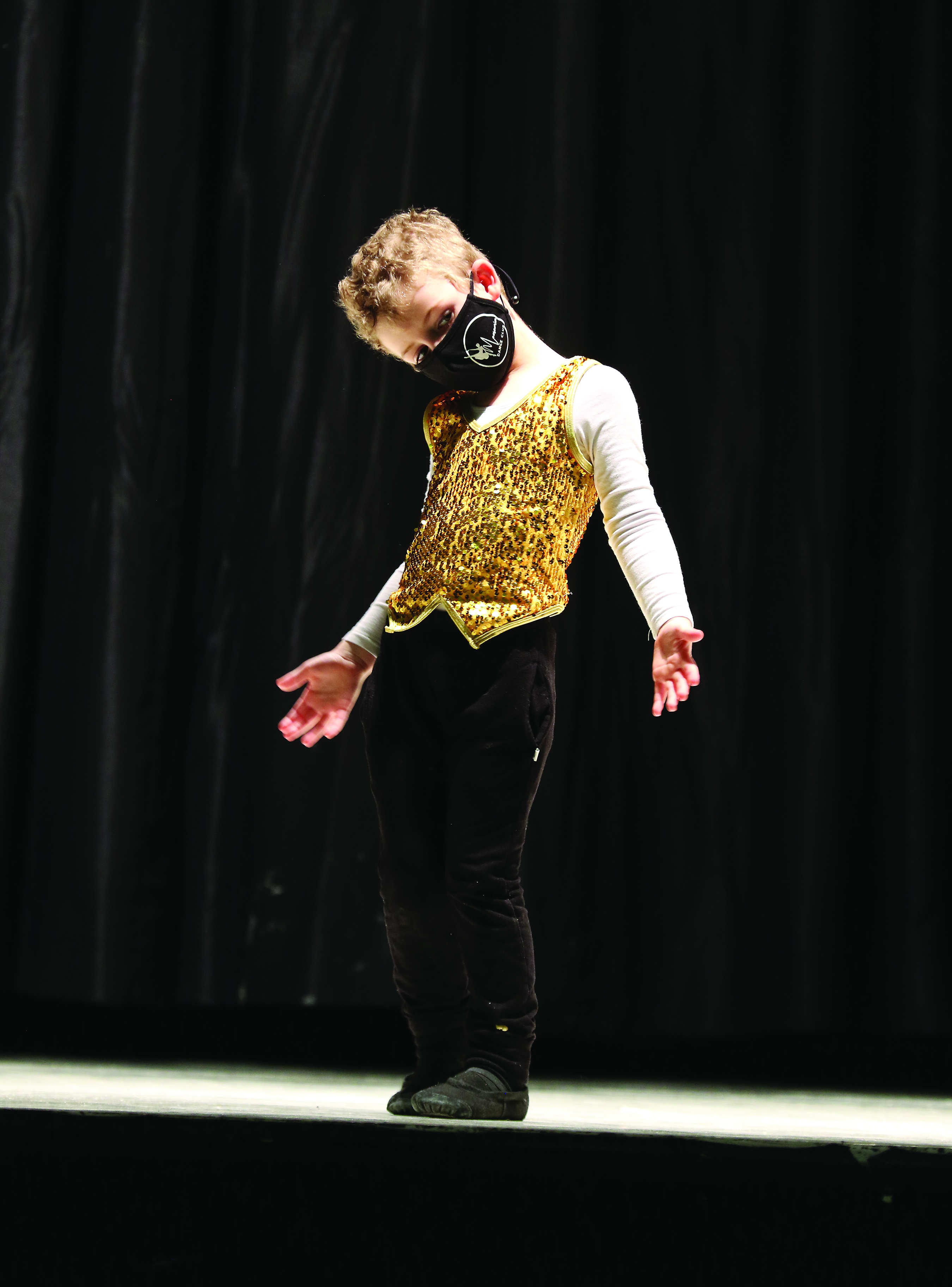 Merrick Cunday as "Mr. Postman" in one of the dances with the Tiny Dancers during the recital.

"We had gone a year without a dance club in town and how we knew so many local families travelling outside of town, whether it was to Whitewood or Grenfell or Redvers or Virden for dance.
"I said how good it would be for the local businesses to keep those families in town. We have the community, the support, the families, the population here in town. He was interested in learning more and started calling around and asking what it would take to get a dance club started.
The D1 Junior group during the dance recital. Back row, from left: Annaleigh Gerbrandt, Jessa Thorn and Ryann McGonigal. Front: Brielle Bain, Layla Jones and Baylor O'Rourke.

"After talking to some clubs in the area, he followed up with me and gave me a call and said for a dance instructor to come to a community, it's more inviting for them to come when a club has been organized by a group of parents or volunteers, and he asked if I'd be interested in rallying together a couple other parents to put our heads together to see if this is something we can do."
Kosier was able to find enough parents and volunteers who were interested, and the group was also able to enlist local dancers Emily Mannle and Ashley Warkentin as their instructors for the first year. Stacy Poelzer also got involved as a board member, and with her dance background was able to help organize the club and was instrumental in sourcing and organizing the costumes for the dancers.
With that, the new dance club was off and running.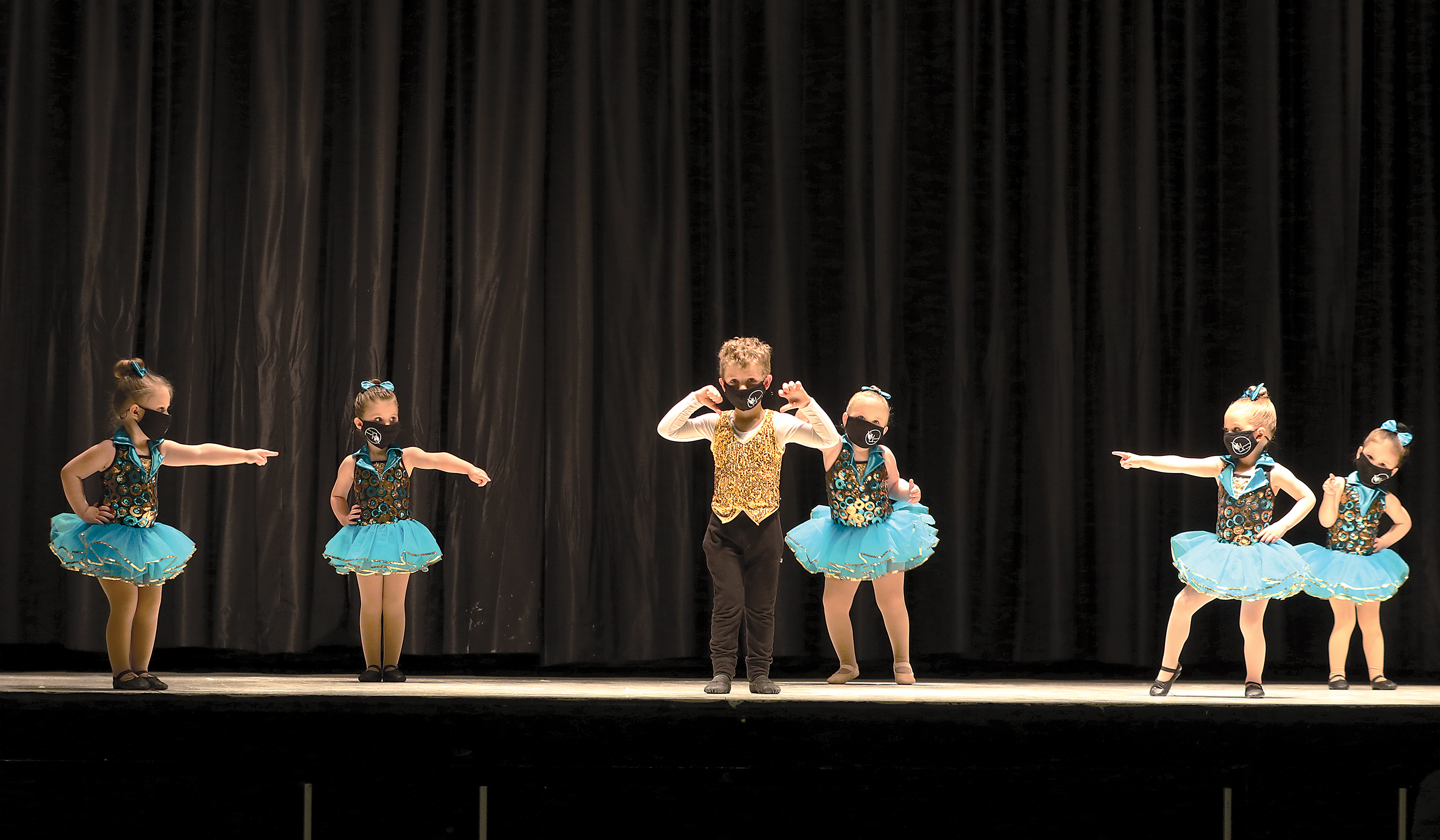 The D1 Tiny Dancers group at recital. From left are Hannah Nosterud, Blaire Campbell, Merrick Cunday, Veyda Blenkinsop, Emma Bell and Luna Mihalicz.

Kosier says she was shocked at the amount of interest there was.
"I think within two weeks we had 62-plus dancers signed up," she says.
The group began holding practices at the Moosomin Sportsplex, with their season starting in the middle of September, and a focus on jazz, tap and ballet.
Kosier says the season was not without its challenges, especially since Covid regulations were tightened in December.
"Come the beginning of December is when we were faced with the tightening of the regulations with the sports groups being pushed down to just eight per group in one room. So that was our first major challenge," she says.
D2 Tiny Dancers­ Everly Senicar and Lennyn Holloway during recital

"We basically looked at our numbers and each group and cut them down to eight and then we had to alternate weeks . . . It just came to a lot of organizing and posting new schedules and updating the parents, who thank goodness, have learnt as all of us to just roll with it.
"We had our regular break at Christmas and then in the new year there was the anticipation that we would be able to get going again every week, but it turned out that wasn't the case and so therefore it was more difficult for some of those young dancers to grasp on learning their routine when they're not practising as much.
"As we were getting closer to Easter, things tightened up again, and then the school announced the closures due to the increase in the Covid-19 in our area and the variants of concern.
"At this point we had worked so hard and these dancers, they deserved to have as much of a normal first season as they could and had worked hard for. So we shortened up the season about three weeks. We just moved ahead with recording for our recital at the Convention Centre on Monday, April 12. We booked a photographer to come in and she set up in the Sportsplex and we alternated between the two buildings because we had to keep these groups separate in two buildings. So it took a lot of organizing."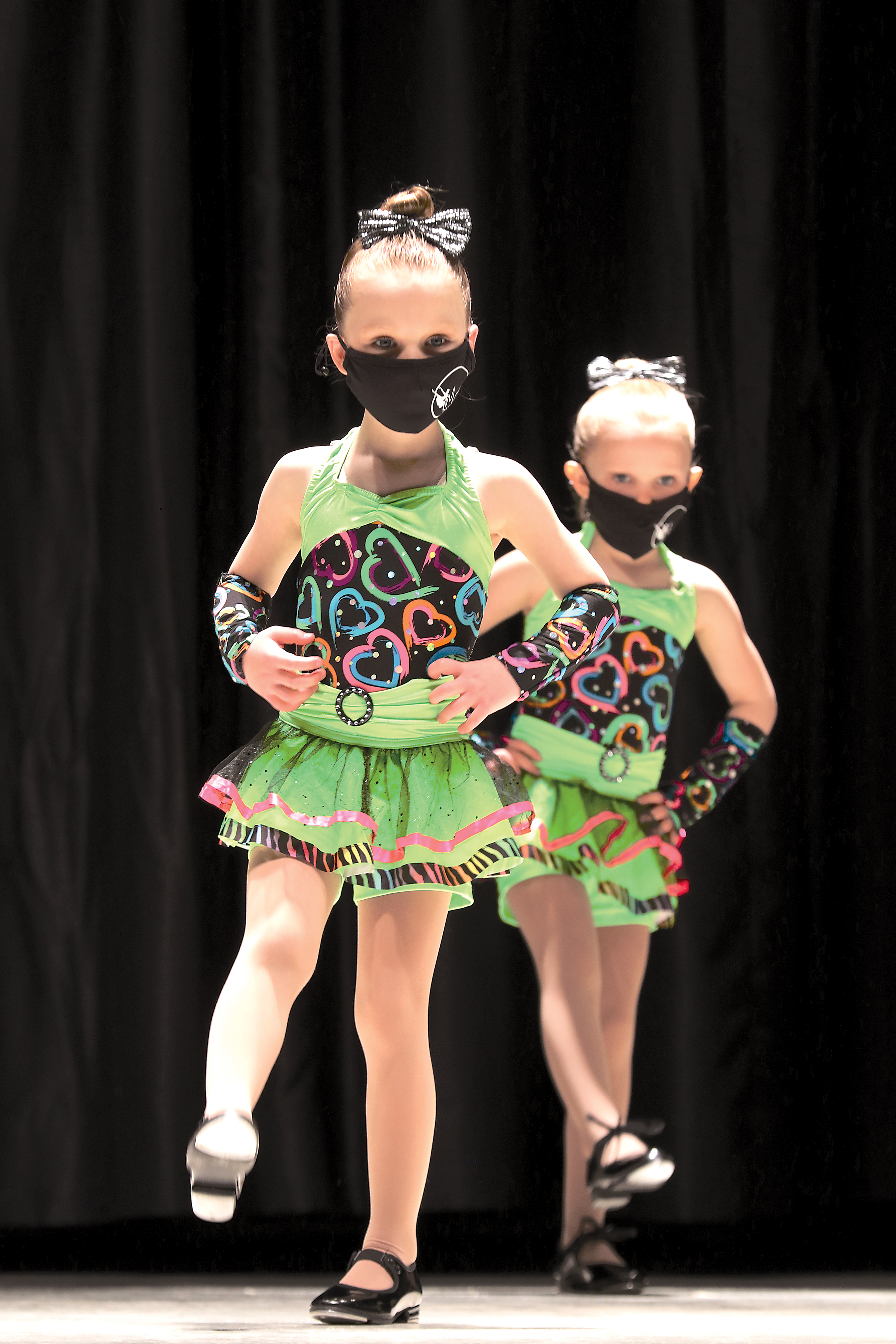 D1 Junior dancers Layla Jones and Jessa Thorn during recital.

There were no parents or spectators allowed at the recital, and the recital was held like a regular dance practice, with groups of eight. The dancers were dressed up, but wore masks and were spaced out on the stage. Alyssa Jeannot volunteered to record the recital so that it could later be sent to parents in digital format.
Even though it in no way resembled a dance recital during a regular year, Kosier says it was wonderful to be able to reward the kids for their hard work.
"It was just really sweet to see these kids right dressed up in their costumes. It looked incredible up on the stage."
She says the kids have been wonderful through everything this season.
"They know no different," she says. "Thank god for the kids, they honestly, they just roll with it. They were great, they were awesome. Seeing it in person, watching them get dressed up and their photos—they're resilient. It's only us, the adults, that see how different it is but to them they're used to it. They were awesome. My daughter Billee, at one point that night she said 'Mom, this is the best day of my life!' All that hard work really paid off. And just seeing them, it just took me back to growing up as a kid. I was in synchro skating and just seeing that team spirit, it was just really cute. It was awesome.
The Junior/Intermediate group at recital. From left are Danielle Dejesus, Norah Carter, Keira Challice, Kaidence D'Orazio, Taylor Goodman, Billee Kosior and Jolene Vodon.

"Seeing it in person really honestly made it all worth it. It was really fun. It was amazing. They're great little dancers and Emily and Ashley did an incredible job."
Kosier says kids from Moosomin, Rocanville, Wapella, and St. Lazare were part of the club. She says they are already making plans for next season.
"Our goal is to hire a permanent certified teacher who will come in and run it and then they can just tell us group moms what to do," she says. "We've got an application out now on a couple of sites and once we get our recording (of the recital) all finalized and sent out to the parents, we're going to put our focus on networking and hopefully finding someone who wants to come to teach dance in Moosomin.
"I've heard such positive feedback from all the parents how grateful they are to have this available in town."
Tweet