---
Moe most popular premier, Stefanson least
September 28, 2022, 9:52 am

---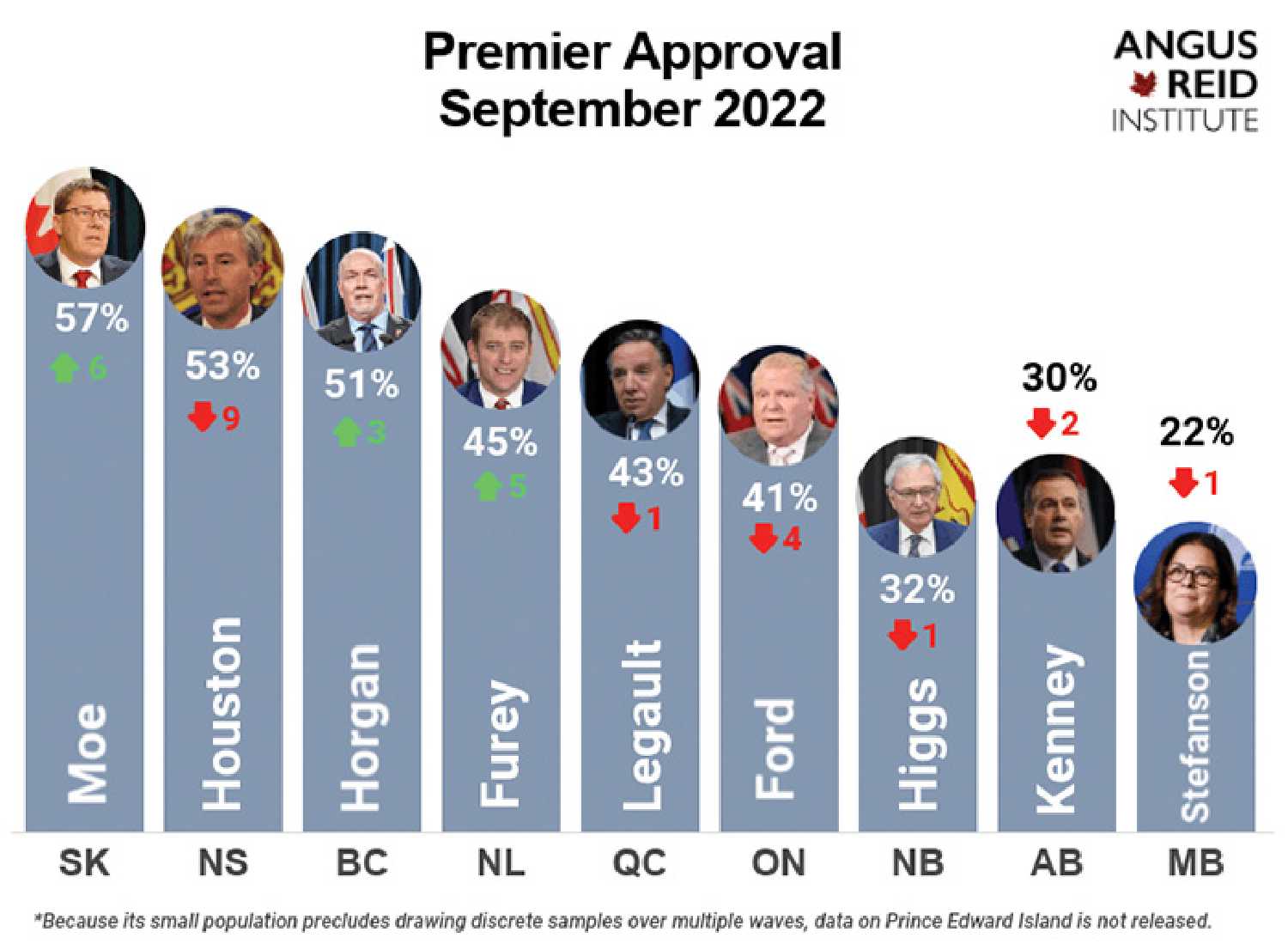 Saskatchewan Premier Scott Moe is the most popular premier in Canada, according to Angus Reid Institute's latest poll of premiers' approval ratings across the country, and Manitoba Premier Heather Stefanson is the least popular.

Moe tops premiers
Moe's popularity has been increasing steadily since December, and Moe's popularity is now higher than when he first became premier in 2018, when his approval was at 52 per cent.

Moe announced last month that all adults in Saskatchewan would be receiving a $500 cheque after the province's first quarter financial statement showed that booming resource revenues would take $2 billion off the province's accumulated operating debt, bringing it down from a projected $10 billion to $8 billion at the end of the current fiscal year, (partly by paying down debt, partly by not adding to the debt with a deficit this year) even after distributing $450 million to Saskatchewan taxpayers through the $500 cheques.

High resource prices, primarily for oil and potash, increased by supply issues and the Russia-Ukraine conflict, have boosted the economy, which has helped lead to record population growth in Saskatchewan in the latest quarterly update by Statistics Canada.

Moe is approved of by 57 per cent of Saskatchewan residents, the highest level of approval among provincial premiers this quarter.

Stefanson trails the pack
Manitoba Premier Heather Stefanson has never been the most popular premier. Her popularity peaked at 25 per cent in March of this year, and has been sliding ever since.

Stefanson met with Prime Minister Justin Trudeau in early September to discuss key areas of co-operation, as well as contentious policy disagreements.

Stefanson has criticized the federal carbon tax, asking the government to temporarily suspend it amid inflation concerns.

Stefanson's government recently announced an $87-million package to aid families and seniors with benefit cheques and increases in government assistance in the coming weeks.

Whether that aid package will prove politically beneficial remains to be seen. For now, Stefanson continues to be the least approved-of leader in the country. One-in-five (22%) Manitoba residents say they approve of her performance.

Other Western premiers
The other two Western Canadian premiers are both on their way out of the job

B.C. Premier John Horgan, who delivered a final speech to the province's municipal leaders last week, will retire after more than five years in the position. His approval dipped below 50 per cent in June after a controversial and ultimately repealed plan was announced to spend nearly $800 million to tear down and rebuild the Royal B.C. Museum.

In Alberta, United Conservative Party leader Jason Kenney is approved of by three-in-ten Albertans as his party prepares to announce the results of its leadership race on Oct. 6.

Kenney's approval dropped precipitously throughout 2020 and 2021 and never recovered to pre-pandemic levels.

More recently, his government received low favorability on every issue canvassed in an Angus Reid Institute survey earlier this year.

Tweet