---
Firefighter Aid heading to Ukraine
February 3, 2023, 9:53 am
Sierra D'Souza Butts
---

What started out as a group sending safety equipment and medical supplies to help first responders in Ukraine, has now turned to a team of firefighters going to the country to help teach doctors and first responders in Ukraine about how to treat people on the battlefield.

A team of firefighters from Firefighter Aid Ukraine headed to Ukraine last weekend to begin teaching their "Stop the Bleed" three-day course to 72 first responders in Ukraine who in return, will be teaching others in the country.

"We've taken a course, Tactical Combat Casualty Care (TCCC) to teach first responders in Ukraine. It's very focused on those critical interventions and has evolved a lot from the Afghanistan and Iraq wars," said Nelson Bate, firefighter for the City of Edmonton and one of the firefighters heading to Ukraine.

"We've taken that course and modified it a little bit just because of time constraints, and also because there are some things that aren't quite relevant to emergency responders, as it's more oriented to the military.

"But, we're taking those skills out of that course and teaching it to firefighters and police officers, as well as some military medics there in Ukraine. Also once we get there we'll do an assessment of the equipment that they have, and then try to equip them with as much of the supplies that they need to actually perform these jobs.

"We'll be teaching skills from the NATO standard TCC course with a lot of emphasis on massive hemorrhage, needle decompression of tension pneumothorax, teaching airway obstruction with respiratory issues, and as well a big emphasis on hypothermia prevention and treatment for individuals who have suffered a traumatic injury."

With there being a demand for more help in medical care from first responders, Bate said firefighters have been trained to learn more about intervention emergency care, for helping people at the scene of an accident.

"The ambulance and paramedics aren't able to handle the amount of casualties on their own. They absolutely need help to treat patients from other first responders," said Bate.

"The other issue is, people are facing injury patterns that are usually atypical for a first responder because it's all combat style related injury patterns. A lot of those battlefield injuries require very aggressive interventions at the point of injury.

"When they were reviewing the people who passed away from these attacks in Ukraine, they've found that the people who suffered are what they call, 'potentially preventable cause of death,' meaning there's people who we potentially could've saved, had an intervention been done at the point of injury."

By going to Ukraine to teach doctors and first responders about care under fire (CUF), tactical field care (TFC), and tactical evacuation care (TEC), can go a long way to helping people in the country during Russia's invasion.

"There are firefighters from eastern Ukraine that are going to come and take this training, and then they'll be able to take what they've learned back to their stations," said Bate.

"We're training 72 people in this course, but ideally it's going to reach a lot more than that because they're going to take it back to their stations and share the knowledge as best as they can with their colleagues."



How Firefighter Aid for Ukraine began
The organization Firefighter Aid for Ukraine started in 2012 after one of the firefighters from the City of Edmonton, Kevin Royle, visited Ukraine and noticed a need for better quality safety equipment.
"Edmonton has had this group, firefighter Aid for Ukraine for about 10 years and it started with a friend of mine who was in Ukraine," said Bate.
"When he was in Ukraine, he came across a fire station and basically saw how outdated and non-existent a lot of their safety equipment was.
"Kevin then came back to Edmonton and said when our bunker gear expires can we donate it and ship it to these firefighters and first responders in Ukraine, and the city said absolutely.
"It started with that about 10 years ago, and it's sort of snowballed into a huge organization to the point where the Ukrainian government realized that there was a need for firefighters and specialized training. Based on the injury patterns, they reached out to Firefighter Aid Ukraine and asked if we could come and help with teaching the medical care.
"Kevin then reached out to myself and another member, we both have experience teaching medical courses, and asked if we could put something together. We've been in contact with the government officials over there in Ukraine and spent the last four months developing this program and acquiring all of our training consumable to teach the course."
To date, Firefighter Aid for Ukraine has delivered over 140 tonnes of life rescue and health care aid to Kyiv, Lviv, Uzhgorod, Ivano-Frankivsk, Ternopil, Odessa, Chernivstsi, Dnipro, Cherkasy, Mykolaiv, and Nikopol in Ukraine.
"We've been really fortunate to have really positive and good support in the Edmonton area," said Bate.
"For our mission right now to go to Ukraine, with the cost for flights and bringing in training supplies and equipment, is between $25,000 to $30,000 and we've fundraised all of it in the last couple of months.
"There's no doubt in my mind that the people who we teach will be using these skills almost immediately after.
"They are coming from cities in eastern Ukraine under artillery fire daily, to take this course. We're going to train them and then they're going back there.
"For myself, it's just nice to have a mission again to do something that's going to be really impactful."
People can visit the group's Facebook page— Firefighter Aid Ukraine—to donate equipment or monetary donations.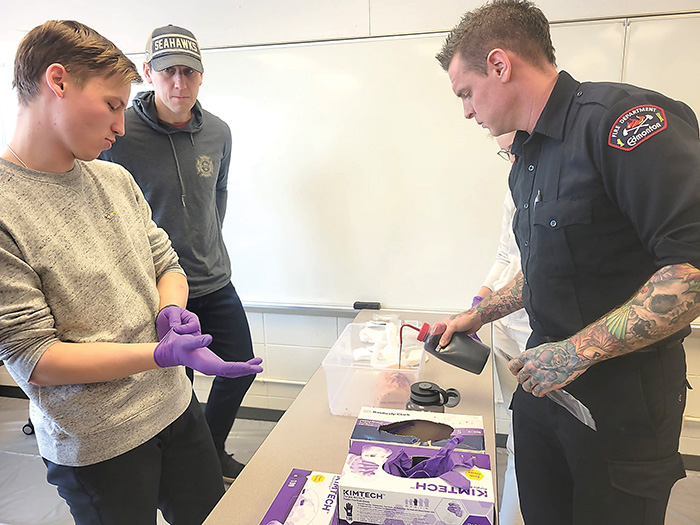 Tweet