---
Sunrise Community Futures now in Moosomin
Moosomin Chamber of Commerce
October 23, 2023, 2:22 pm
Ryan Kiedrowski, Local Journalism Initiative Reporter
---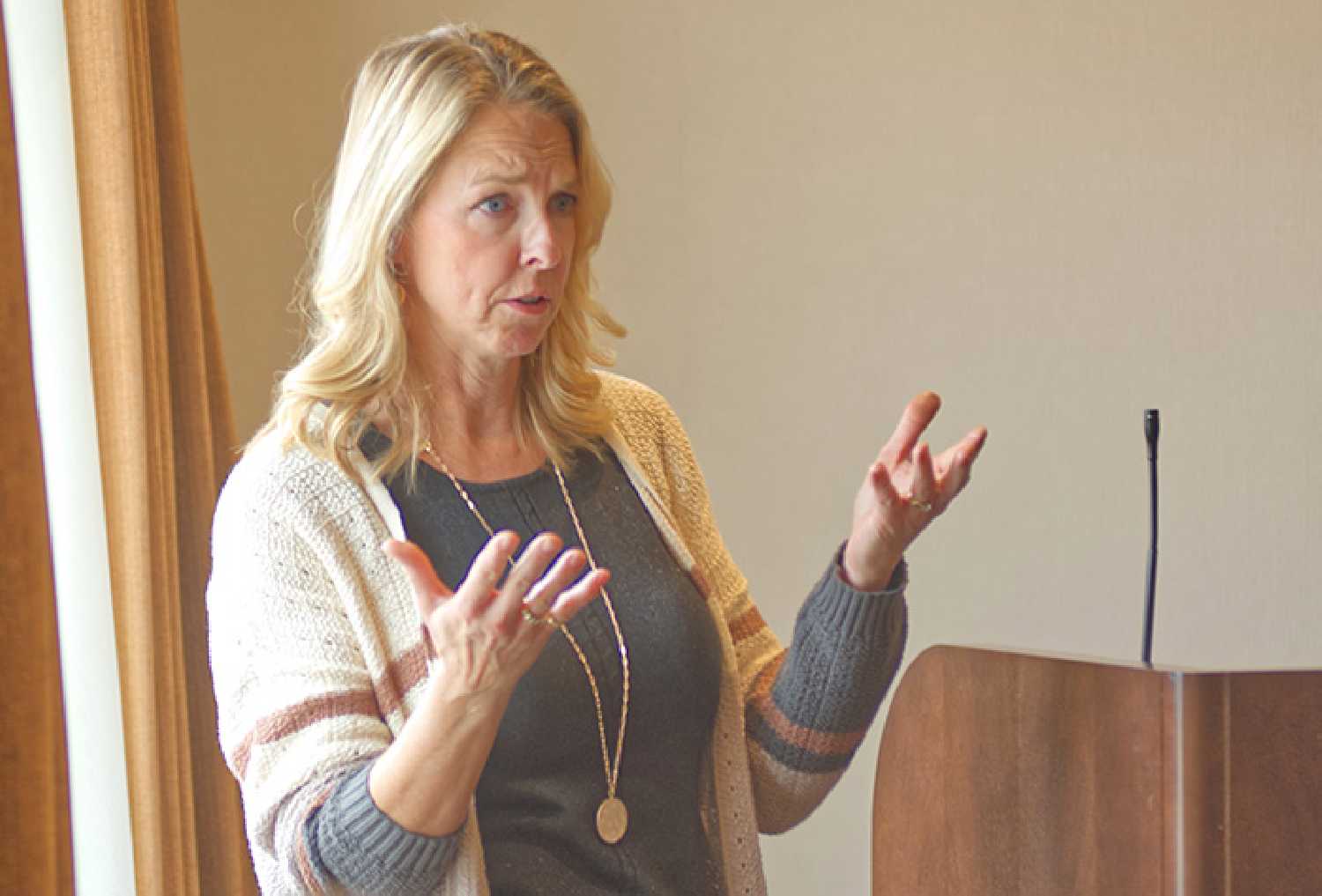 A new business service is available in Moosomin.

Leanne Porter, Business Development Officer with Sunrise Community Futures, has just opened up an office in Moosomin, on Broadway Avenue beside the Cork and Bone Bistro.

The Moosomin area has always been in the area served by Sunrise, but office have been in Weyburn and Estevan, 200 km away.

"When I applied for the job, they thought it would be interesting to have somebody out in this region," Porter said during a presentation to the Moosomin Chamber of Commerce on Oct. 17.

With 13 regions in Saskatchewan and 267 across Canada, Community Futures has been helping entrepreneurs realize their dreams since the 1990s.

The main pillars of Community Futures are providing loans, advice and support for rural entrepreneurs. Their mission is to support the development of our regional economy, and are funded by Prairies Economic Development Canada.

"We do startups, expansions, purchases - we're not limited by the age of the entrepreneur," Porter explained.

Even finding a place to start for those curious about entrepreneurship can be a challenge, something Porter is more than eager to help with.

"Advice is free for so many things, but mine is good advice!" Porter said. "It's a great place to start for people to ask questions."

Whether the challenge is drafting a business plan, finding assistance on how to flesh out a business idea, or regarding marketing and general operational systems, Porter has answers via a wide range of services offered by the organization.

"Basically what we like to call ourselves is a developmental lender," she said.

Porter also noted Sunrise Community Futures has a regional economic development coordinator based in Redvers.

Christina Birch has done a lot of work in the Moosomin area, and is actively seeking what current needs are present and how best to address them. Her expertise in strategic planning is well-known throughout the area.

Online resources
Porter also spoke about the Sunrise Community Futures website, which she said has valuable resources for entrepreneurs. Detailed instructions on how to draft a business plan and pitch a business idea are but a couple of examples. Regular webinars and presentations cover a wide variety of topics to better educate those interested in launching their business idea. Other topics include grant writing, how to engage volunteers, and succession planning. A webinar series is also about to begin, providing valuable information and advice.

"Every month, we have a virtual 'how to start a business'," said Porter. "So I quite often will direct people to that."

The purpose of off the these features is to best prepare entrepreneurs; setting them up for success.

"I think sometimes people get excited, they order business cards and they're ready to go, but there's quite a few things that they need to think about before that," Porter said.

According to a report on performance results for the 2021-2022 year, people in the southeast are accessing Sunrise Community Futures as 600 participants took part in business training sessions.

The team provided 342 business advisory services during the same timeframe, and were involved in 31 community-based projects. Lending in that time - still in the throes of the COVID-19 pandemic - had a dollar value of $323,796 with 15 loans and 28 jobs created as a result.

Show me the money
Perhaps the first association for those who do know about Community Futures is the fact that they provide loans when other entities might turn someone away. Biz Start and Biz Boost micro-loans of up to $25,000 can get an idea off the ground, or bring the top-up funds to an existing project.

With an interest rate of prime plus two per cent, no principal payments for six moths and no penalty for an early payout, such lending options are an easier reach for small business.

For those requiring access to more funds, Community Futures has loans up to $150,000 and beyond.

Loans are reviewed by a board comprised of members from across the region.

This is a huge benefit as these members often have valuable personal knowledge of the applicants that may sway a crucial funding decision.

Another interesting source of funding is the Entrepreneurs with Disabilities grant.

A small boost of $750, Porter noted that the grant covers "anything that impacts you day-to-day."

It could be used for someone living with anxiety, for example, or any other disability.

Some creative uses for the funding include mentorship, bookkeeping advice and specialized training.

Getting the kids involved
Another exciting program from Community Futures to spur the minds of young entrepreneurs is the YouthBiz program, open to students from Grade 6-12.

"YouthBiz is in it's 17th year, we've had 3,000 students participate in it and given out $30,000 worth of prizes," said Porter of the mainstay project.

Through YouthBiz, students create a business —real or fictitious—and go through the process of creating a business plan, building a webpage and captaining the digital promotion of their company.

Tech help
Porter pointed out GO Digital Sask program, which offers assistance with the online world.

"Pre-pandemic, we did some surveys and we found out that there was a need for more online presence," Porter said.

GO Digital Sask can provide assistance with online presence in many ways, from websites to social media.

The Moosomin Community Futures office is now open at 806 Broadway Avenue.
Tweet