Gloria Taylor passed away on August 18, 2021, in Calgary.

Gloria was born on September 22, 1933, at her family farm near Fairlight, Saskatchewan to Bob and Hazel Marshall. As a child and youth, she played the drums, banjo and piano in her family's band, The Marshall Spitfires, led by her father and in accompaniment with her six siblings.

She graduated from Moosomin High School, and went on to become a school teacher, eventually assigned to a one room prairie school in Fairlight. She married Bill (Blue) Taylor in 1958 as part of a double wedding with her sister, Patricia. Shortly afterward, Bill and Gloria moved to Swift Current, where he worked on the pipeline, and she continued to teach school.

Gloria obtained her private pilot's licence and with Bill owned a small Piper Cherokee plane, in which her greatest pleasure was performing acrobatic stunts over the flat prairie grasses around Swift Current, often to the chagrin and worry of her trainer and friend, Par Fletcher, antics which only ceased with her first pregnancy. Bill and Gloria went on to have three children, Bart (youngest), Tangyne and Brett (oldest). Over the years, Bill and Gloria lived in Saskatoon, Regina and Moosomin.

In later years, she and Bill returned to Saskatoon, where she was an active member and treasurer UCW for Grace Westminster United Church, a member of the choir and friend to many. She was also very active in the Eastern Star, holding the position of Worthy Grand Matron and sitting on the Jurisprudence committee for many years.

Gloria had a lifetime addiction to music, a love of travel and during the seemingly endless summer holiday road trips was the designated storyteller for the family, holding the rest spellbound for many, many miles. She was joyful, active and welcoming to all partners and friends of her extended family, a model of resilience and how to age gracefully and well. She had a strong will, an often frustrating stubbornness, and a sense of humour that could light up a room.

Gloria lost Bill to a heart attack and complications in December of 2007. In 2018, she moved to Calgary to be closer to Bart and his children. She was the last survivor of her siblings and would have celebrated her 88th birthday this fall. Her health had been failing for the last 18 months. The pandemic had limited her mobility and her ability to socialize.

She is survived by her three children, seven grandchildren and their partners, and will be held in their hearts for as long as they are alive.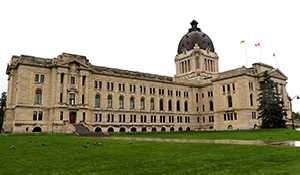 A new Public Health Order will come into effect at 12:01 Monday October 18 that will add some businesses and retail outlets now requiring Proof of Vac...
---