---
Donations are coming in quickly for Eastside Playground Committee in Moosomin
June 23, 2022, 10:58 am
Sierra D'Souza Butts, Local Journalism Initiative Reporter
---

On Thursday, the Eastside Playground Committee of Moosomin received two donations for a total of $11,500.

The RM of Moosomin donated $10,000 to the committee and the Moosomin Shriners donated $1,500 in support of their project.

"It's a good project that they're trying to do for the east side of town, it benefits the community, as well it benefits our rural members that come into town, where there's another option for a park that's available 24/7," said Kendra Lawrence, CAO of the RM of Moosomin.

"We also have funds from municipal reserves so when a subdivision occurs instead of land, as a greenspace out in the RM we take a monetary settlement. This has been sitting in the account to use towards some sort of a greenspace creation.

"We can use it towards another municipality, it doesn't have to occur in our own, and when this playground project came up, I told the council it was there, but it does have specific uses for it. It can't be used for just anything, it has to go towards a greenspace creation."

The committee plans on building a playground and park at 310 Henry Street in Moosomin.

Herb Doll of the Moosomin Shriners said their group wanted to donate to the Eastside Playground Committee as well, as their initiative focuses on helping children.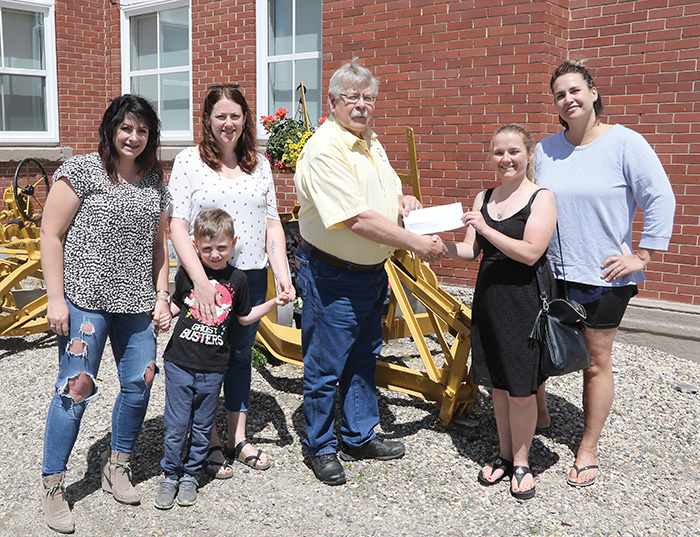 "We took the project to the Shriners, and because the Shriners philanthropy is for kids, we opted to put a monetary donation for the committee," said Doll.
Since receiving many back-to-back donations in less than a month, Andie Hodgson vice-president of the Eastside Playground Committee said they will be able to put their deposit down sooner than expected.
"We'll be able to start ordering equipment soon, that way we can get it at the price they quoted us for, and put our deposit down," said Hodgson.
"It's really exciting because we can secure our price now, and place our 50 per cent deposit down."
The quote the committee received a few months back was around $70,088.73.
Although it may have increased a bit since then, Hodgson said the committee will still be able to secure this year's quote instead of waiting until next year where it might increase even more.
"We need to put the deposit down to actually order the equipment now and secure the quote for 2022, and then we'll have the shipment for the infrastructure by next spring," said Hodgson.
"We also have some of the equipment donated, the sand is donated too by Springer Construction."
The committee was asked why they think the donations are coming together so quickly.
"I think because there's a need for it, our community is wonderful too, people are very supportive. People tend to come together, for example Herb found out because I came to the RM, and then he shared it with the Shriners, so we get exposure that way too," said Hodgson.
Dana Jones of the Eastside Playground Committee also added that the community in Moosomin is very generous.
"People are talking to one another which is great, also the newspaper helps get the message out as well, that exposure is great too," she said.
The area of the park is 3,648 square feet. Aside from the three structures, there will also be benches at the park for residents to use.
People who are interested in helping or finding out more information about the project can email: eastsideplaygroundcommittee@gmail.com, or call Andie at (306) 737 0922, Dana at 306-434-9692, Andrea at 306-717-8978 or Chelsea at 306-434-7884.
The group will be presenting their ideas at the June 21 Moosomin Chamber of Commerce Meeting.
Tweet