---
Residents eager for Fleming Reunion weekend
August 3, 2022, 4:43 pm
Sierra D'Souza Butts, Local Journalism Initiative Reporter
---

The Fleming Reunion Committee is looking forward to their upcoming reunion this weekend from August 5 to 7.

Phil Hamm, vice-president of the Fleming Reunion Committee said anyone who is interested in attending the event can still register.

"We have a guestimate of 150 people attending for sure, we've made provisions for a lot more people to attend and we're inviting anyone from the surrounding areas," said Hamm.

"A lot of people from Fleming are close to people from other communities, particularly Moosomin because everyone went to school there. We're expecting and hoping that people from all the surrounding communities in every direction will come.

"We don't want people to think just because you're not from Fleming you can't come, they're welcome. We really want to see people from everywhere, and it will help swell our ranks and make for a good atmosphere.

"We want people to take part in the parade and some of the other events. They'll get to see people they haven't seen for a long time, people who they went to school with, or did work with, or played sports with."

The reunion will bring old friends together to share their stories and visit. The weekend will include entertainment, beer gardens, supper and a dance, activities for kids, pick up fastball games, a parade, a church service, a pancake breakfast and more.

"This committee has worked really hard, the enthusiasm and the hours they put into preparing this big event has been amazing," Hamm said.

"We had three ladies spend a lot of time down at the church, and the church hadn't been used for at least four years, it was a big job to clean it. It's all nicely cleaned up and polished now."

Activities planned for the reunion
The last reunion the community had was in 2005 and prior to that was in 1982. Hamm said this year's reunion weekend will consist of back-to-back activities.

Friday August 7, in-person registration will be open from 1 p.m. to 7 p.m. at the Fleming Community Hall, followed by a historical tour of the town.

At night, there will be a Fleming Jets fastball game beginning at 8 p.m., along with entertainment by Merv Easton starting start at 7 p.m. that night.

Saturday morning, there will be a pancake breakfast from 7 a.m. to 9 a.m., registration will open shortly after until 11 a.m.

There will be a parade, lunch, a historical tour of the town, beer gardens followed by supper, a dance and fireworks at dusk. The reunion will end with a community church service on Sunday August 9, at 11 a.m.

"The co-op came up with a very nice donation of fireworks for us, it's going to be the best show we've ever had, as long as fireworks in this community," Hamm said.

"It's been really encouraging to see all the enthusiasm. We're pretty much done with preparations and looking forward to the event."

The committee said donations and volunteers are welcomed.

Individuals who are interested in registering for the event can email: 2022flemingreunion@gmail.com.

People can also text or call Philip at (306) 435 4140, as well contact Chelsey at (306) 434 6833.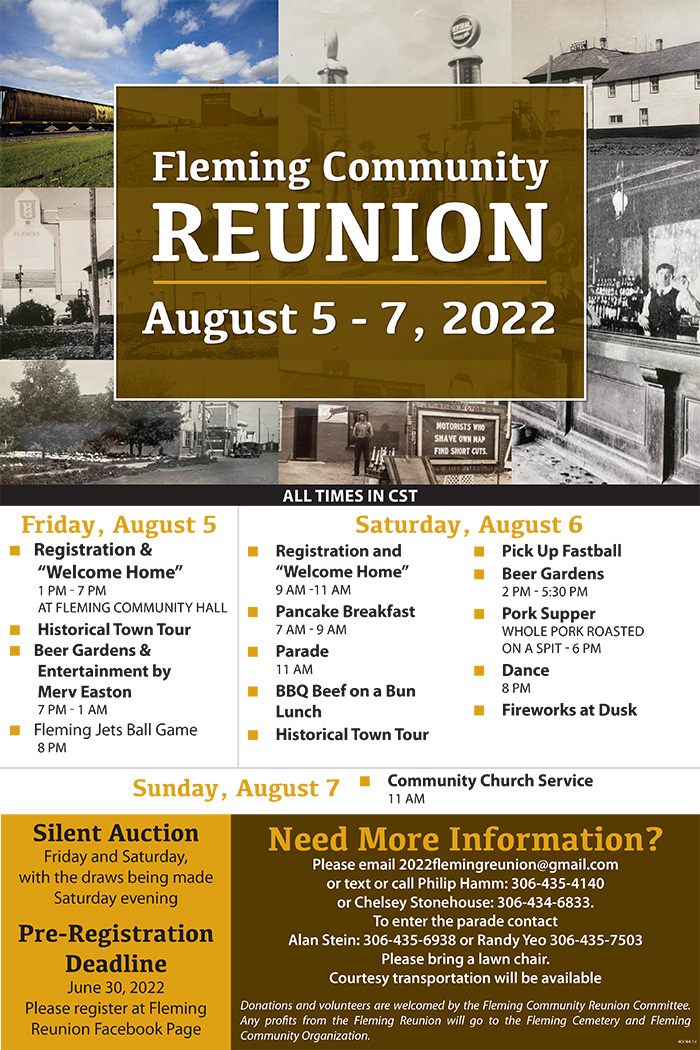 Tweet