---
Love of '50s/'60s music unites Bromantics and their audiences
January 16, 2023, 1:40 pm
Kara Kinna
---

The Bromantics will be performing in Maryfield on Feb. 4 as a fundraising concert for the Maryfield Auditorium. Formed in the summer of 2013, The Bromantics are a Saskatchewan six-piece band that performs high-energy music from the '50s and '60s. This contagious genre of music, combined with their high energy stage performances, has succeeded in creating a nostalgic atmosphere for older audiences and a fun way of discovering this upbeat genre of music for younger audience members. Following is an interview with band member Robert Haakenson about the Bromantics and their music.

Tell me a little bit about how the Bromantics got started.
It's kind of a unique thing. We never really intended to be a band actually, when we started way back in 2013. My parents own an establishment in Moose Jaw called Bobby's Place and they were looking for a band and one of the bands fell through for an event. So I told my dad, "Hey, you know what, I bet I could put some guys together and get a set and help you out of a bind."

It was a rooftop party and he's a big Beatles fan. The bands were going to be up on the rooftop performing. They had blocked off a city block around the restaurant and building and they were going to perform off the roof.

We went up, we were just going to play for free and just going to have some fun, but when we came down we were met with such enthusiasm from the crowd that they tried to book us.

I looked at the guys and said, "Uh, I think they're trying to pay us money. Do you want to try and do this again?" They were like, "Wow, well we learned the songs." So every show after that it kind of snowballed. It became more and more and more and then we learned more songs and it just kind of evolved from that.

Did you all have a fairly extensive musical history at that point? Were you playing with other bands or anything?
The drummer and myself were playing in a rock band at the time together. Tim Lynchuk is the lead singer of this group, he's my cousin, and he had never sang lead vocals before. He's a talented musician, he plays bass, he plays drums and he plays guitar but he had never sang lead. My family is quite musical, I had heard him sing lots and I just kind of said, "You know what, I think you'd be really good at it. You should give it a shot. Put the instrument down for a night and pick up the microphone." He was also pretty hesitant with the '50s music because he didn't know how that would go over, but we got him up there and it just shines, it's very contagious music and he really found quite a knack for performing without an instrument after that.

At the time there were two other members. There were five of us and now there's six. The two other members have been replaced and the current members we have now are very accomplished—Darius Wilson who is on keys has two Juno Awards. So he's very talented. Jim Mitchell plays bass and every other instrument known to man practically, and Kurt Gillett plays saxophone. Jim, myself and Kurt are all educators, we're all teachers and so we kind of met through that as well.

So that first concert, is it very similar to what the Bromantics are doing today? Did it set the tone for what you continue to do?
I would not say that, no. That was a very amateur evening of fun, and don't get me wrong, we're still a very fun and exciting, interactive band, we engage with the audience quite a bit, but the level of professionalism and accomplishment has really evolved over the last seven years. We've gone from playing weddings and bars in the first year to touring the province in cultural centres and setting venue records. So we've certainly evolved, and the shows have for sure.

So why did you end up settling on the type of act and the type music that you perform today?
The '50s stuff is honestly just because I grew up listening to that kind of music. I had a little cassette tape that my grandfather left me called Robert's Rock and Roll. So I grew up listening to Buddy Holly, The Drifters and The Coasters. I could sing that stuff backwards and in Spanish probably I know it so well. So I just picked songs from that era because I knew them inside out, pitched it to these guys as something that no one else was doing and it has served us very well.

What is it that the audiences love so much about this particular show and this particular type of music?
I've thought about this quite a bit over the seven years that we've been performing together. What I think it is that it appeals to different demographics for different reasons. There is a demographic that comes out and sees us that lived this era, so it's very nostalgic and it's very reminiscent for them. It brings them back to a time when things were just simpler. Then there's also the contrast of you perform this music, it's still very energetic and many of the songs revolve around certain dances, for example "The Twist." I don't think I've ever played "The Twist" to an empty dance floor because everybody knows it and it's simple to dance to. So the youth like to get up and spin each other around—for lack of better terms they're not just shuffling left and right with their two feet anymore because it's fun music and they're fun dances. It really does create a party atmosphere.

How does it feel to perform this music to crowds who are loving it so much?
Equally energetic. For performers that energy is very cyclical. So it's our job to provide energy on stage, it's what we do professionally, we provide entertainment. But it's important to note that the more we interact with our audience and the more they become engaged, the more it's reciprocated. So all of a sudden we feed off of the audience and then it just grows. That's just been the track record that we've experienced this whole time.

So is this the main thing that you guys do together as a band? Is The Bromantics taking up all of your time or are you still involved in other bands or other professions?
That's a hard question. Leading up to the pandemic—nobody wants to talk about the pandemic anymore—but leading up to it? Yeah, absolutely. But then everything shut down so we all had to fall back on our careers a little bit. So I've gone back to teaching, for example, and so had Kurt. Justin has taken his second job back, but we're heading in a direction again where this becomes a primary career. This next year is a very, very defining year for us and our whole model is changing so we're expecting to do quite a few large things this year.

How did the Maryfield show come about? Did the Auditorium Committee reach out to you guys and ask if you could do this?
They did. They reached out to us. We have an e-mail for booking and usually I'd say that I get 20-30 e-mails a day on average and theirs was in there. At one point we were booking three years in advance but right now we're booking two years in advance. We're booking into 2024 right now.

How far afield do you guys go with your shows?
We play B.C., Alberta, Saskatchewan, Manitoba and the U.S.

For those people who have never seen you guys, what kind of show are they going to see when they come to the Maryfield Auditorium?
Some of them will relive some of their favorite memories, times and songs, and others will be introduced to an amazing era full of energy and emotion. I would expect to make all sorts of memories that evening as well as just make sure they bring their dancing shoes too, I guess. Don't expect to stay seated.

What do you hope the audience gets out of your show?
I think different people are going to take away different things, honestly. Like I said, for some of these people, these are going to be wonderful flashbacks. This is going to be a moment that takes them back, and for others, hopefully, we're going to be making another fan base. Hopefully they're learning new tunes. We have original music out there too, so hopefully they're discovering parts of this era and they're discovering what music used to be.

In my opinion, some music in modern pop is kind of, what's the best way I can put that—there's a lack of effort and a lack of emotion. So hopefully they're discovering an era in which songwriting was different and there was more effort and creativity going into it. So for some it'll take them back, and for others it'll be a discovery.

Are you looking forward to the show in Maryfield?
Oh absolutely, we always look forward to performances. That's why we do it. If we didn't love it, we just wouldn't do it.

Is there any difference between performing in a small town like that versus a larger centre?
There is, and if I'm being honest with you I prefer the intimacy. It's nice because in these kind of venues we get to meet people at a much closer range. We're not performing on large stages where the lights are in our eyes and we can't even see faces. There's an energy to that but there's a lack of intimacy. With these smaller venues there's more of a connection to the audience and we've made long-term fans that we've met five or six years ago that follow us around from shows just like this.

Really?
Yeah, because we meet them and we get their first name. Some of them have billeted us. Just last weekend we were in Cypress Hills and our dance instructors cancelled—we teach Jive and Swing as well. The little boy had RSV so they couldn't make it and just at random, two dance instructors from Manitoba were travelling inter-provincially just to catch our show. So they came to watch us play and they happened to be there so they asked, "Do you want to teach tonight? Because it was kind of a miracle that you're here right now." We end up meeting these people on a first-name basis which leads to networking, connections and friendships.
It's pretty cool.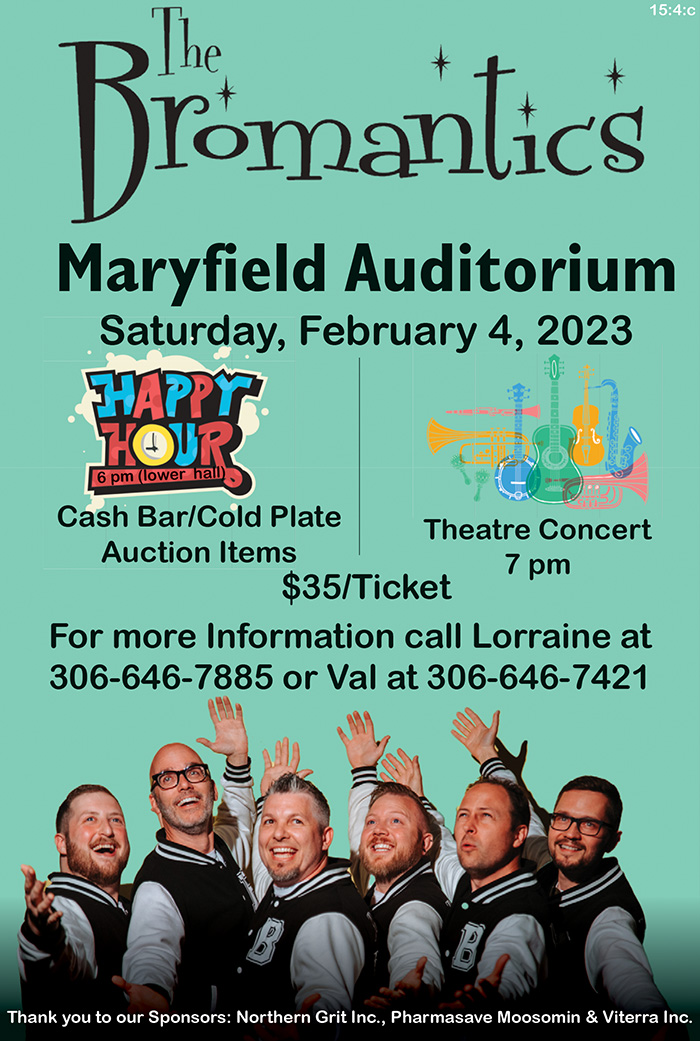 Tweet