---
Borderland Co-op want to launch grocery pilot project in Rocanville
February 15, 2023, 1:33 pm
Kara Kinna
---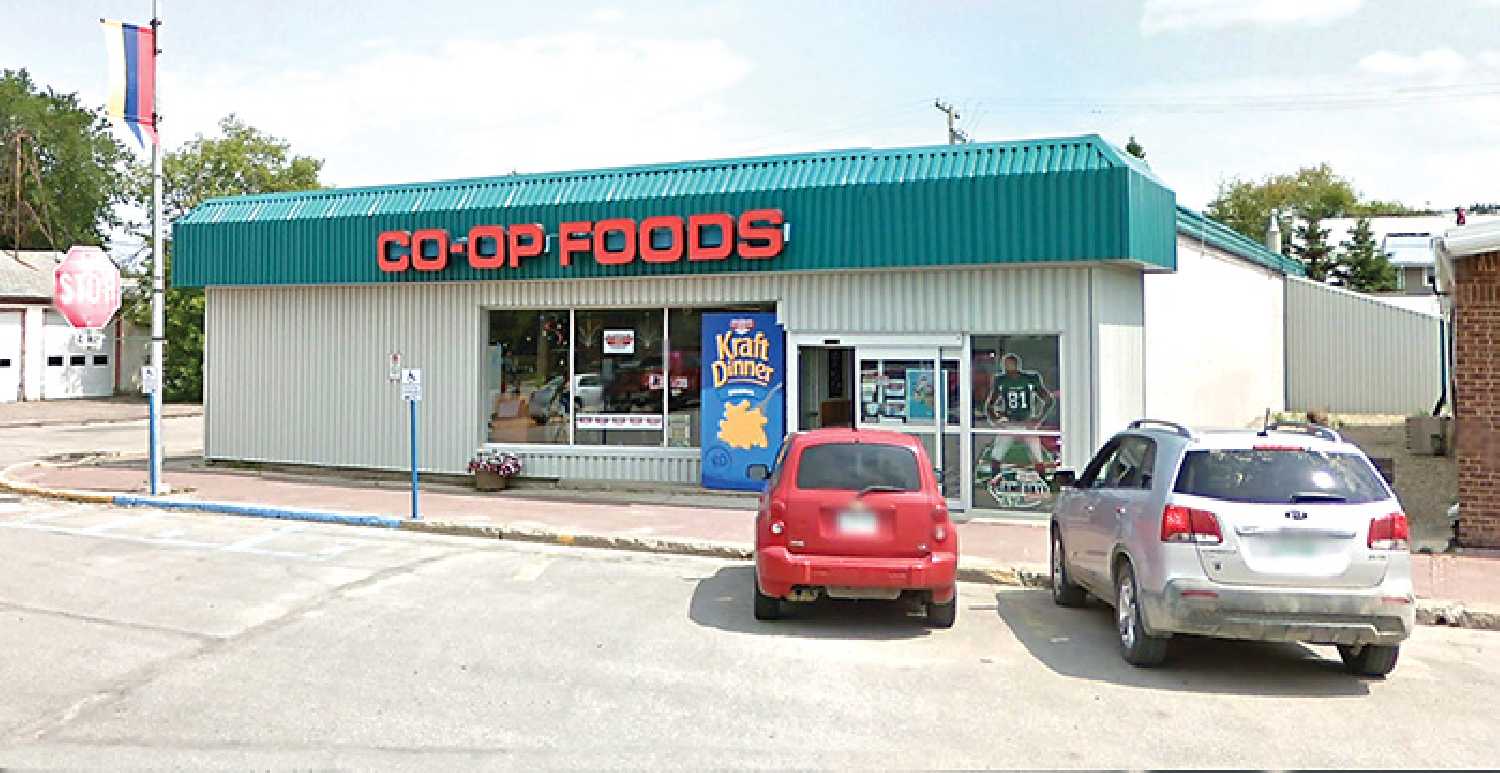 Borderland Co-op will be holding a meeting on Tuesday, February 28 in Rocanville to get feedback from its members about a pilot project for the Rocanville grocery store.

If the Rocanville membership accepts the project, and if it's successful, the co-op is hoping to roll out the project across its network as a way of serving its grocery stores in smaller communities.

Borderland Co-op General Manger Jason Schenn says that if its smaller grocery stores continue to operate as is, the future for those smaller stores is dubious.

"We have a concept in mind that we want to explore and we want to get the community's opinion on it before we execute it," he says. "We're trying to solve a problem.

"Rural food security is a big deal and one thing we've been experiencing in the food business in our smaller communities is that the cost of business continues to rise, staff costs, operating costs, regulatory requirements keep adding costs to the business but it doesn't necessarily grow the margin side of the business to pay for it.

"What it means is that you need volume in order to survive. What we are seeing here as an ongoing trend line is that smaller stores than what we have today are becoming impossible to operate.

"So we're looking down the road asking if what we are doing in our existing form is going to last in the long term or if we are at risk of becoming no longer viable."

Schenn says that in the grocery business, stores that used to do $1 million and $2 million of volume in sales a year are no longer operating, and stores the size of Rocanville are doing around $3.5 million volume of sales a year.

"Looking down the road we can see what's happening to smaller stores than ours as their margins get eroded away and their business no longer is profitable, so we are trying to figure out how do we avoid that, how do we stay away from that problem?

"So if I'm looking at the horizon 10 years out, the question becomes, are our $3.5 million stores at risk?

"Rocanville is one of five stores we have in our network that are all in that category of $3.5 million. It's not just about one store, it's about the future of all of our smaller stores.

"What is a way that we can reduce costs, increase volume and add more variety?"

How does the pilot project work?
Schenn says the pilot project they will be discussing at the Feb. 28 meeting will include reducing floor space for less popular items—for example, selling only two of the most popular brands of ketchup instead of five brands, and then using that extra floor and shelf space to provide more fresh items such as produce and baking, which he says their members have asked for. The other less popular brands of ketchup would still be available, but centrally out of Borderland's Moosomin location, where members could place orders for grocery hampers to be delivered to Rocanivlle with whatever items they want.

"With the advent of click and collect, and other things we have access to, we think we have a concept that might work provided the community would support it," says Schenn. "You are trying to be all things to all people wherever possible. But that takes space and square feet and labor. Plus there are lots of people who want mor bakery and produce items and variety in other areas.

"Do you take the things that the highest majority of people want and keep those things on the shelf so that you can buy some space on the sales floor in order to expand the fresh produce and baking and deli that we can centrally produce and send out to the site, and give them more variety, and then use the idea of click and collect to have access to a wider catalogue of all the items we can get?

"The staples and most popular items would always be there, but supplement that with click and collect, put in your online order and it gets filled brought to the store for you to have available to you.

"Moosomin is going to be that ideal site because it's our largest store in our network and it has good geography to everything else, and for our own logistics, we have vehicles that operate and travel around our own geography all the time. We're already doing central meat supply for a bunch of our branches out of Moosomin, and that's what we'd want to do, we'd want to expand those central services, all the access to all the things that are there to be brought to Rocanville in this case.

"We're looking at Rocanville as a pilot, to test the concept and see if it works. If it is a workable concept then we can keep rolling it out. If it doesn't work then we can reset and go back.

"You have to try something because doing the same thing, I can see where we are headed."

Expansion not on the table for Rocanville grocery
Schenn says an expansion to the Rocanville store has been looked at and is not possible. "A new store never pencils out, you'd need $6-8 million in volume," he says.

"An expansion isn't possible. Covid provided us with a high water mark of maximum sales and that was about $4 million shy a year of being anywhere near close of even remotely providing a return on investment."

He says the other issue is staffing. Currently Borderland Co-op is looking for staff in our all of their locations, and while they would not be looking at cutting any staff in their smaller locations, he says providing some services out of a larger centre like Moosomin would help ease some staffing issues in the smaller communities.

"It's trying to figure out a way of how to get the best of both worlds. I know we are going to fall short if we continue to operate traditionally, it's going to be a case of watching the numbers until it's no longer viable.

"That's what we are looking at is how can we extend the life of these sites. We know we can't invest huge dollars, we can't put millions into it because the return will never be there. We can't put the entire organization at risk based on that. But what we can do is try to find ways to grow the volume without putting an immense amount of cost into it and maybe even reduce cost in some ways, but still provide a better level of service and selection and variety.

"It's the fresh items that people want to have available in the stores, the things people want to pick out themselves."

Project has been discussed for some time
He says this pilot project for Rocanville has been discussed for some time.

"This is something we have been talking about for quite a while and we've done a focus group with some of the members in Rocanville as well. We had a follow up meeting with them after the focus group to walk them through the concept a bit more.

"Once we explained the concept to the individuals in the focus group, they understood what we were trying to accomplish and they saw some value in it."

He said the next natural step was to take it to the rest of the membership in that community.

"It only works if the community is going to accept us and work with us. Otherwise the option at the end of the day is to say if the membership says we are not interested in this, we don't want to try to innovate this and try to add longevity, then we won't do it there. We'll look to another community that maybe wants to give it a go.

Co-op looking for feedback, development of the concept, if accepted
"We want to know that people are going to support it. If we go out there and people say we are not going to support that in any way, shape or form, then we know that concept is not right for that community. In which case we do our traditional thing and operate it as best as we can.

"We're going to have some actual visual displays there at the meeting, take an actual section of product from the store and set it up in the hall there so people will see what we are doing.

"We have to take something out in order to put those things in and this is how we think we can do it without compromising what those members are already needing in a large way, and still be able to get them all those other things in a timely way as well.

"We're hoping this is something the community can welcome and be a part of helping us develop. Because if we can figure this out and replicate it across our network, then maybe it can work for other communities as well that are in danger of losing their stores some time in the future as well."

The meeting will take place at 7 pm on Feb. 28 at 7 pm at Nutrien Rocanville Hall in the Conexus Room.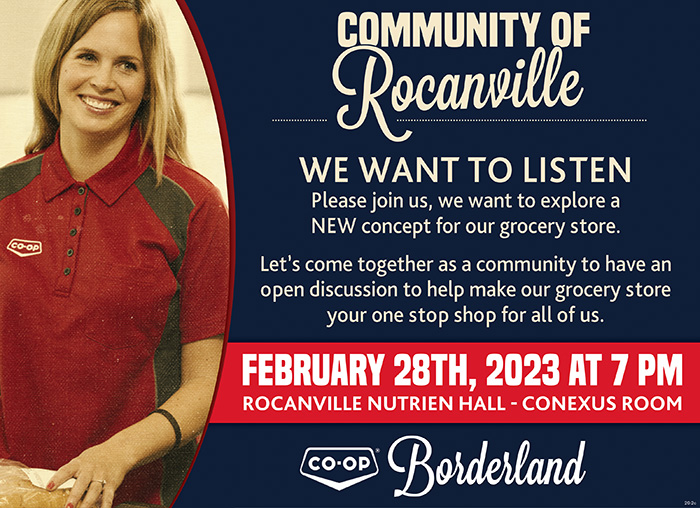 Tweet