---
Adam Herold Leadership Camp
Moosomin Minor Hockey hosts hockey camp with a higher purpose
October 30, 2023, 2:13 pm
Ryan Kiedrowski, Local Journalism Initiative Reporter
---

It's the season of hockey camps, and kids in Moosomin got a chance to take part in a very unique type of training recently. The Adam Herold Hockey and Leadership Development Program came to town with it's "pay it forward" approach.

The camp is part of the Adam Herold Legacy Foundation, established in honour of its namesake. Adam was not only an incredible young hockey player, but very much a community-minded, mature-beyond-his-years young man off the ice.

He had just begun a promising WHL career with the Prince Albert Raiders after a very successful Midget AAA season as captain of the Regina Pat Canadians when tragedy struck.

Adam was on his way to a playoff game in Nipawin on April 16, 2018 when the Humboldt Broncos' bus was involved in a major collision with a semi-trailer unit near Arborfield.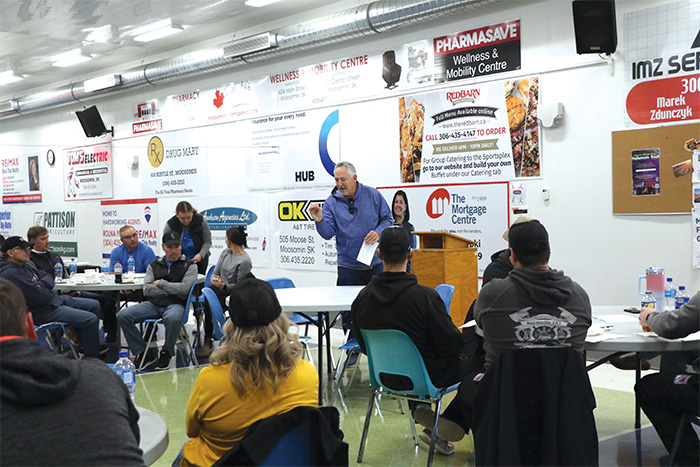 That devastating crash claimed the life of 16 members of the Broncos organization—including Adam.
As with so many others involved in the tragedy, the potential as to what this amazing young man could have achieved was cut short far too soon.
However, a part of this incredible young man lives on through the Adam Herold Legacy Foundation, and it is one these principles of community and physical development that the Leadership Development Program carries on his ideals to thousands of young people across the province.
This year, Moosomin Minor Hockey was one of three entities in Saskatchewan selected to host this unique opportunity, the first part of which occurred over the Oct. 21-22 weekend.
"It was quite an incredible experience for the kids," said Jesse McMullen, Development Director for Moosomin Minor Hockey. Of the more than 220 youth involved in the local program, 175 ranging in age from six to 18 took part in the two-day event.
"Moosomin was the largest association that the Adam Herold Legacy Foundation has ever been involved with," McMullen said, noting that the program typically caps attendance at the 140 mark.
This meant organizing four groups throughout the U9-U18 age groups, trying to assemble each as age-appropriate as possible.
Those attending participated in sessions on and off the ice through development and leadership training.
"The leadership training is an in-class portion," McMullen explained.
"They give a background on Adam himself, what he as involved in, and then it pushes our kids not only to become leaders on the ice, it actually pushes the kids to get involved in the community and take part.
"Adam not only was involved in hockey at quite a high level, he also was very active in his community," he continued.
An over-arching theme of teamwork intertwined the sessions, even through the base essentials such as power skating and skills development.
"Everything they did required a group of them to achieve their goal," McMullen said. "It was something they had to do together to make it work."
Leading the session were some of the top instructors around, each with impressive accolades and experience on their hockey resume.

Where else can you partake in a session with Mike Blaisdell, first-round draft pick of the Detroit Red Wings with more than 350 NHL games under his belt? Or Darrin McKechnie, who has a history with the SJHL's Yorkton Terrier and WHL's Regina Pats? These are just a couple examples of the calibre of leaders—people who would otherwise cost thousands of dollars just to bring in themselves, let alone a whole group of high-level instructors.
Oh, and the cost of this elite program? Free of charge.
Now that "no-cost" does come with an asterisk—Moosomin Minor Hockey worked diligently to host the event, plus provided meals, accommodation and the value of ice time.
There's also a fundraising component to ensure the program remains in existence for future generations.
"A camp like this would cost thousands and thousands of dollars," McMullen noted.
"In return, we'll fundraise to give back to them so they can continue to provide these camps year after year. It's all based off of donations and sponsorship is how the program stays afloat. It's an incredible program."
McMullen explained how Moosomin Minor Hockey has been applying to host this particular program for the past three years.
This year's application was sent in back in early March, and the association learned in June that they would be a host. That meant a long summer of planning, organizing and scheduling—laying the groundwork for a successful event.
"Once you get accepted, then you work with the program directors at the Adam Herold Legacy Foundation," he said. "They do the scheduling, and we organize our association to participate in it."
Part of the leadership training involves a bit of homework for the participants as well.
Each of the 175 kids has committed to donating 10 hours of service in the community, tracking the details of what they will do.
A second one-day development session will take place on Jan. 10, and the participants will hand in their community service progress forms.
Some of the kids had an extra point of pride with the luck of sharing a special number on their backs.
"Adam always wore the number 10," McMullen said. "We had kids after saying how lucky they were to already be wearing the number 10 because then you're just like him. It's a great experience that these kids will take away for a long time."
As for the "meat and potatoes" of what the kids and coaches learned, on-ice topics included: power skating, puck skills, offensive skills and shooting, defensive skills, and read and react skills. Other areas explored were coaching development, team building, mental training, leadership and social impact support.
Moosomin was the first community to host the Adam Herold Hockey and Leadership Development Program this season, with Midale/Lampman and Bruno lined up for 2023/24. The program has been running since the 2018/19 season, with 13 previous minor hockey associations throughout the province benefiting.
The Moosomin Minor Hockey Association is currently thriving, comprised of not only local participants, but those from surrounding communities of Rocanville, Wapella, Whitewood and Wawota—to name a few. McMullen also pointed to the growth in the female programs within the association, last season being the first time joining the female league with a U13 and U15 team.
"This year, with the added increase of the female capacity that's coming our way, we had another U15 team and this year we have two female U13 teams as well," he said, adding that at least a third of the association is currently made up of female players.
With the highly unique experience of the Adam Herold Hockey and Leadership Development Program, these fortunate players in Moosomin Minor Hockey will have new skills that set them apart—on the ice, and in their future as community leaders.

Tweet