---
Grass fire closes Highway 1
August 21, 2018, 4:56 am
Kevin Weedmark
---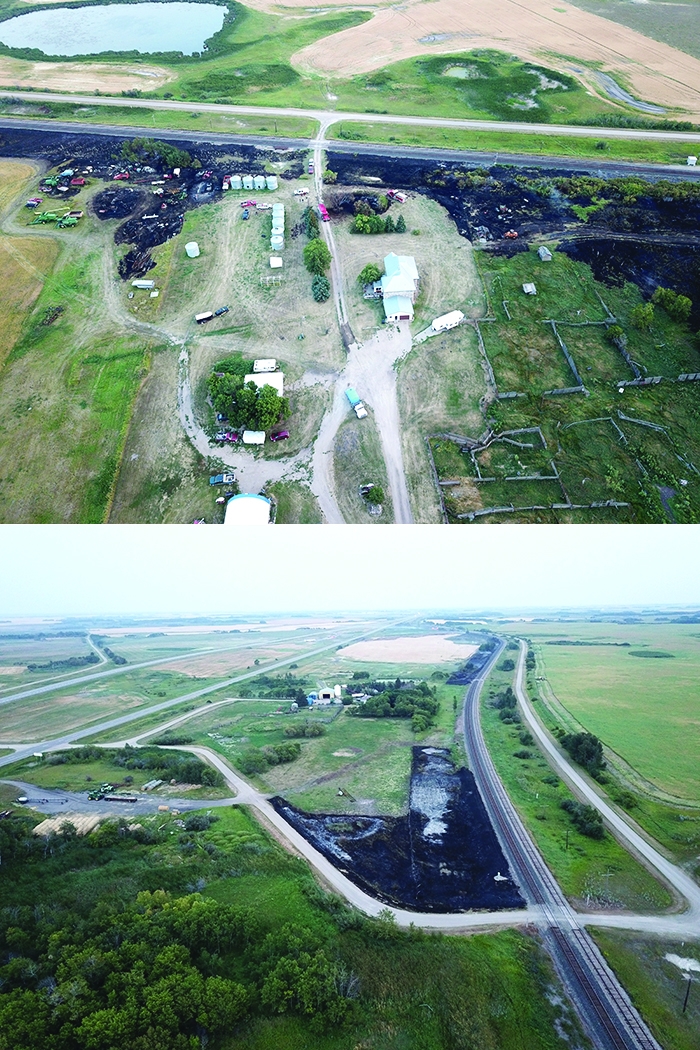 42 firefighters from four fire halls, using 14 fire trucks and water trucks were involved in fighting a fire Wednesday afternoon and evening that stretched along the south side of Highway 1 between Moosomin and Fleming. Highway 1 was closed between Moosomin and the Manitoba border at one point because of smoke.

The call came into the Moosomin Fire Department at 3 pm Wednesday, and the Moosomin Fire Department was on the scene until 11 pm.

The Moosomin Fire Department was assisted by firefighters from Wapella, Elkhorn and Virden.

"Once we saw how many spot fires there were, we made the decision right away to call for mutual aid on both sides," said deputy firechief Mike Cooper.

"We knew the serious ones were in the middle, where the two properties were. We knew the two farmyards were the priorities, so that's where we concentrated. We had our fire trucks there, and we got Wapella to start at Moosomin and Elkhorn and Virden to start at Fleming and work towards the centre, and that worked well."

He said many people volunteered to help bring water to the site.

"We had lots of water—we had tanker trucks bringing us water, and people phoning asking what do you need. The community support was phenomenal."

The tracks were shut down while firefighters battled the blaze.

"We shut the tracks down right away," said Cooper. "We called CP right away and got them to shut it down so we didn't need to worry about anybody being on the tracks. We got the RCMP to shut down the eastbound traffic because you couldn't see anything."

Besides the firefighters, many local people helped out by hauling water, providing tractors and discs, supplying a track hoe and helping put the fire out.

"We really appreciate the support of our mutual aid partners and anyone who came out to help. In all the time I've been on the fire department I don't remember one quite this large."

Moosomin Fire Chief Rob Hanson said the fires appear to have been caused by a train, as small fires started from just east of Fleming to the edge of Moosomin.

He said it was a difficult fire to fight because of the location.

"The biggest issue was getting to it," he said. "Because it was along the tracks, we couldn't get to it with equipment, so we were fighting it by hand.

"We were called out yesterday (Thursday) morning, then again yesterday afternoon to take care of hot spots, and I took a drive along there this morning (Friday) and put out a couple of spots.

"CP wants to make sure they get it all out—their trains are going by loaded with oil."

Hanson said two residences were threatened by the fire.

"It was within less than 100 feet to McMullens' house. It basically surrounded their yard, we were able to get it shut down before it got to the corrals.

"At Harrisons it threatened a barley field—it did do some damage to the east end of the barley field, but part of the field was disced up to stop it from spreading."

He said the blaze was not one large fire but a series of separate fires set off by sparks.

"The first fire was just west of where you turn into Fleming, and the last fire was right by Springer's building, but it was really bad at Harrisons and McMullens," he said.

"It is really, really dry, so it was burning hot."

There are burning bans in place in the RMs of Moosomin and Martin, and the town of Moosomin may follow suit at a meeting this Wednesday.
Tweet